This post is sponsored by SABRE.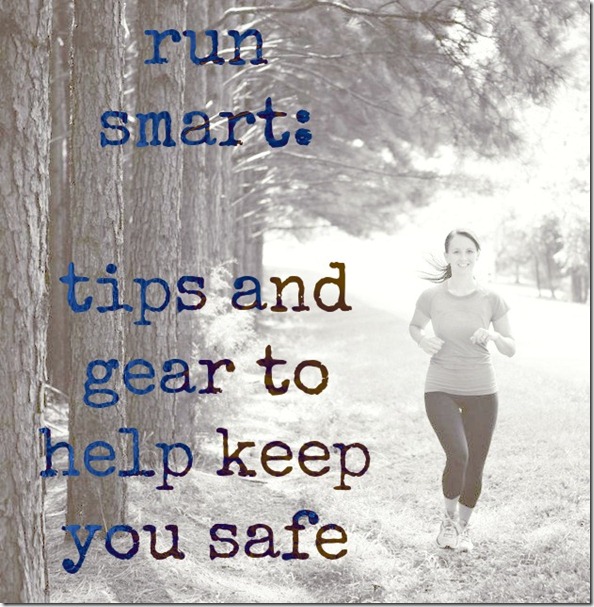 The days are pretty short this time of the year, huh? If you're like me and love to exercise outside, that means you're probably running in the dark – at least half the time. Daylight isn't a guarantee of personal safety, but running at dawn or dusk can make you more vulnerable to personal attack or being hit by a car.
November is National Running Safety Month.  Here are four safety points to consider as you exercise outside.
#1 – Practice Situational Awareness:  Try not to zone out while working out. It's easy to fall into a rhythm and get lost in your thoughts – this is actually one of the things I love most about running.  But if you're tuned out, you're opening yourself up to attack or an accident. Keep your eyes peeled for people or situations that seem amiss.  Listen to your gut feelings – if a park that you normally run through is giving you the willies, change your route.
Side note:  A friend recently reminded me about this book – The Gift of Fear.  I've read bits and pieces before but really want to go through the entire book again.  It's about learning patterns of behavior so you can better recognize dangerous situations/people.  The entire book is basically about fine-tuning your gut instinct and training yourself to actually listen to it instead of squashing it.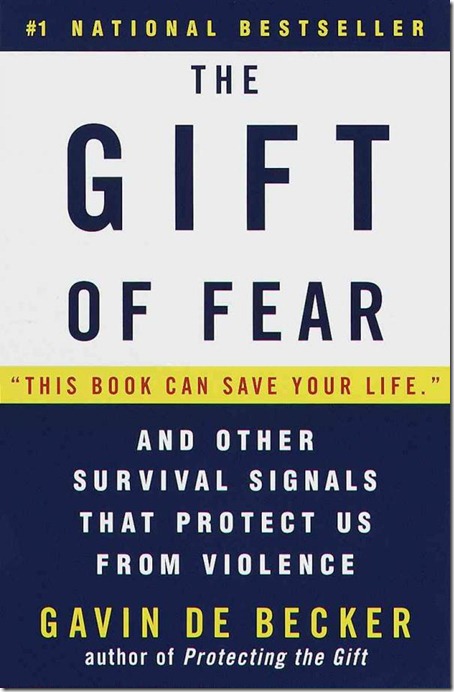 #2 – Dress Smart:  If you're leaving for your run at 8 PM, don't don a black jacket, black tights, and a black hat.  Wear bright and reflective gear.  I absolutely LOVE my reflective vest because it is super light and barely noticeable, regardless of whether I'm wearing it over a heavy winter running jacket or a summer tank.  When you're wearing a reflective vest like this one, cars can see you from up to 1200 feet away!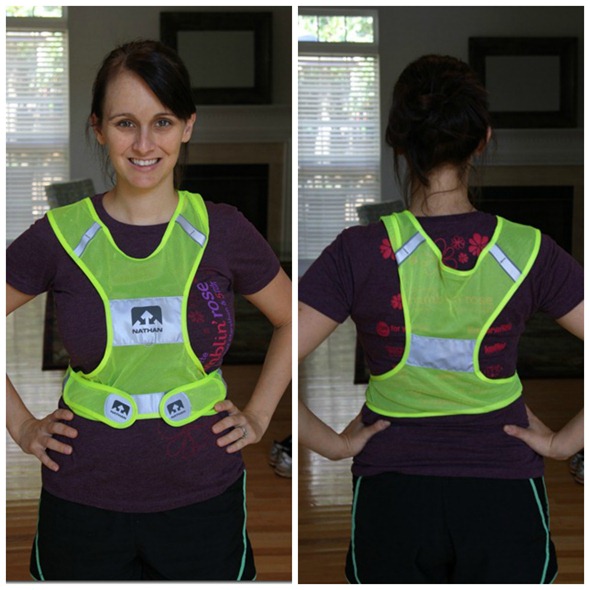 Click through for the giveaway!
#3 – If You're Going to Run in the Street…:  Do it wisely.  Did you know that the road is actually softer than the sidewalk?  Crazily enough, it's true.  If you suffer from running-related joint pain, you can find some relief from running on the shoulder of the road (or the grass).  But if your neighborhood sidewalk-less like mine, you end up running in the road regardless.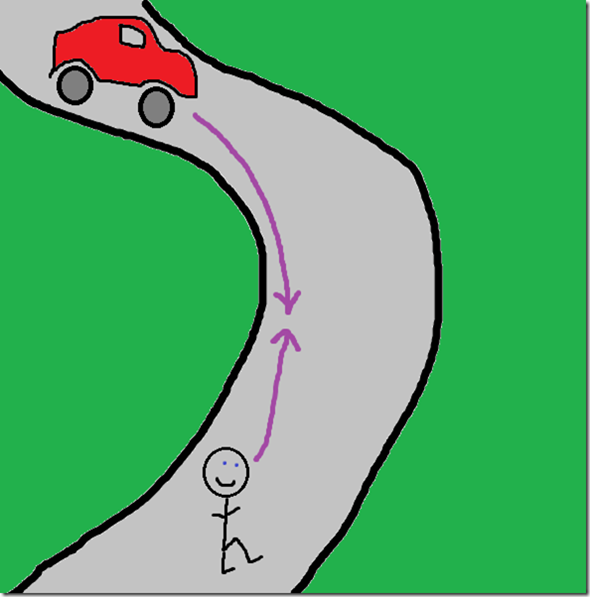 Obviously, if you're running in the road, this makes you more vulnerable to cars.  I wrote a whole post on how to safely run in the road, but here's the upshot:  you (mostly) want to run against traffic.  That way, you can quickly react and step aside if a car is coming your way.
However, when you're running up (or down) a hill or around a curve, you want to be aware of the drivers' line of sight.  For example:  If you're running against traffic on the left side of the road, and the road is curving towards the left, cars in your lane will not see you as they approach the curve.  It's also important to note that as you run up a hill, you won't be able to see a car approaching on the other side – and they won't be able to see you.  So it may be necessary to cross the road as you approach a hill (and then cross back on the other side).  Basically – always be aware of whether drivers can see you, and NEVER assume they actually saw you unless you get a wave or similar gesture.
#4 – Carry ID, Your Phone, and a Personal Protection Device: I remember DadHTP teaching me to always keep ID in my pocket when I was first allowed to go play at the park by myself.  If you're hurt and unable to give to out your contact info, how will anyone know who you are?  That's why I love the RoadID – I've had several versions of their bracelets but really want the Shoe ID tag.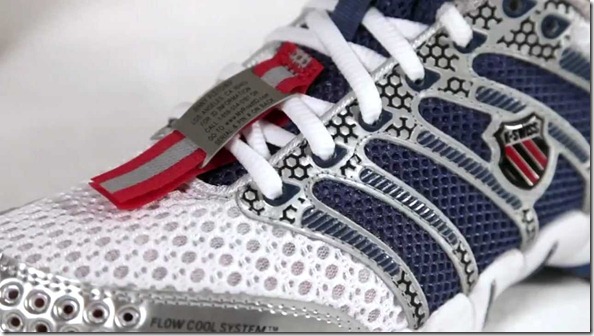 (Source)
I know this point is up for debate, but I believe that the benefits of carrying your cell phone (ability to call for help) outweigh the risks (target for thief).  What if you're on a long run and twist your ankle?  What if you see someone else in distress and need to call 9-1-1?
Ever since I first teamed up with SABRE (an American company that makes pepper spray for police forces across the country), I've been carrying their pepper spray and can't say enough good things about the product.  I feel much safer knowing that I have a way to protect myself if necessary.  I have a spray that attaches to my keyring, but SABRE also has a version called "The Runner" with an adjustable hand strap.  I keep it in our jogging stroller in a zippered pocket (so I can reach it fast but Henry can't ever, ever get to it).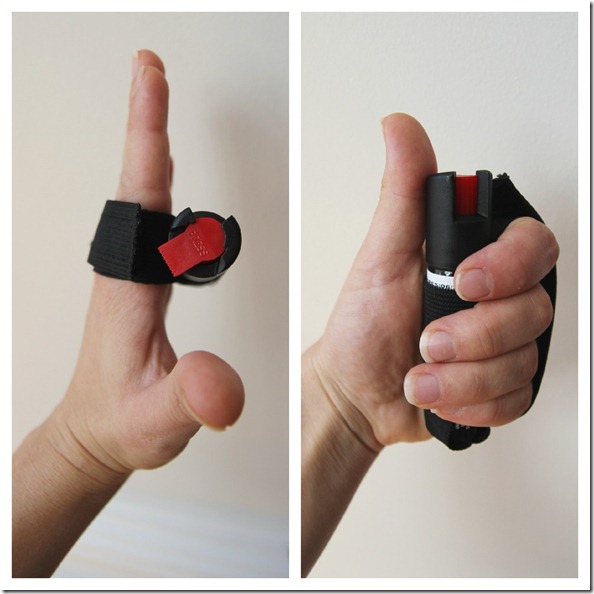 I'm giving away a prize pack of SABRE products – the prize pack includes "The Runner," practice spray, a personal alarm, and their compact keychain case of pepper spray.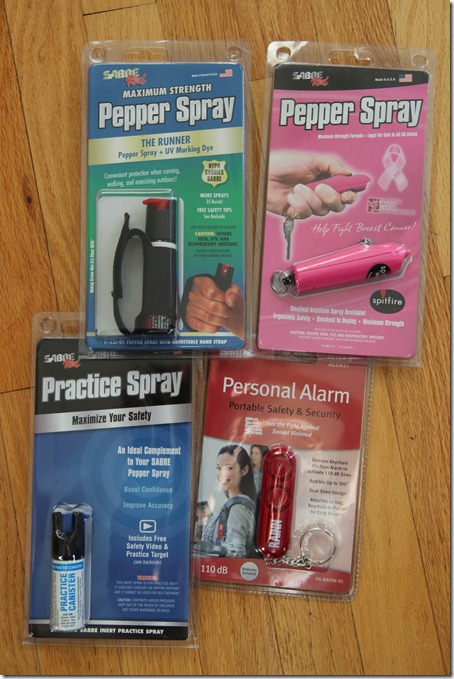 Please note that state laws prohibit shipment of these products to AK, DC, HI, MA & NY.  To enter to win, use the widget below.  Per the usual, I'll be closing the comments section to avoid confusion on how to enter!
Good luck and be safe.  <3
This post was sponsored by SABRE. Thanks, as always, for reading sponsored content. It helps provide for my family, and I truly appreciate it.