(For some reason last night, I said, "Stay tuned for a post called So You Want To Run a 5K," when I really I intended it to be about a Half… no idea why I promised a 5K post.  However, the tips below include information on how to get 5K ready, which of course if the first step to running a half! Sorry for the confusion… my brain is shot due to book-writing.)
Four years ago, I felt like a girl without direction.  I started to read healthy living and running blogs at my desk at work and – combined with the urging of BFF Lauren – I started to think about developing a healthy hobby… namely, one that didn't involve going to work or heading to the bar. 😉 Specifically, I wanted to do RACES.  Because what could be cooler?  And how often as adults do we get to participate in a physical competition that involves a congratulatory medal at the end?!
Also, even back then, I realized that I was a reward-driven person and having a deadline would help me stay on track.
Despite not really considering myself a runner yet (the first time Lauren talked me into a run, I ran 1/4 mile and collapsed on a sidewalk), I decided to sign up for a race.  I ran a 10K in Pittsburgh in the snow all by myself, and it was the beginning of a beautiful love affair with running.  Since that day, I've done 32 races, including 3 half marathons and 2 marathons.
My halves include:
The Marine Corps Half in JAX, Florida: 2:06:30 (October 2008)
The Gasparilla Half in Tampa, FL: 2:03:00 (May 2009)
The OUC Half Marathon in Orlando, FL: 1:58:45 in December 2009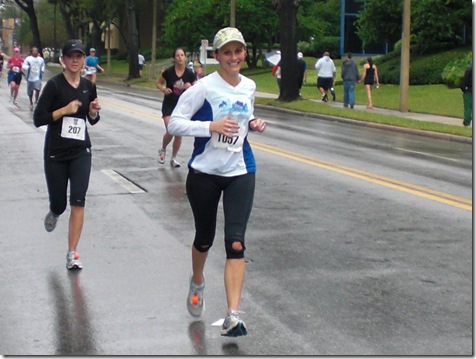 Because race season is nearly upon us in most parts of the country, I've been getting a ton of e-mails from newbie runners who are considering running a half marathon.  I thought it would fun to share my advice – but remember, I'm not a professional trainer, just a girl who loves to run, and this is just feedback based on my experiences.  Talk to a doctor before beginning an exercise program.
WHY THE HALF MARATHON?
I think this distance is obtainable for most people of moderate fitness in 3 – 5 months.
Half marathon training doesn't take over your entire existence the way that marathon training consumes you.
You're less likely to get injured training for a half than a full.
The distance is long enough to make the race seem 'worth it.'  Some people, even newer runners, feel like they don't hit a running groove until 5 miles or so in.  If you were running a 5K or 10K, the race would be over.
Most large, popular races are at least a half marathon distance.
It's a great physical challenge.  A half marathon isn't half of anything!
CHOOSE YOUR RACE WISELY
Choose your race wisely to ensure you're not setting yourself up for failure (or at least a miserable experience).
Select a race that likely to have moderate temperatures (50 – 60's are great).
Look online and try to find a less-hilly course.  If the course is hilly, you're going to need to train on hills.
Read race reviews on a website like RaceVine.com.  Look for a race that is known for being organized.
Check out the course map to see how well-staffed it will be.  My second marathon only had 4 – 5 water stops, which was definitely a negative.  A good half should have at least 8 stops, preferably more.  Otherwise, you will need to carry your own liquids.  Not a huge deal, but something to consider.
If you're traveling a long distance for the race, check out this post on Foodie Fresh for details you'll want to consider.
Lastly, consider timing.  Signing up for a race right after busy season at work could mean your training will suffer.
FOLLOW THE PLAN
Although I tinker with training plans, I highly recommend that people follow a training plan for their first half.
If you're truly starting from ground zero, begin with Couch to 5K.  This is a run/walk program that will get you running 3.1 miles in just 9 weeks.
Other good novice programs to get you up to a 5K include Hal Hidgon or Runner's World.
Once you can run a 5K, you can graduate to other half plans.  I really love Hal's plan, which is 12 weeks.  The only thing I personally do not like about Hal's novice plan is that it maxes out at 10 miles (the race is 13.1).  Although the aderaline will carry you through, I prefer plans that get you a little closer to the distance.  Check out this intermediate plan for end-of-training modifications (add a week or two to the novice if you want to get closer to race distance, don't skip ahead).
WALK THIS WAY
It's okay to WALK!  This deserves it's own section because I know people get really worked up with walking vs. running, and I'm here to tell you that it's fine.
Doing walk/run intervals (see the Couch to 5K plan, linked above) can actually make you faster overall than if you just slowly jogged the entire thing.
Walking gives you a mental and physical break.   It can be a huge morale booster if you don't look at walking as a negative.
I walked/ran the last two miles of the half marathon that I set a 4 minute personal record.  I also walk/ran the last several miles of the marathon that I set a 22 minute PR… basically, walking rules!
TRAIN SMART
Cross training is very important to prevent injuries and mental burnout.  I like biking or power yoga for cross training.
If you feel a nagging overuse injury coming on, immediately cease all activity until the pain goes away.  If it comes back when you attempt to exercise again, go to a sports medicine doctor ASAP.
If you fall off the wagon for more than a few days, don't fret – training plans build in room for error.  Just start back where you left off.
Always do your long runs!!!  They are very important, both physically and mentally.
Train with a friend or a local running club to make it seem easier.
Supplementing with calories becomes necessary over 9 miles (for me; it varies from person to person).  Consider Gu shots and or a mix of Gatorade/water to provide you with the calories you need.  I take in about 200 – 300 calories during a half marathon.
If you feel like you need some extra motivation or advice for running your first half-marathon, don't be afraid to go and seek out a certified personal trainer (for example, this linked-to HTP sponsor helps find local trainers).
LEARN MORE:
Are you currently training for your first half?  Did you recently run your first half?  What advice do you have to share with other newbies?