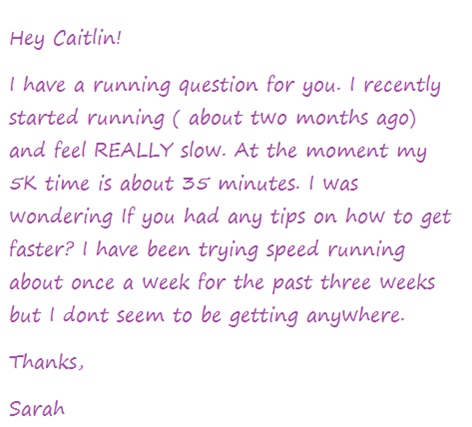 When I first started to run, I actually had no idea what was a "fast" time for a 5K or a 10K or even a marathon.  I just ran to have fun, do something productive and positive, and to get outdoors.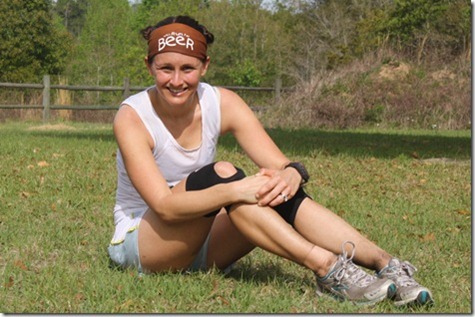 I began to run seriously and then progressed to running my first race – a 10K (6.2 miles) – in about three months.  During my training runs, I averaged about 10:30 a mile, so I decided to gun for a 10:00/pace and clocked in around 1:01.
I wanted to get faster (naturally) and go longer distances, but I wasn't sure how to technically do so.  So… I just kept running the way I had been running, which was 5 days a week at a comfortable pace the entire time.
A year and a half later, I ran the Founder's Day 10K and shaved 8 minutes off my PR!  Here's what I wrote in the recap: "My official time was 52 minutes, 58 seconds!  What an amazing feeling! Plus, Meghann smoked her goal time, too ("under an hour") and came in a mere one minute after me! I truly cannot believe I paced 8:30-minute miles for 6.2 miles.  I always thought I'd be a 10-minute mile runner."
(Side note:  It's amusing to me that Meghann used to be slower than me since she can now run a marathon half an hour faster than my personal best.)
More recently, I shaved 22 minutes off my marathon time (first marathon to second marathon).  So – it's clear you can increase your speed over time.  But how?
Here are my "get fast or have fun trying" tips**:
Redefine "Fast":  We all start off at different points.  What is considered fast for you might naturally be slow for another, and what is slow for you might be fast for someone else.  Additionally, we all are genetically predisposed to max out at a certain point.  It's really all relative.  Look – most of us aren't ever going to win a huge race.  The whole point of running is to beat our personal bests, have fun, and to make ourselves proud.  So, the first step is to stop comparing yourself to someone else and look at your training history instead.
Strive for Speed or Distance, But Not Both:  Combining speedwork + a new distance is a great recipe for an awesome injury.  Trust me – I've been there.  So decide whether you want to go longer or faster, but not both at the same time.  If you're going from 5K to Marathon, just focus on finishing the 26.2 miles with a smile on your face – not any set time goals.
But… Go a Little Farther Than Race Distance for Your Long Run:  Personally, I find that I'm speedy overall if I train a little bit over race distance.  For example, if I was gunning for a new 5K time, my one long run of the week would probably be a moderately paced 5 miler.  If I was trying for a new Half Marathon time, I would max out at 14 or 15 miles.  (This doesn't apply to Marathons, of course. Your long run should probably max out at 20 – 22.) For me, running farther builds endurance, both physically and mentally.
Do Speedwork:  There are many ways to do speedwork; here's a good summary article.  I don't get very scientific about my speedwork and just throw in 0.20-mile or so bursts during my shorter runs.   I repeat the sprints about 4 to 6 times. I try to do this once a week.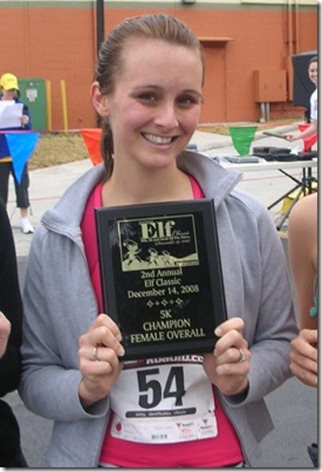 Run One Negative Split a Week:  In addition to doing a long run and some speedwork, I also try to run a negative split run each week.  A negative split is when the last half of your run is faster than the first half overall.  So you might run Mile 1: 10:00, Mile 2: 10:05, Mile 3: 9:45, Mile 4: 9:35.  Again, I'm not super scientific about this, but it definitely helps speed up your runs overall and increases endurance.
Cross train:   When I first started running, I was perfectly content to run 5 days a week of just junk miles.  Injuries began and I was forced to turn to cross training, like biking, swimming, and yoga.  In the end, it was a blessing in disguise because it made me a faster runner and less likely to suffer injury.
Run with a Faster Friend:  I love to run with friends, and my pace certainly suffers because of it (that's OK though!).  If you're truly serious about wanting to get faster, eliminate distractions for your speedwork or negative splits.   Or – run with a fast friend who will push you a bit.
Eye Up Other Factors:  There are many reasons you might not be speeding up as quickly as you like – the biggest culprits?  Sleep, recovery, hydration, and quality calorie intake.  If you're serious about running faster, you have to treat your body like a finely tuned machine.  Fuel it properly and give it the rest it needs!  Check out the Cures for Sluggish Runs post for more deets.
Give it Time: This is the biggest thing – you will naturally get faster over time, even if you just run junk miles.  You won't reach your speed peak and it won't happen quickly, but you will naturally speed up as you become fitter.  I have also noticed that sometimes I turn "speed corners" quickly and without reason.  After weeks of speedwork, all the sudden my average pace will drop 15 seconds without rhyme or reason.   Two months is relatively new to running, so runners like Sarah should remember to be patient!
Some other fun running-related posts:
Have you gotten faster over time?  Share your statistics!  What time goals are you gunning for – are you striving to reach a PR you set a few years ago, come back after baby/injury/life changes, or just reach an entirely brand new goal?