As a native Floridian, I am very accustomed to running in hot, hot weather.  The temperatures in the summer easy top 95 degrees, and we have to deal with sticky wet humidity, too.
One of the questions I get asked the most often is: "How do you stand to run in the heat?"  Since summer is right around the corner, I thought I'd share my #1 tips for surviving a heat wave.
First and foremost, exercise early in the morning or after the sun sets whenever possible.  This often requires more pre-planning than running in the winter, but it's worth it in the end.  If you're running in the dark, follow basic safety principles like wearing light-colored clothing, a reflective vest, or a blinking light.
On a similar note, check the weather forecast for the week on Monday and readjust your training plan as much as possible to accommodate warmer temps.
Take the extra time to drive to a shady path or to a trail in the woods.  Don't try to run in the direct sunlight if you can help it! 
View rain in a new light – when it's hot outside, a little sprinkle (or even a downpour) is a blessing.  When it starts to rain in Florida in the summer, I've lace up my sneakers faster than you can say, "Umbrella."  Once I even ran in a tropical storm!  My best tip for running in the rain?  Wrap your iPod in a ziploc bag!
Here my tips for running in the rain!
Take your workout indoors – run on the dreadmill or do the elliptical if it's particularly hot outside.  Many gyms will let you buy month to month memberships, so if you live in a particularly hot climate, a summer gym membership might be a perfect solution.
If you hate working out indoors (like I do), try another less-grueling sport on hot days.  Swap runs for bike rides, for example!  Mileage is mileage!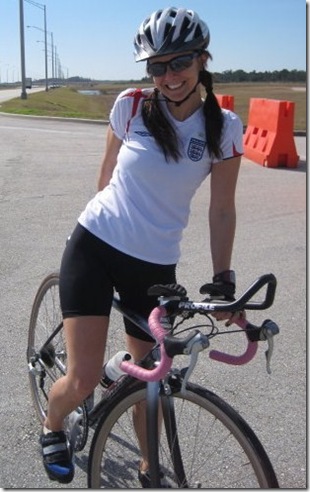 Make sure you're wearing the right kind of clothing.  Cotton t-shirts simply won't cut it.  Coolmax or DryFit shirts will wick the sweat away from your body.  I also prefer looser t-shirts so I can get a breeze on my tummy.
The best place to get cheap workout shirts?  Shops like Marshalls, Ross, or TJ Maxx.  They have name-brand Coolmax shirts at rock-bottom prices – I've snagged them for as low as $7!  Target also has good options.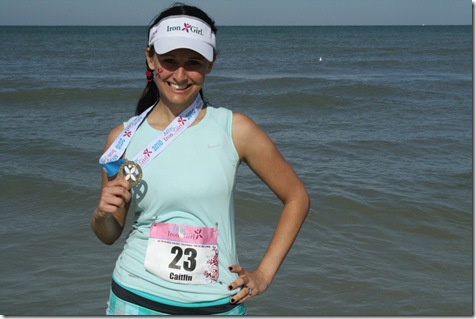 Invest in a CoolMax-style hat.  Normal baseball hats made of cotton won't let your head breathe and get too soaked in sweat.  I prefer the visor-style hat, which keeps the sun off my face but doesn't feel so stuffy.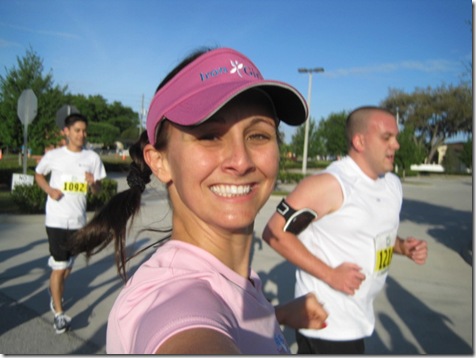 One issue you might encounter during the summer is CHAFING!  As you all know, I am the Queen of Chafing.  I am a very salty sweater AND I have sensitive skin, so once I start to sweat, chafing is inevitable.  I've tried everything – Vaseline, Body Glide, and more – but the only thing that really works for me is taping the areas I'm prone to chafing with athletic tape.  If you chafe in between your legs, wear spandex shorts.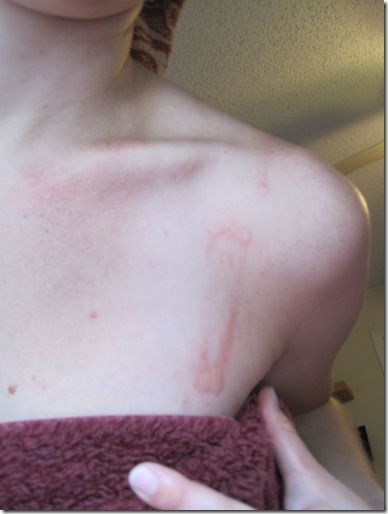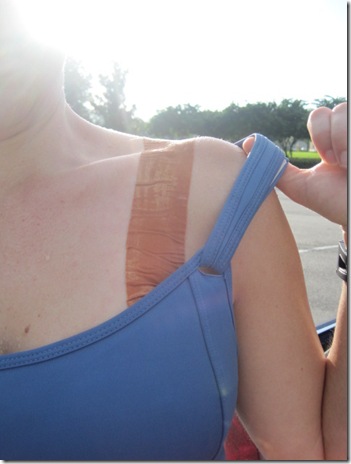 Of course, when it's super hot outside, you'll be sweating more than usual, so it's imperative that you bring water with you on your run.  Carry a water bottle or wear a CamelBak.  I have a ladies fit CamelBak and it's great.  It holds 1.5 liters of water, doesn't bounce around, and includes an extra pocket for Goo or keys.
If you don't have a CamelBak, either plan your run so you can stop into a store and fill up your water bottle, or tuck a few dollars into your shoe so you can run into a gas station and buy a new bottle.  It is VERY IMPORTANT to stay hydrated when running in hot weather!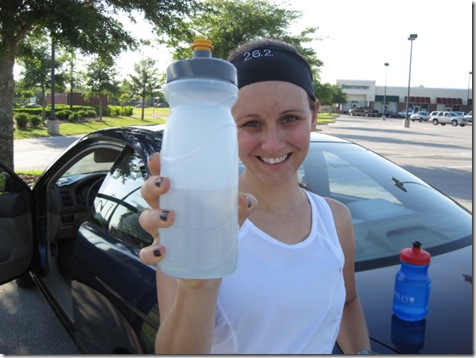 Remember to replenish electrolytes as well!  I wrote a post asking people for their favorite way to get electrolytes and salt in during endurance workouts – check out the comments in this post.  I personally love the 1/2 Gatorade, 1/2 water mix!
Don't forget to wear sunscreen!  I'm learning through my cycling training that sometimes I need to reapply sunscreen halfway through super-long and super-sweaty workouts.  Fill a ziploc bag with a second application of sunscreen and tuck it into your shorts!
And last, but certainly NOT least, it's important to readjust your goals and expectations for your runs in hot weather.  The sun takes a lot out of you, and my pace easily drops by 1:00 to 1:30 on hot days. Don't forget that you're working just as hard – if not harder- as you would be at a faster pace on a cool day.   I also take lots of walking breaking and relax under a shady tree when necessary.  On a similar note, check out this post on how to readjust your race goals depending on weather conditions.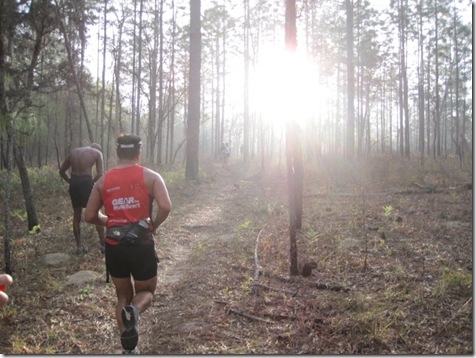 All this being said, sometimes it's just not safe to run in hot weather.  I've had heat exhaustion – symptoms listed here – and it's not fun.   Be careful!
What tips do you have for warm-weather running?