Got my run on this morning with a really lovely (and slightly speedy) 5.0 miler.  I wrapped up the distance in 47:45 (an average pace of 9:33).  Wahoo!  I'm really appreciating the cooler North Carolina weather.  Bet it's hot as all hell right now in Florida.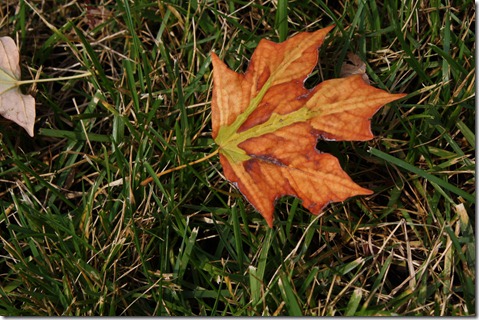 Pre-run snack: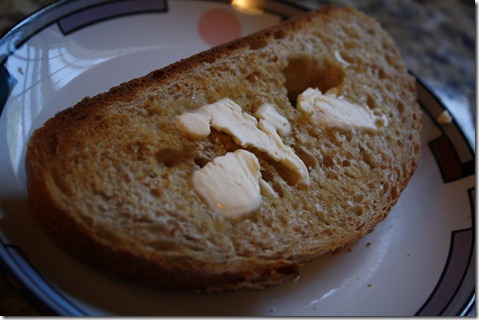 Post run lunch of leftovers: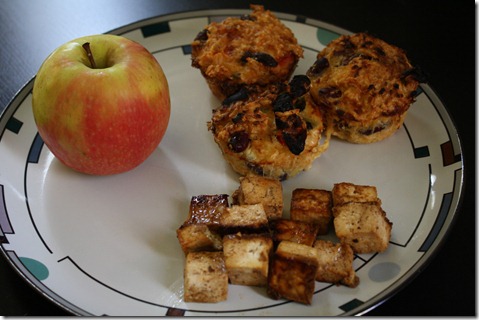 Leftover Mini Santa Fe Casseroles and leftover baked tofu + and apple.  Took three seconds to prepare.  Can't beat that.
Things to Consider When Runs Are Sluggish
Recently, I've gotten three e-mails from runners who were concerned that their runs suddenly seem REALLY hard.  They all noted they feel super sluggish through the long runs (and "long run" is, of course, a relative term – could be 2 miles; could be 20 miles) and asked about my experience with sluggish runs.
Sluggish runs are the WORST, but it's important to listen to your body and figure out what it's trying to say.  Sometimes it's just a fluke, but more often than not, a sluggish run tells me that I'm doing something wrong with my training.
Here are the common culprits for sluggish runs, in my opinion and experiences:
Inadequate fueling, whether on a daily basis or during the actual run:  Make sure you're taking in enough quality calories and try to eat a balance of carbs, protein, veggies, fruits, and healthy fats.  Also, if you're running or exercising for an hour and a half or so, you probably want to take in calories during your runs (note: the distance that requires refueling will vary from person to person).  I like Gatorade, Shot Bloks, or good old fashioned jelly beans.
Hydration issues:  DRINK WATER.  ALL THE TIME.  Especially DURING your runs.  Get used to carrying a water bottler or use a hydration belt or CamelBak.  You might also want to replace electrolytes (Gatorade or whatnot) if you're running long distances.
Too Much, Too Soon:  The general rule of thumb is don't increase your weekly mileage by more than 10% a week.  So if you run 10 miles on week run, don't run more than 11 the next. 
Don't tackle two goals at once:  Burnout is inevitable if you try to increase distance and speed at the same time.  Both are really hard!  Just pick one goal to work at a time, although I do think it's helpful to do a comfortable speedwork day when you're training for long distances, too.
Too much "other stuff:"  Dude, life is stressful.  If you're moving, starting a new job, or breaking up with your significant other, it might not be the ideal time to push yourself physically.  If you're feeling sluggish, your body might just asking for a emotional AND physical break.  Hold off on big goals until you're at a better place.
Listen to your body, not the training plan:  Whether you use a standard training plan or create your own, it's impossible to predict in advance how you will react to training.  Be flexible with your plan and pull back on mileage if you're feeling sluggish.  Constantly re-evaluate it and adjust your mileage goals.  Take a few extra rest days (trust me, it won't "ruin" your race) or make it a taper week.
Unrealistic race goals:  Sometimes, for one reason or another, our original race goal (whether time or distance) becomes unrealistic.  It's important to constantly reassess if you need to drop down to a shorter distance or be more forgiving about pace.  Once I dropped down from a 10K to a 5K because I wasn't feeling my best and it was the best move ever (I won the 5K!). Here's how to set race goals without driving yourself crazy.
And the big one… SLEEP:  For me, the biggest culprit of sluggishness is always sleep.  As I ramp up mileage for my marathon, I notice I need more and more sleep in order to recover – sometimes as much as 9.5 hours a night.  So, get in bed early!
Why are your runs sometime sluggish?  What's your remedy? And do you require as much sleep as me when you ramp up exercise?