Last time, after giving birth to Henry, I wrote a Mind & Body After Baby series.  It seems like everyone really liked the balance between mental and physical health.  I'm so glad that you all liked the split between mental and physical health because, to me, that's what being truly healthy is all about.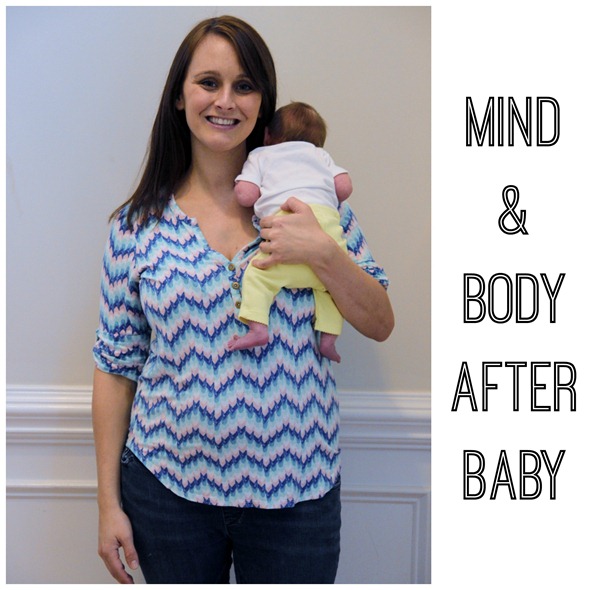 I hate the way that magazines make women feel like all that matters is getting your "body back" post-baby.  Sure, I'm a fitness-conscious individual who loves to do triathlons and be active, so getting back into shape for my hobbies matters to me.  Also – I cannot wait to wear clothes with buttons and zippers again! But those magazines promote unrealistic timelines and create false expectations.  And the mental adjustment to a new child is huge, too.  When I look back on my post-partum period with Henry, I don't immediately think about when I got back into running or how fast I lost the baby weight; I remember how I felt emotionally after becoming a mom – the ups, the downs, the triumphs, and the challenges. 
I guess that emotional change doesn't make a great magazine cover, does it?   But maybe it can make for a decent blog post…
MIND AFTER BABY
Oh my!  What a difference.  I remember being shocked – SHOCKED – by motherhood when Henry was born.  He was so very much wanted, and we were at an excellent place in our lives to have a child, but the lifestyle change that comes with having a baby hit me like a ton of bricks.  The responsibility.  The pressure (so much of it self-imposed, by the way). The constant need to be "on."  Parenting – that shit is real, y'all.
I suffered from anxiety after Henry's birth.  Am I doing this right? Am I a good mom? Is he happy? Is he well-fed? Why isn't breastfeeding going the way I thought it would? Why is he crying? How can I juggle this with work? I remember experiencing a huge hormone crash when I got home from the hospital and definitely had a touch of the baby blues. 
I'm happy to report that, so far, it's different.  After two and a half years of parenting, I know enough to know that I don't know everything – but I do know one thing for sure.  Nothing lasts forever.  The bad and hard parts.  The good and sweet parts.  It's so clichéd but it's true – kids grow up so fast.
I decided my word for Claire's newborn period (and probably for a long time!) is going to be SURRENDER. Just give into the hard parts and enjoy the sweet parts and don't try so desperately to claw my way back to some hectic version of my pre-baby "normal life" – because it WILL eventually return to normal anyway. And why stress myself out trying to get there right now?  It's okay if I wear pajamas everyday and kind of smell like baby spit up and don't have the drive or time to exercise.  My priority right now is pretty simple – my family.  And if I focus on that, I'm being as successful at life as I can reasonably expect to be.
So, to summarize, I'm feeling really good because I'm just not putting pressure on myself in any way, shape, or form.  It's a wonderful feeling.  And, quite truthfully, I think it makes me a better mom, wife, and individual overall anyway (that's not to say that I haven't had my moments where I felt completely and totally overwhelmed – because I most certainly have!!!).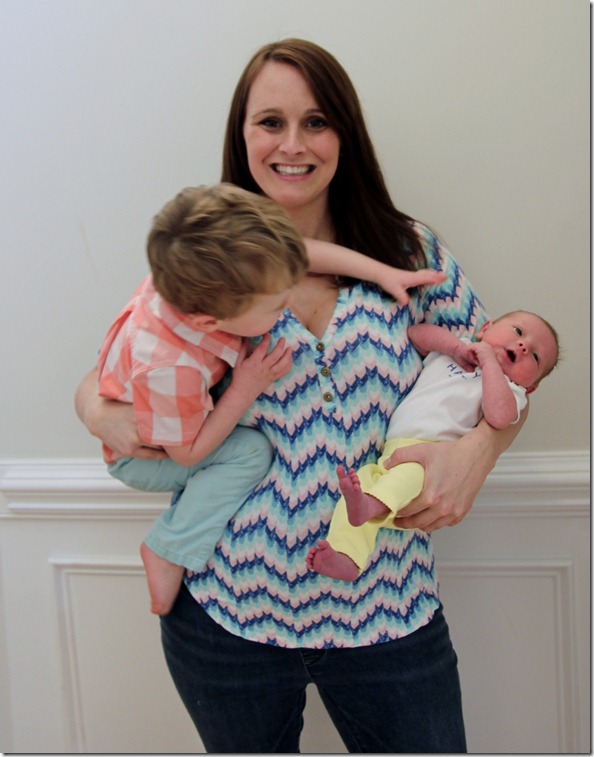 BODY AFTER BABY
I am excited to use this space to track my fitness progress when I do decide to make this area of life a priority again.  I'm planning on doing a 5K in March, and I hope to do a triathlon in the summer with my friend Brandi.  She has two kiddos, too, and we're roughly at the same fitness level (well, when I am fit!), so I think we'll be a perfect training match. 
Weight is just one way to measure post-baby fitness, but I do think it's interesting to track my loss, so here are my stats:
Starting Weight: 123
Weight Before Delivery: 165
Weight 3 Days Post-Partum: 155
9 Days Post-Partum: No idea, don't own a scale. But all my organs are definitely falling back into place after being shoved out of place for so long! The body is so cool.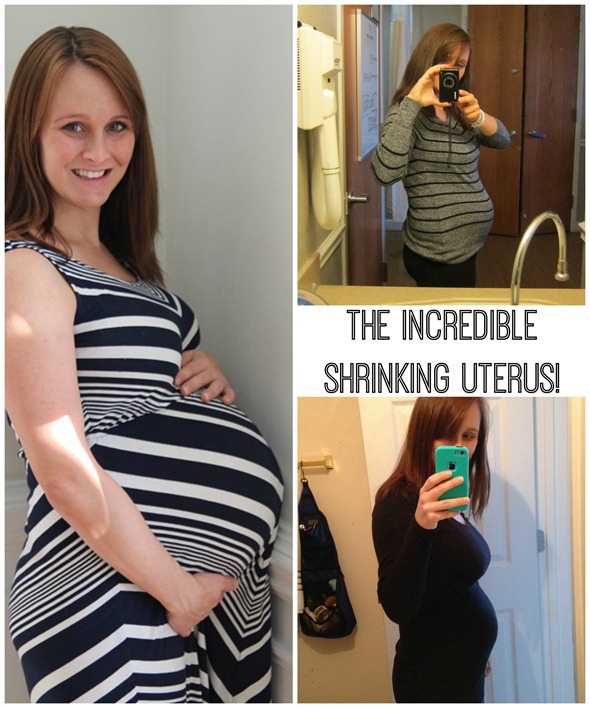 I am not really worried about weight loss.  I think it's really important to have realistic expectations about what your body looks and feels like after delivery.  Yes, I still look pregnant even though I'm holding a newborn – but most women do for a while.  Yes, I am still about 30 pounds from my pre-pregnancy weight – but that's pretty normal, too.  All that matters to me right now is that I'm recovering and I'm producing enough breast milk to feed Claire.
I have been moving around the house and have run a few errands, but other than that – not much.  I did go on my first walk yesterday; we went down the block.  I wish I hadn't torn during delivery because I think I would feel normal otherwise.  Healing from that is going to take some time and will probably be my biggest roadblock to physical activity.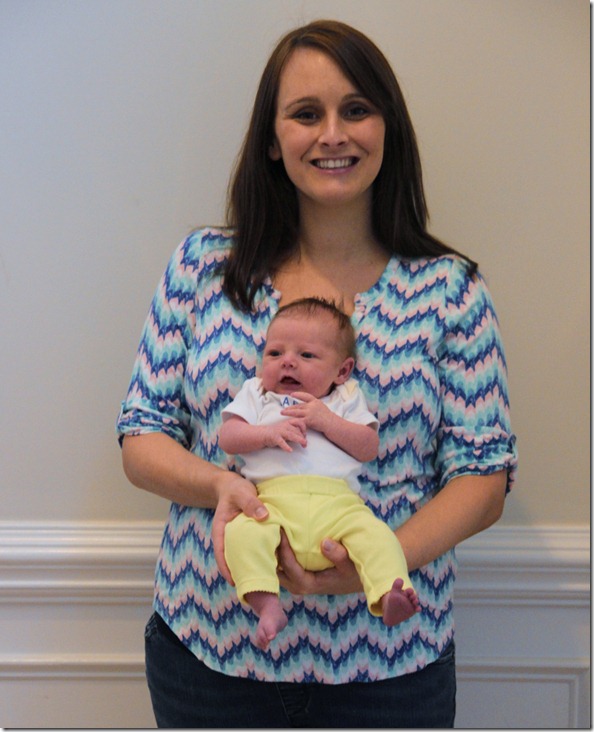 Side note – these photos were practically impossible to coordinate. Hah. First of all, it involved showering and actually putting on real people clothes. Then Claire was SO not into taking photographs.  And her bright yellow pants threw off the color balance of the whole photo!  Hah.  Trying to get one with Claire and Henry at the same time?! Oh my lord.  No.  It was a comedy of errors…
How did you feel emotionally and physically one week after delivery?  It's so different for every woman and, as I'm learning, so different from child to child!
Side note – For some post-pregnancy positive body image talk, I really love the Fourth Trimester Bodies Project!