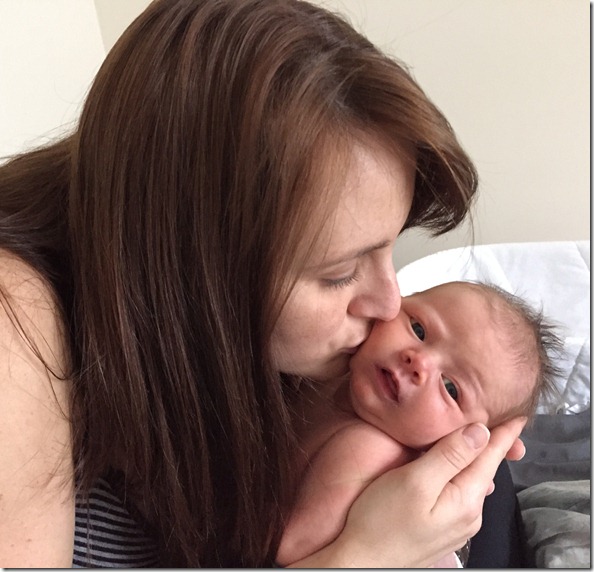 Claire was born on Tuesday, but her birth story started on Sunday. I woke up with spotting, and some Googling revealed it was probably my bloody show (which I never had with Henry). I always thought a "bloody show" was a one-time, dramatic thing, but mine was slow and light and lasted until Monday afternoon (my due date!), when I had two hours of mild, short contractions. Those contractions went away the moment I got off the couch, so I knew that it wasn't the real deal, although I suspected it was close.
When I crawled into bed on Monday night, I sent a silent prayer that my contractions wouldn't pick up through the night. I really wanted a good night's sleep!  Thankfully, I only had five or six contractions through the night, and although they woke me up each time, I slept peacefully in between.
On Tuesday morning, I slept in, coming downstairs around 8 AM. I helped the Husband and my mom with morning chores, fed Henry breakfast, and started to clean the kitchen. At 10 AM, my contractions came back. When the first few didn't go away with activity, the Husband said I should start timing them.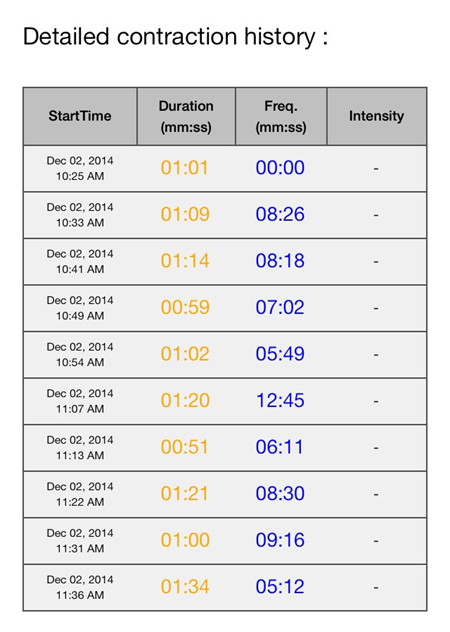 The duration and frequency of the contractions confused me. They were far apart, but lasted a whole minute and felt really intense – and I'd only been experiencing them for 45 minutes.  It didn't really match up with what Bradley Method or my midwives taught me, which was generally to wait to go to the hospital at 5-1-1, when contractions are 5 minutes apart, 1 minute long, and have been like that for at least an hour.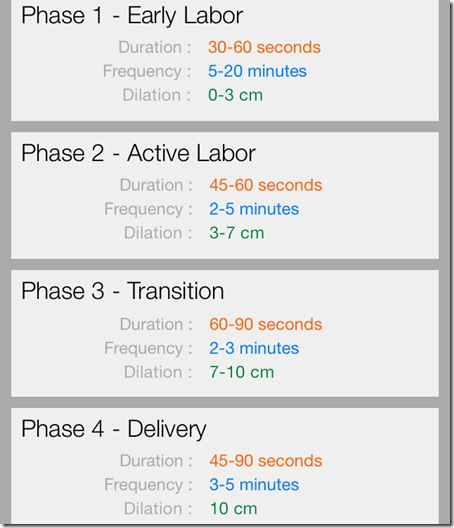 At 11 AM, I left the living room and went into my bedroom to labor in bed in the dark. One of my big goals for this labor was to completely utilize my Bradley Method teachings and totally relax my body through contractions. I breathed deeply and peacefully, relaxed my face, and zoned out through each wave; it really wasn't so bad when I made an effort to release the rest of my body.  My mom hollered upstairs that she was going to take Henry to the park so we'd have the house to ourselves, and at 11:15, Henry came into my room to ask me, "Where's my baby sister?" I kid you not!  We didn't know the sex, but I swear that Henry did!
Mom and Henry left shortly after, and at 11:36, I had my last timed contraction – it was suddenly mind-numbingly intense and lasted 94 seconds. I immediately lost my peaceful cool and found myself in my bathroom, sobbing and moaning so loudly that the Husband SPRINTED upstairs (he was packing the car) to comfort me. I cried, "I NEED to go to the hospital RIGHT NOW. I think I'm in transition already!"  Transition is generally described as the hardest, most intense, most painful part of labor (although not everyone feels it the same way).
Bradley Method teaches women and their coaches that every stage of labor comes with 'emotional signposts' (here's a good explanation of this theory). The emotional signposts for transition is fear, panic, and self-doubt. You're overwhelmed.  Now, if you've read Henry's birth story, you know that his transition was really hard for me.  So even though I had only been laboring for an hour and a half (it took me at least 7 hours of contractions to transition with Henry), I knew what was happening to me when I completely lost it in the bathroom. It was so instantaneous and intense that it HAD to be transition. The Husband leaped into action at my emotional signposts, helping me downstairs and into the car.
My contractions sped up in the car – they were 2 minutes apart. I gathered myself emotionally as we approached the hospital. When we arrived, we were whisked into triage. My midwife quickly did a cervical check and announced I was at 8 centimeter (you push at 10) – I was floored.  She said, "You better hustle into a delivery room!"
When I got to the room, the Husband immediately filled up the tub so I could labor in the water. I crawled in and experienced a grand total of ONE contraction in the water before I realized that I needed to get out and push (my hospital doesn't let you push in the tub).  The urge was so overwhelming.
My second big goal of delivery was not to scream too much – I realize this sounds funny! I wasn't gunning for some crazy silent birth or anything. But when I re-read all my Bradley Method books, I realized that I made WAY too much noise during Henry's birth. I really think I wasted too much energy yelling, and that it was a huge factor in why I pushed for three hellish hours. So this time, when I started to push, I shut my damn trap and concentrated. I think I only yelled four or five times – I really made an effort to not expel energy through my mouth, and the Husband did an awesome job coaching me through that.
I ended up pushing for an hour, which certainly isn't fast for a second-time mom. But still, I felt like I was a much more efficient and effective pusher – I asked the nurse and midwife to do a lot of coaching and really tried to follow all their directions every single time, like chin to chest, breathe and exhale, elbows out, knees back.  By the way – serious kudos to my awesome midwife and the amazing hospital nurses.  It took half an hour of pushing to naturally break my waters, which seemed to speed things up.  Towards the very end, I started to talk to the baby aloud – I said, "You will come out on the next contraction. This is it. You are going to be born RIGHT NOW." It was probably a little funny to observe, but it worked – I felt that we were closer to the end.
Just four and a half hours after the first contraction in my kitchen, the baby's head came out. Then I felt the shoulders release.  The midwife turned to the Husband and said, "Do you want to deliver the baby?" He gripped under the baby's shoulders and lifted her out of me – it was amazing (and the nurse told me afterwards that the hospital hardly ever lets the men do that!). He gently pulled, placed her on my stomach, and choked out, "It's a… GIRL!" My amazing and intuitive son was right!  It was a baby sister.  I felt my heart expand and explode into a million pieces – a sweet little girl for us all to love.
Claire was so alert, looking around with big, dark blue eyes. She stayed on my chest while they stitched me up (I tore along my previous episiotomy scar – boo!), nursed shortly after birth, and never left our room during our two-day hospital stay.  In comparison to how I felt physically after Henry's grueling birth, I felt relatively great after Claire's fast one.  If I hadn't torn, I would've felt completely normal three days afterwards.  Such a difference!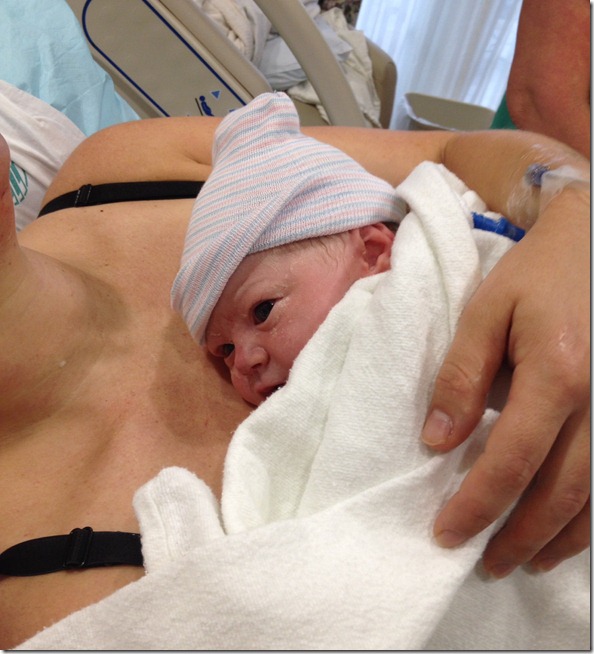 When Kristien and I first started dating a decade ago, we fantasized about our future family and decided that, if we ever had a girl, we'd name her Claire Joy.  I truly always felt like Claire 'existed' – and now she really does. We feel so blessed to have her in our family.
Related Content:
Henry's Birth Story, Part I and Part II
Pre-Henry's Birth Review of the Bradley Method
Post-Henry's Birth Review of the Bradley Method
Round Two of Our Drug-Free Birth Plan: What We Changed and What We Kept