I have another fun use for my DIY Pumpkin Spice… Pumpkin Pie Ice Cream!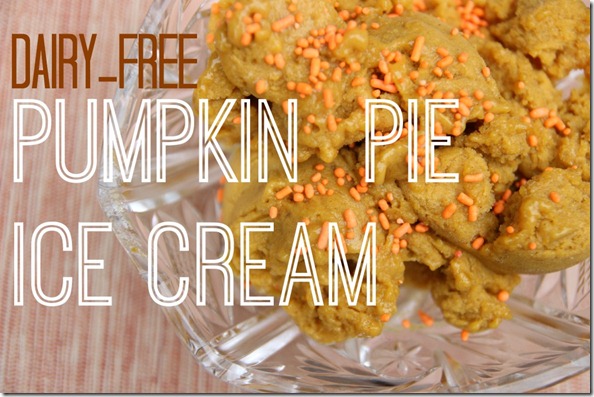 (You've got to try Pumpkin Spice Tofu!)
Here's the cool thing about this ice cream – it's actually vegan.  Yup, entirely dairy-free.  It's based on the infamous Banana Soft Serve and is super simple to make.  All you need is a food processor or a high-powered blender (like a Vitamix).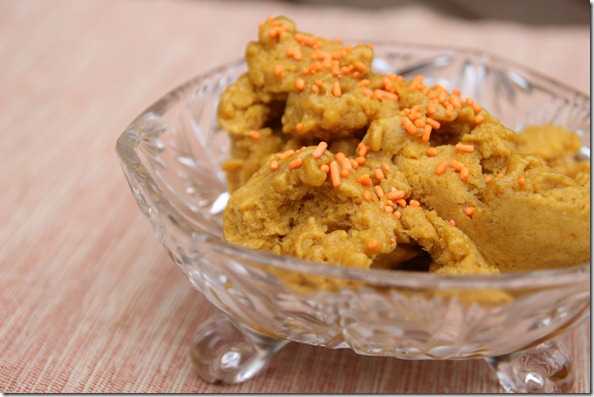 Pumpkin Pie Ice Cream
Ingredients (for two servings):
3 ripe bananas, sliced and frozen

3/4 cup pumpkin puree, chilled

2 teaspoons brown sugar (or maple syrup or agave nectar)
Directions:
Before preparing, make sure you've sliced and thoroughly frozen the bananas and chilled (not froze) the pumpkin puree.

In a food processor, combine the banana, pumpkin puree, and brown sugar until a creamy mixture forms.  This takes about 5 minutes.  Be sure to thoroughly combine so the brown sugar isn't gritty anymore.

Serve immediately.  Or, for thicker ice cream, freeze for an hour before serving. If you want to store overnight or for longer, you'll need to let it sit out for about 30 minutes before re-blending – this will help you re-achieve that creamy, dreamy texture.
Smash it between two sugar cookies to make a pumpkin ice cream sandwich!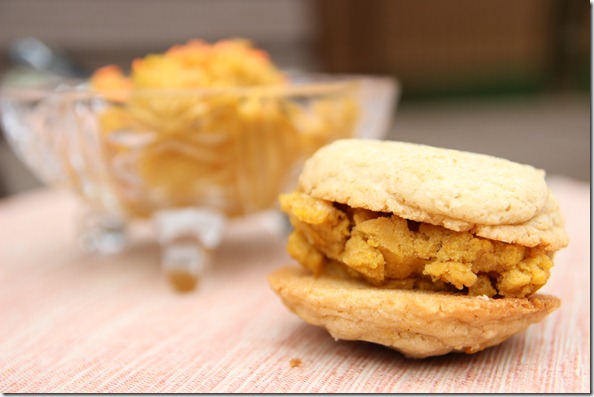 I would offer to share with you but… we already ate it all.  Not a single lick left behind.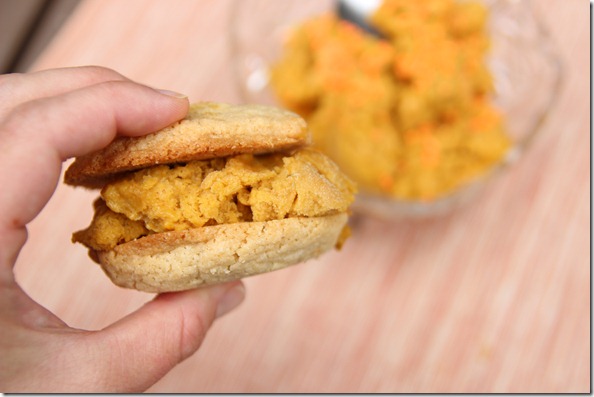 Side note – Henry has been doing a lot of cooking with me lately.  He is learning about ingredients, especially the concept that you mix or bake ingredients into things and then they change in appearance.  I served him one of these cookies and he immediately scrunched up his face and shouted, "WHERE DID DA BANILLA GO?" (Where did the vanilla go?").  When I told him it was baked in, he said, "Ooooh, I see da banilla. It's in cookie crack."  Hahaha.
Happy munching!