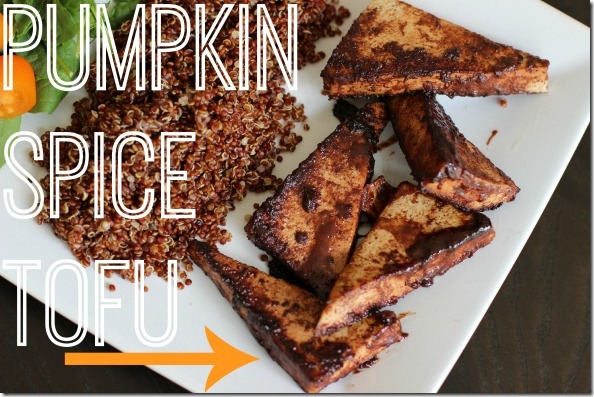 Henry started "preschool" this week.  It was hard for me on Wednesday – I cried a lot after drop-off.  But then I quickly realized that – holy crap! – I can get a lot of stuff done in four hours if I really focus (plus, he survived, so – winning!). 
Baby #2 is due on December 1, so I hopefully have three months' worth of childcare time to tackle a large, long list of To Do's.  Most of it is work-related (like 2014 taxes – already!?), but there are some big home projects that I'd like to do, too.  Once the baby arrives, I'm looking forward to using Henry's daycare time for newborn bonding/momma sleeping. 
That's my long way of saying that I actually had a chance to develop and test out a yummy recipe for lunch today!  Wahoo.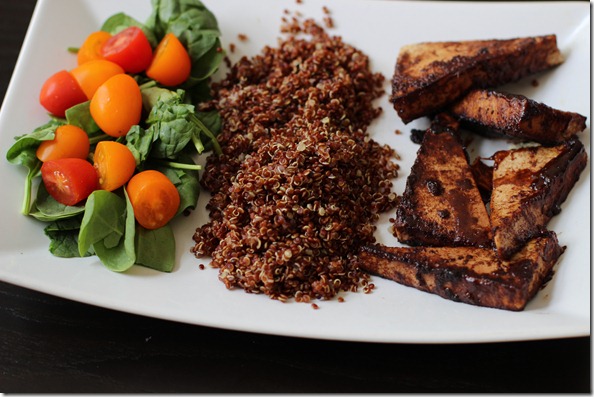 I *love* this tofu glaze because it's not too sweet but very, very flavorful, thanks to the addition of my DIY Pumpkin Spice blend!  Also, it goes from refrigerator to plate in less than 15 minutes, which is great when you're trying to squeeze every last bit of productivity out of your time!  Hah.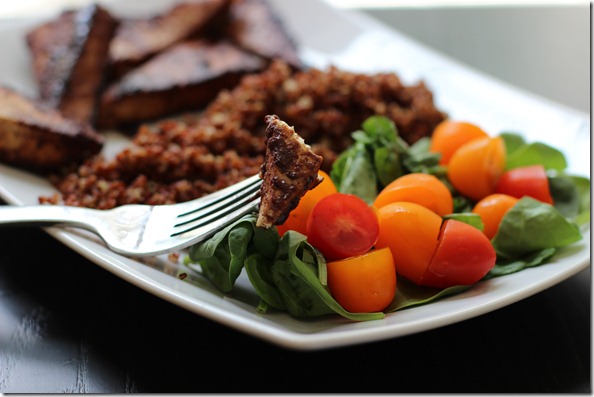 Pumpkin Spice Tofu
Ingredients (for 2 servings):
1 block extra firm tofu, pressed and drained if necessary (depends on the brand)
2 tablespoons Pumpkin Spice blend
2 tablespoons oil (I used coconut, but vegetable works, too – you want something with minimal flavor)
1 tablespoon honey
Directions:
Grease and heat a non-stick pan.
In a small bowl, combine spice blend, oil, and honey.
Cut tofu into 1/2 inch thick triangles.
When pan is hot, pour in spice mix. Wait a minute or so until it starts to bubble, and then carefully place each piece of tofu into the pan.
Cook on one side on Medium High heat for 7 minutes, carefully flip, and cook for another 5 minutes.
Remove from heat, let stand for a minute or so to allow glaze to harden, and then plate and serve.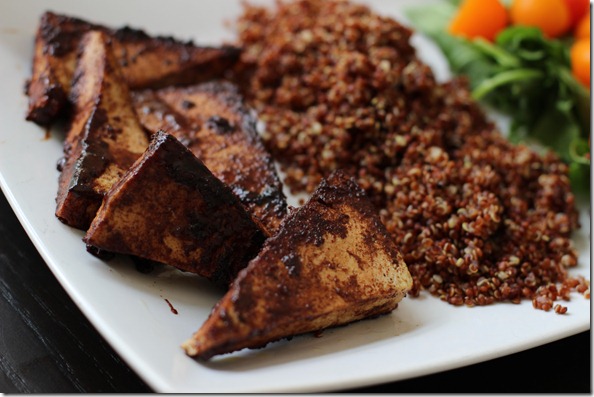 Enjoy!
I hope you have a wonderful weekend.  I know that RELAXING is firmly on our agenda.  Have a good one!