I've showed bits and pieces of our house over the years and written my thoughts on whether I regret our home purchase.  I go through stages where I love and then hate our house.  I'm currently in a liking it phase, so I thought it was a good time for a house tour!
When I was thinking about this post, I decided to photograph the house the way we really live in it – no staging and no picking up allowed (well, save for the undies on the floor; generally speaking, we're pretty tidy). 
Living Room: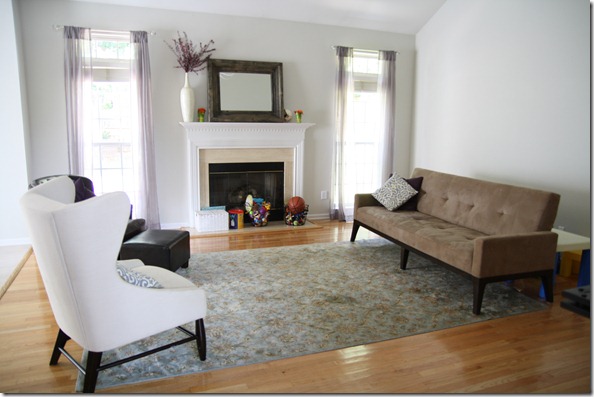 Since moving in, we've arranged the furniture several times and gotten new accent chairs (actually, only one was new and the other was moved from another room).   This is what the living room looked like pre-kiddo: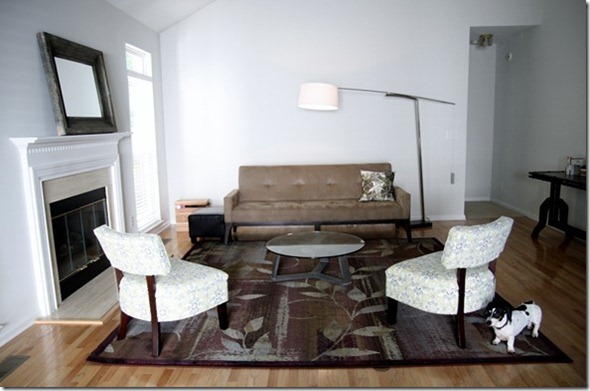 I painted some DIY Wall Art and then took it down when I got tired of it. Nothing ever replaced it! We used to have a glass coffee table and really gorgeous floor lamp; neither were kid-friendly. The coffee table now lives upstairs in the Man Cave and the lamp resides at the Husband's office.
We're much more kid-friendly these days, but I prefer the look of the old space…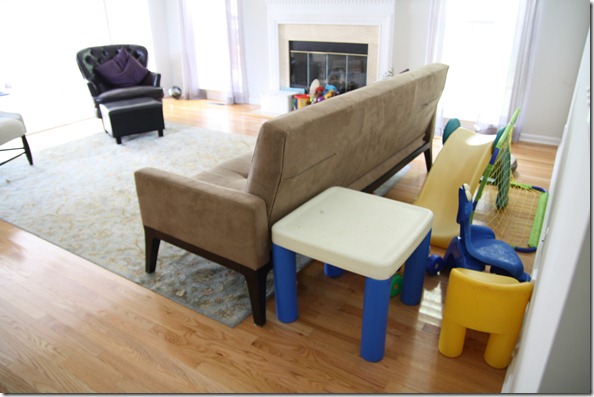 All the toys are still hidden behind the couch!  Here are my tips for Toy Control.  I'm big on it, as I'm sure you can tell from the pictures… I hate having toys OUT all the time.  I can deal with behind the couch.
The Husband hung up pretty grey curtains.  I was away on a business trip and returned home to this excellence!  It was a nice surprise.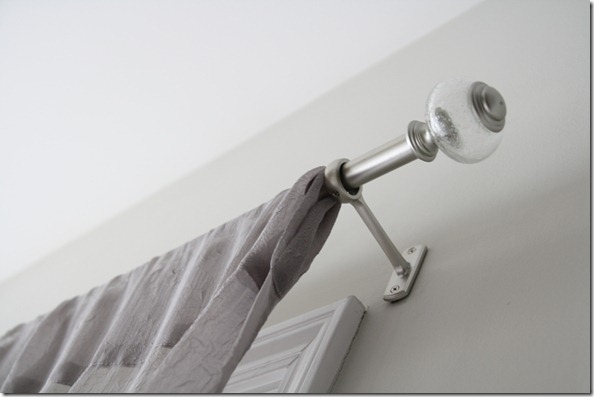 Kitchen: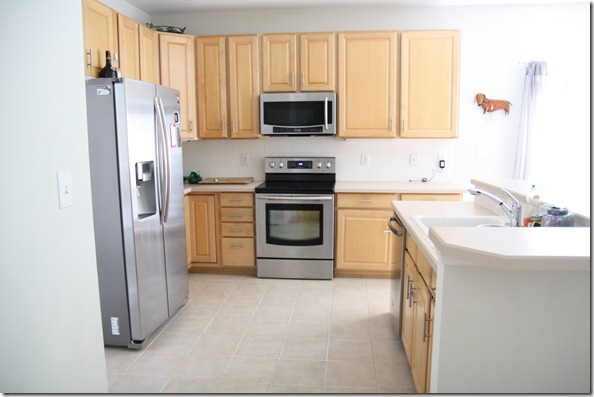 Here the original kitchen tour.  As you can tell, the biggest change is that we bought new appliances!  We were forced to buy a new dishwasher because the old one died.  We lived with mismatched fridge and oven for a while, but eventually sprang for stainless steel everything.  We also upgraded the hardware (they were an ugly 1990s gold before – actually, everything in our home is!). 
On our kitchen to-do list:
New flooring (to extend into the dining room and home office)
New countertops
New backsplash
That won't happen for a long, long time, though.
Dining Room: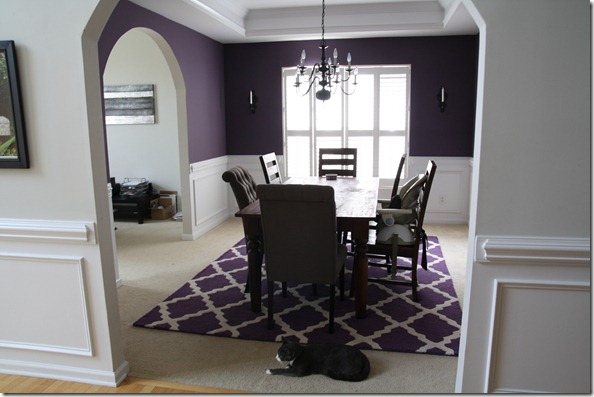 (It's kind of fun to play spot the pet in these photos – everyone makes an appearance!).  Our dining room has been awesome.  I love the purple and white walls and the purple rug.  I get a ton of compliments on this space. 
When we moved in, the walls were green, and the chandelier was gold (here's how we transformed it with a little spray paint).  We originally had white linen chairs around the table, which looked really wonderful.  But let's face it, white linen chairs are about the STUPIDEST purchase you could make if you have a child.  So I replaced them with wooden chairs (plus two gray head chairs). We eat in this room at least three times a day – it sees a lot of action.
Home Office: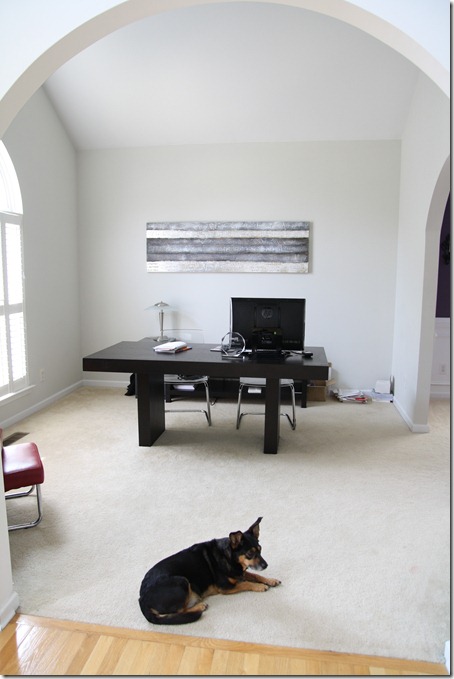 Looks pretty much the same as it did the last time I wrote about it… We still have a chalkboard wall on the one wall you can't see in this photo – I really love it.  It's super fun (and kind of messy).  My desk is the messiest place in the house – I happened to catch it on a really good day.  The mess BEHIND the desk is usually on top of it.
Master Bedroom: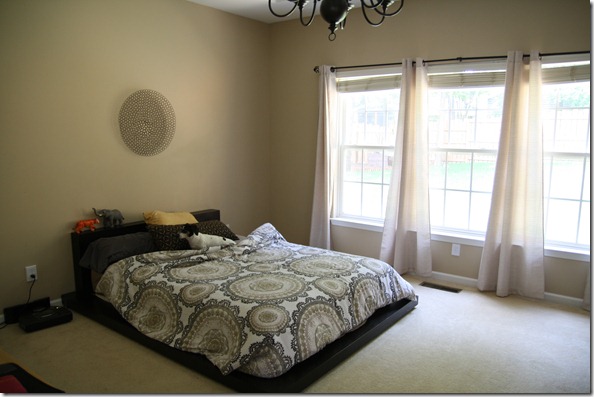 The biggest change with our master bedroom is that it's now our guest room.  That's right… we moved upstairs!  More on that in a bit.
In the master bathroom, I hung up a canvas print of baby Henry on the beach.  We replaced some lighting and some hardware, but the room pretty much still looks like the 1990s vomited all over the space.  I know we need to do it up before we can sell the house, but it's going to come after the kitchen.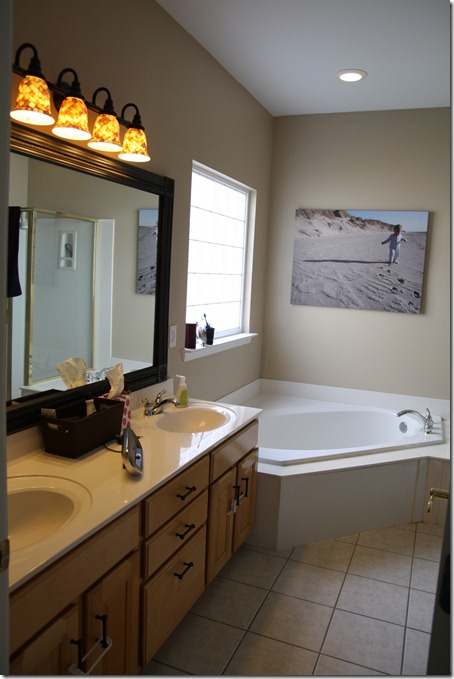 NEW Master Bedroom: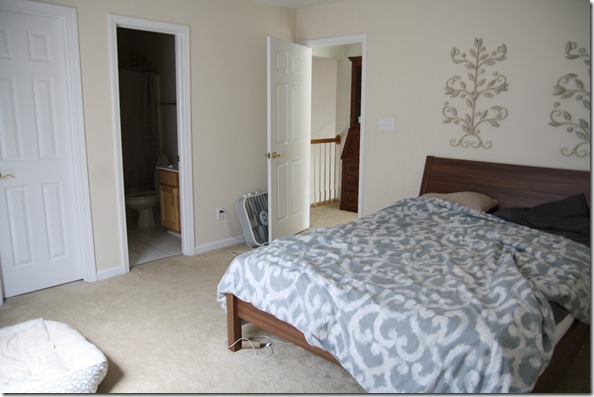 We now sleep upstairs… It's nothing special.  We moved our bedroom to be closer to Henry (we were downstairs before).  I actually like sleeping in this room more; the other one was too bright.
Man Cave:
Still my #1 room of the house!  Nothing has been done to this space since I wrote about it last.  We spend a LOT of time in here watching TV… It's my happy place.
The Nursery: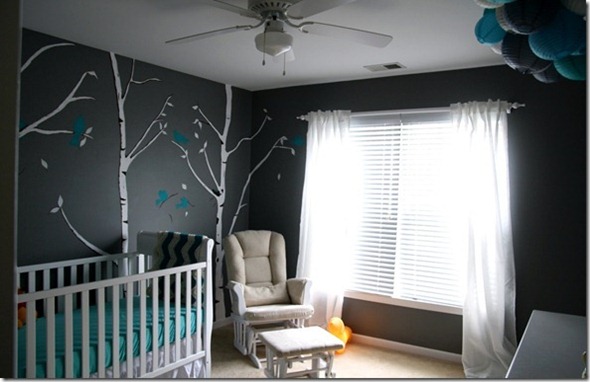 Looks like it did when I did the nursery tour, which is where this photo is from because Henry is currently sleeping (Side note: So proud that the nursery has been pinned on Pinterest over 2580 times!). Only differences is the rug is more stained and there's a twin mattress in front of the crib now (to prevent hard falls if he climbs out).
Henry's Big Kid Room: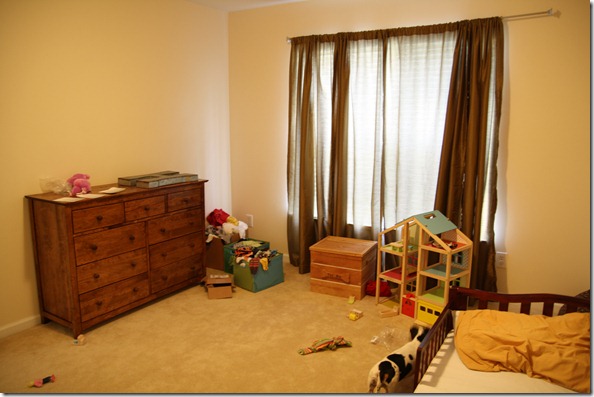 OMG – what a disaster, right?  Consider this the BEFORE photo.  Hopefully, I will have a really awesome picture to show you guys in a few weeks!
The Backyard: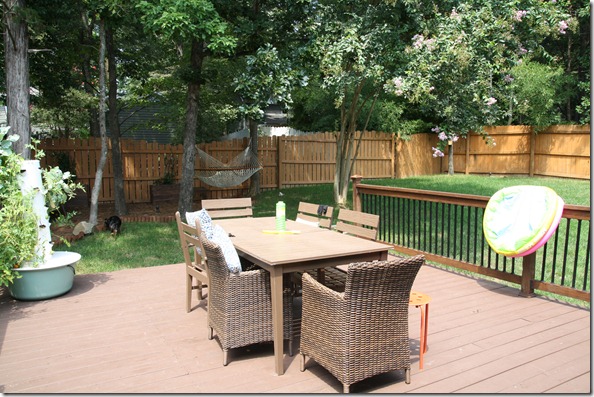 If the Man Cave is my favorite room, then the backyard is my favorite space.  Because I loooooove it after our amazing Backyard Transformation. <— Seriously, check out the before pictures.  The only thing that's changed is we painted the deck.  There is pretty much always a kiddie pool, a hose, and five buckets on the deck at all times.
The Garage: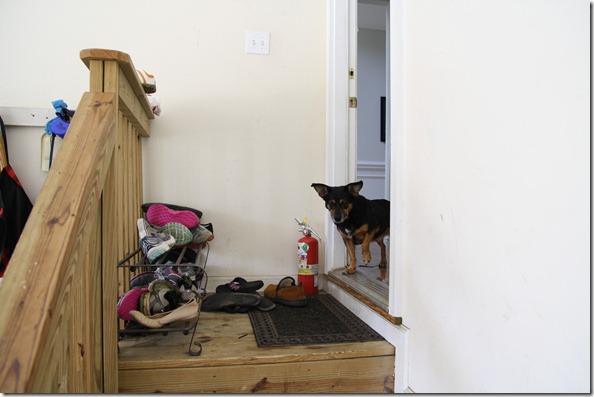 I've never showed a pic of my garage landing because – let's face it – it's an ugly area of anyone's home, but I recently did a fun little project.  So above is what my landing looked like BEFORE – total disaster area.  We had a shoe rack that was ALWAYS overflowing.  You'd have to step over a million shoes just to get in the door.
I hung up an over-the-door shoe racket and – TADA! – huge difference for $10.  I also hung up some Command wall hooks for my purse and Henry's backpack so they actually have a 'home.'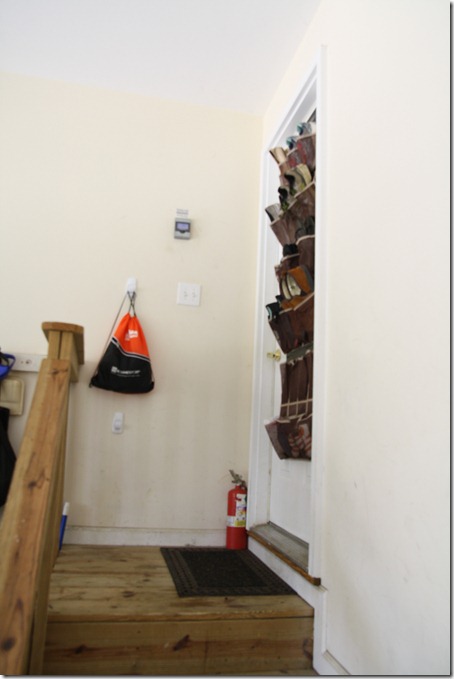 It's the little things, isn't it?
So – that's our home tour!
What is your favorite room of your house?  What room do you want to do a major overhaul to?