The nursery tour!
I must have pregnancy brain because yesterday, I spent the entire day telling people I was three weeks from my due date.  40 weeks minus 36 weeks is 4 weeks, not 3.  Meh.  Well, regardless, Happy 36 Weeks, BabyHTP!
I'm feeling pretty good this week.  I have really bad carpal tunnel in both of my hands, but it seems that BabyHTP is dropping, so my heartburn has disappeared.  I'll take it.  I'm sleeping well and exercising regularly.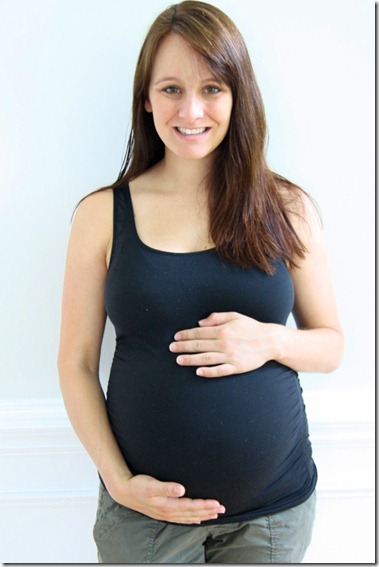 Okay – onto the good stuff.

  The nursery tour!  I have been dying to show you guys the nursery.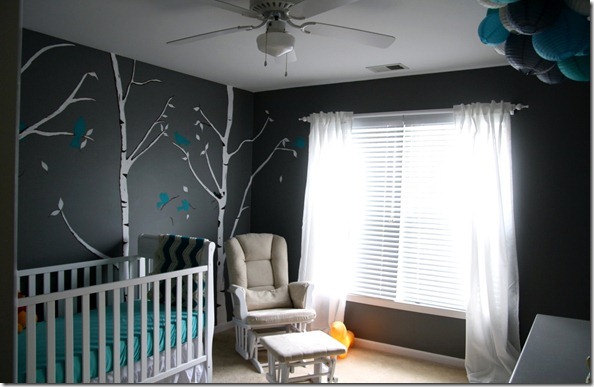 I am married to a man that really cares about design and decorating.  He is not the type of man to say, "Oh, honey, I don't care what the rug in the living room looks like… You can choose whatever."  Fun fact: he actually chose our wedding colors and the bridesmaid dresses. Anyway, I really care about design and decorating, too, which means that neither one of us have ever decorated a room entirely by ourselves as adults.  When we moved into the new house, we decided that we'd each get free reign over one room:  he did the man cave, and I did the nursery. 
Of course, we don't know if BabyHTP is a boy or a girl, so when browsing for nursery ideas, I had to wade through a lot designs that seemed boy- or girl-specific (i.e. pretty, pretty princess).  I finally found an inspiration nursery that I loved – this nursery from Modg.  I loved concept of gray paint (we used this color by Sherwin Williams) and the white trees and ran with it from there. 
Let's start with my favorite part of the room, though – the dresser/changing table.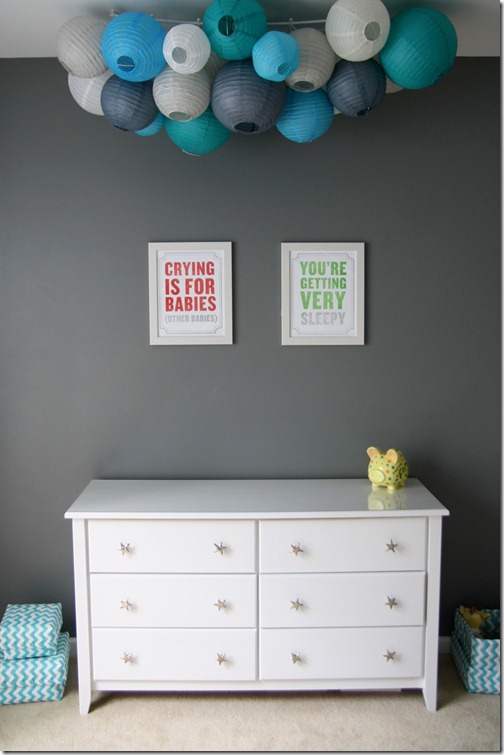 One of the great things about our nursery is how our friends and family really pitched in to make it special and unique.  My mom, for example, painted this dresser, which actually is the dresser that I grew up with – I got it when I was 7 or 8 years old and used it until I left for college.  She painted it a lovely white and got a plastic sheet cut to fit the top.  We're both a little concerned about the safety factor of the star handles (they are pointy), which are the original handles to the dresser, so I may swap them out before BabyHTP becomes mobile.
I ordered a changing pad for the top of the table – it should be here any day now – and in one of the drawers are all the diaper supplies.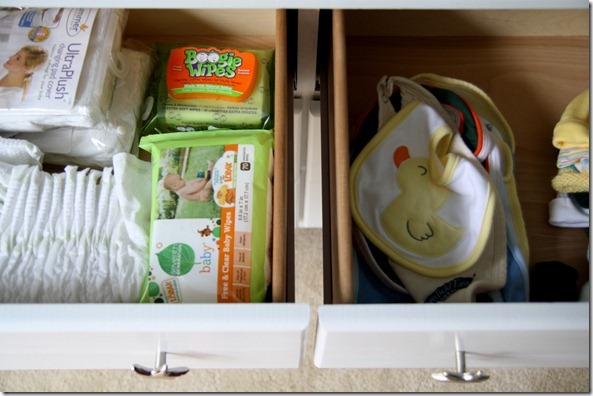 Baby clothes are so tiny.  It kills me.
Above the dresser are two prints that I found on Etsy (here and here).  My friend Kath bought them for me as a gift and framed them herself.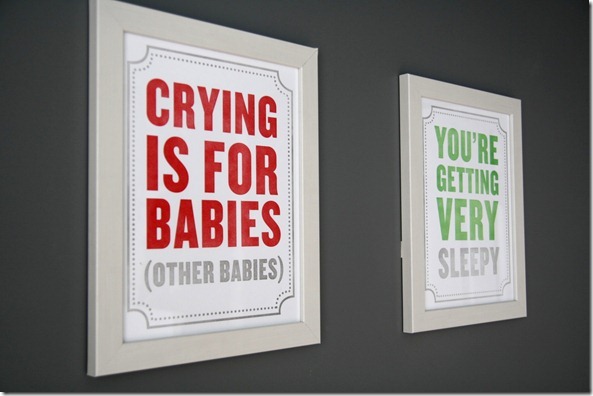 And above the prints is an awesome mobile.  I contacted a shopkeeper on Etsy who specialized in paper lantern mobiles and asked if she could create a custom one.  I have to say – Janie Girl Crafts is incredible.  I am pretty bad at describing concepts aloud to others ("Um, I want a horizontal mobile… with blue… and it should be big… and pretty…") but she seemed to know exactly what I meant.  There are about twenty lanterns in the mobile.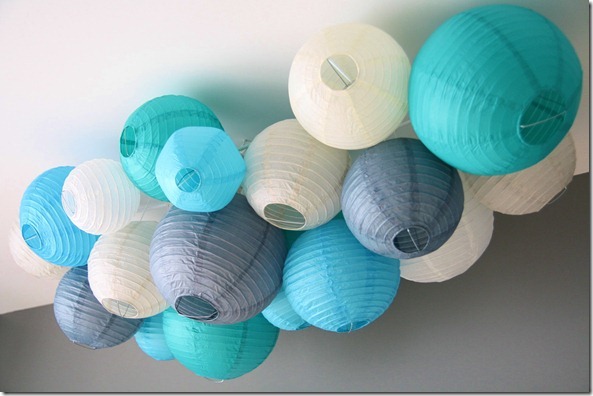 I hope BabyHTP likes to look up at all the colors and shapes while I'm wrestling a dirty diaper off his or her butt.
Swinging to the left, I've got the window and my seating area.  My mom generously gave me a glider for my shower – I selected this one from Stork Craft.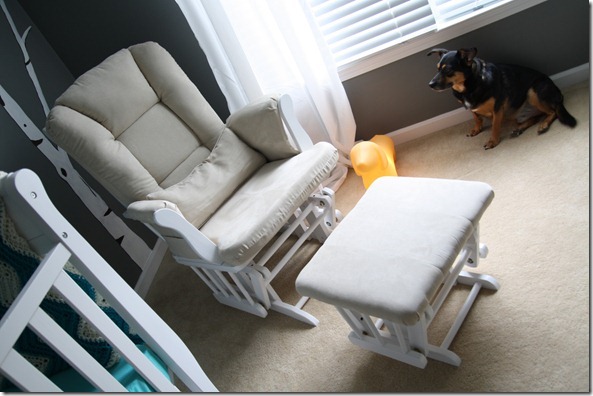 Choosing a glider really stressed me out – this concept seems laughable if you've never shopped for a glider, but they range from cheap (with mixed reviews) to outrageously expensive (with mixed reviews).  Not everyone uses a glider, but I know I will, and it was hard to select one.  All in all, I am thrilled with the glider and would highly recommend it – I think people just get really picky in their reviews.  It's comfy, glides nicely, and the back is tall enough so I can rest my head back.  Win, win, win.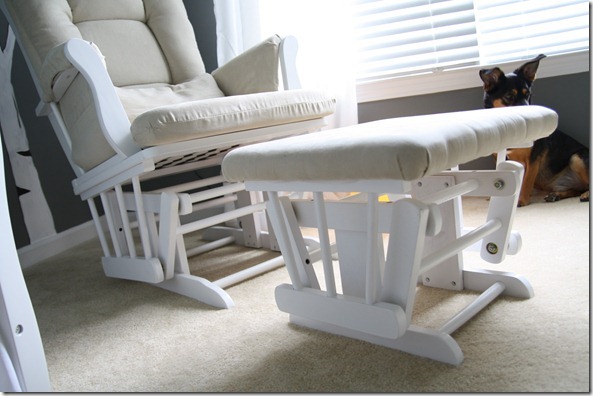 Maggie likes to sit in it.

Next to the glider, my dachshund night light.  Nicole gave me this for my shower – she remarked on the card that it was the weirdest gift she'd ever given.  But I love it.  First of all, it's exactly the same size as Maggie.  It gives off a really nice glow, which will be perfect for middle-of-the-night feedings.  Plus, it's totally silly.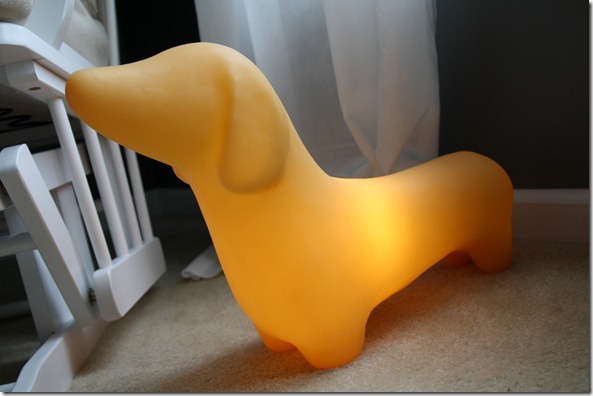 (I'll move to the dresser when the baby becomes mobile to get the cords out of his or her reach.)
Swinging to the left again – the pièce de résistance!  The mural.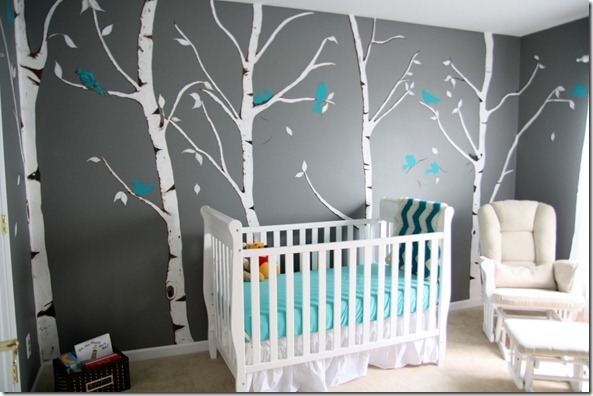 My mother-in-law is an incredible artist and has been painting the baby's mural on-and-off for a few weeks.  She did it completely freehand, and it's absolutely wonderful.  She still has a bit to go – some shadowing and details – but I'm not sure when she's going to be able to finish it up because of work travel.  Hopefully, it will be complete before the baby arrives, but if not – no big deal.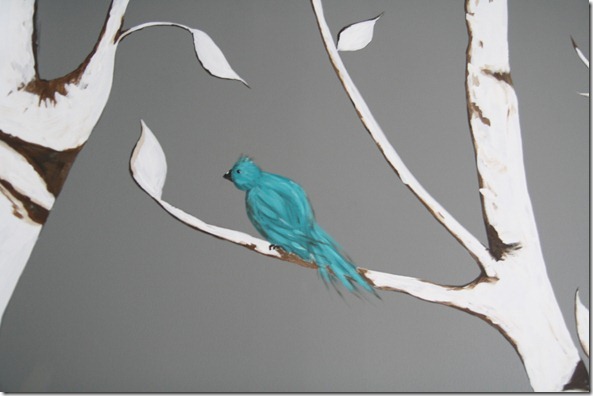 The neatest part is that the trees kind of glow when you turn off the lights at night.
Crib was a gift from my best friend Lauren (see what I mean? Everywhere I look in the nursery, I am reminded of our sweet family and friends – it's wonderful).  Believe it or not, but the crib is actually from Wal-Mart.  It's really beautiful and sturdy.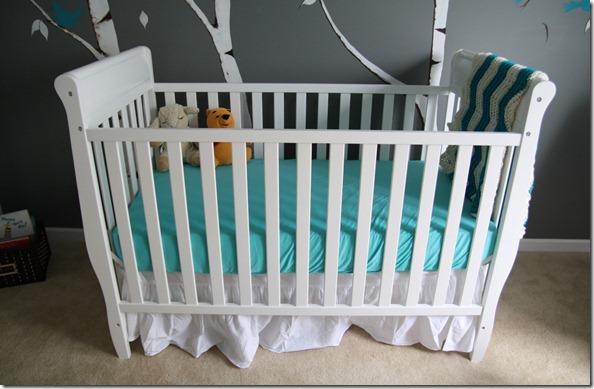 I bought these sheets and this skirt.  And the blanket is a hand-knitted one that I bought from Etsy.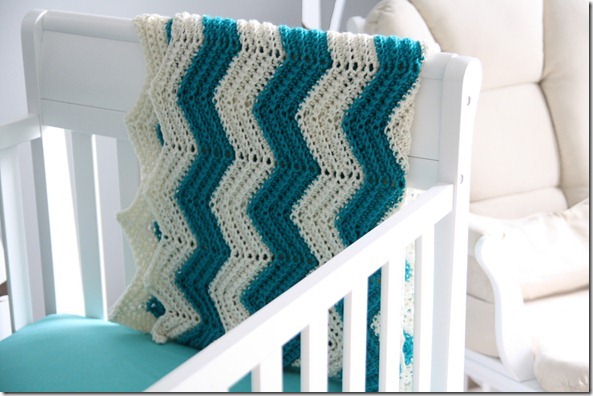 I splurged on that blanket because it perfectly matched the boxes that I bought from Land of Nod.  I'm keeping toys and breastfeeding supplies in these.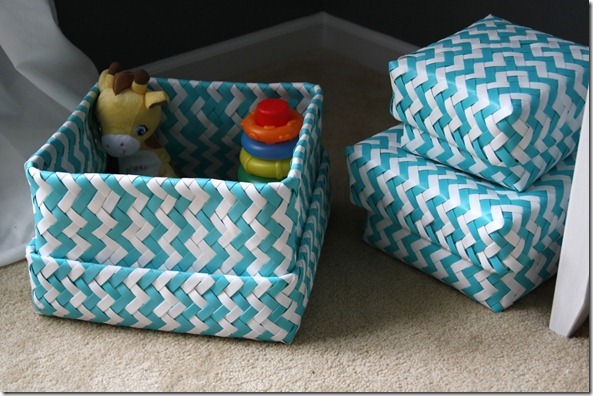 Speaking of toys and things for BabyHTP to do…
Love the non-traditional bookcase!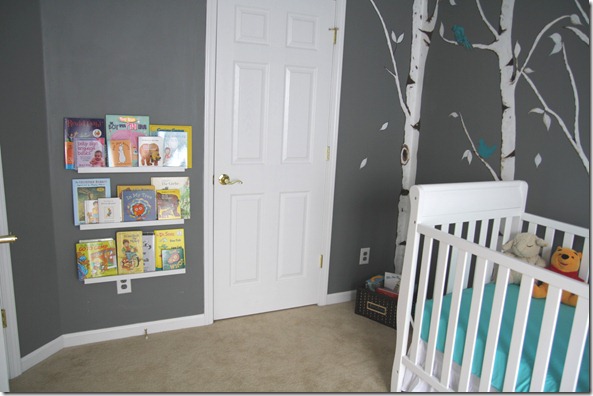 I bought three photo frame shelves from IKEA and used them to prop up the books – I thought it was more fun that having the pretty covers hidden in a normal bookshelf. 
We have SO many great books for BabyHTP because everyone who came to my shower brought their favorite kids book – each book is inscribed with a message from the guest, too.  I'm looking forward to torturing BabyHTP with the saddest but best story ever, The Velveteen Rabbit.
Book overflow: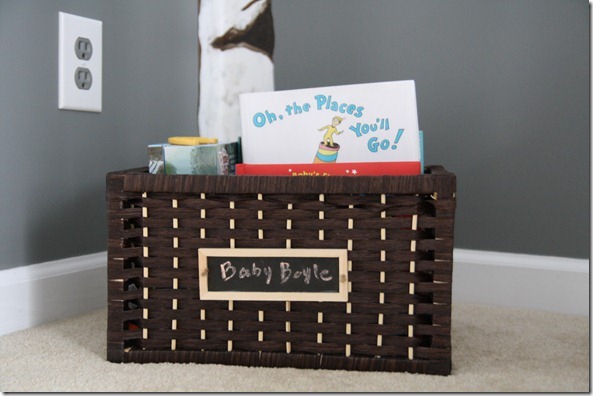 So – that's the nursery!  I hope BabyHTP has loads of fun sleeping, playing, and eating in the room – so much love went into it from so many people. 
And if you're wondering what the closet looks like… well, it's a disaster.  I need to put in some shelving and do some organizing, but I still have three four weeks left, right?  I sure hope so!