I moved my (rather large) desktop computer upstairs to the TV room so I can lay on the couch and work.  Soooo comfy.  Wanna come hang out and work with me?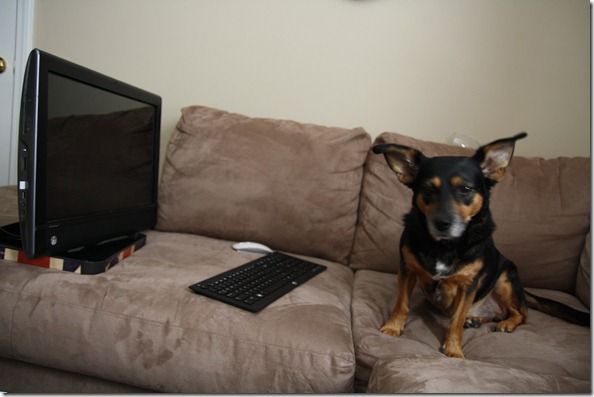 James, get out of my seat!
I'm still going strong on that salad-a-day thing. I really love this 'goal' because it's such a simple. achievable way to ensure that I eat enough vegetables.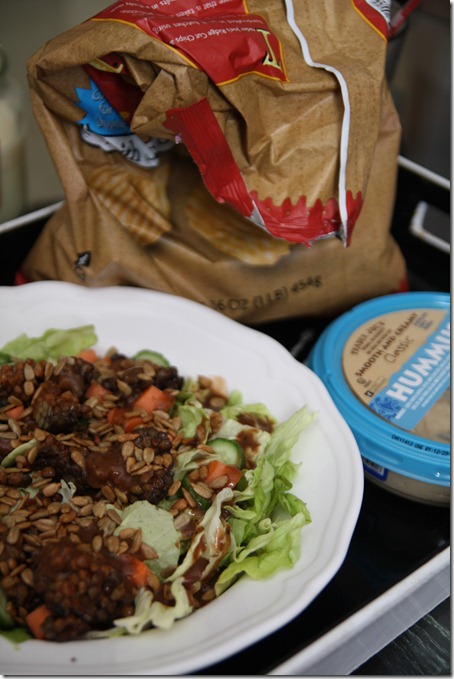 Also – potato chips and hummus is my new obsession.  Henry is equally obsessed.
In the mix:  greens, lentils, sunflower seeds, cucumbers, carrots.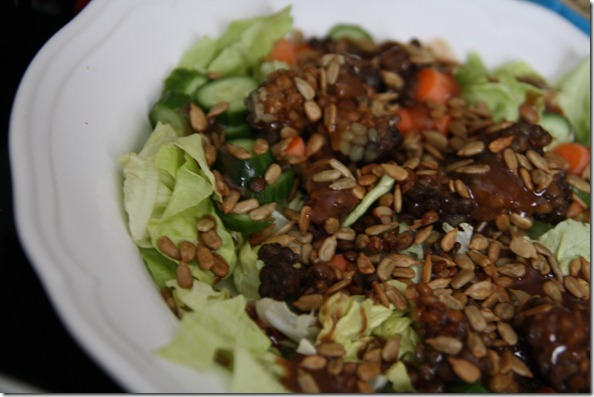 Workout
I did this wonderful swim workout this morning: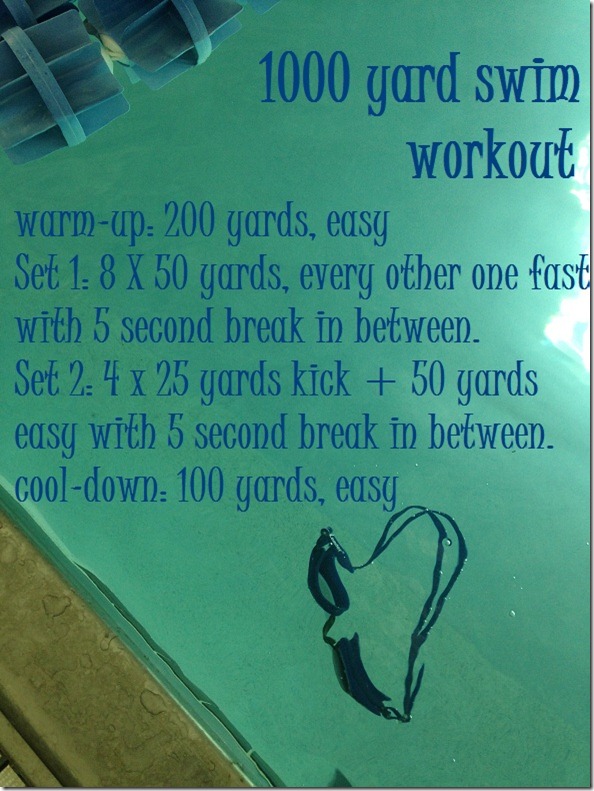 And then my goggles sunk to the bottom.
I mentioned this on Instagam (let's be friiiiends —> @caitlinhtp), but I LOVE my Half Ironman gear bag.  It was so totally worth the outrageous $65 price tag.  It's such a great keepsake, and it has so many pockets!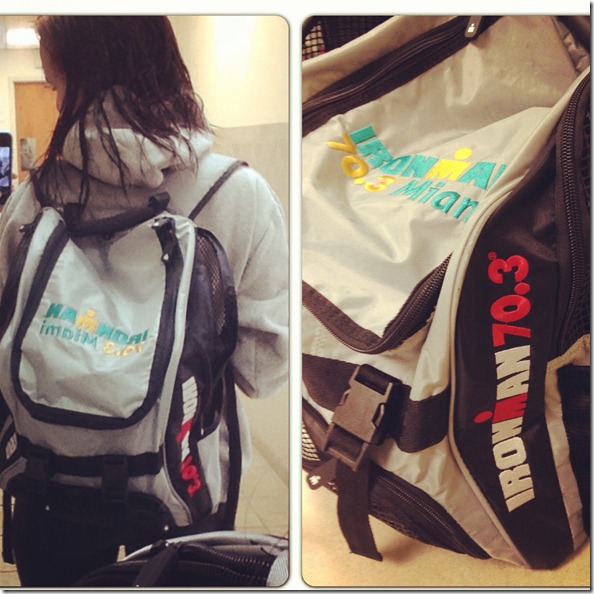 Speaking of triathlons, I was browsing races this morning and found an INDOOR TRIATHLON that takes place just a few miles from my house. I was so excited.   I could really use a triathlon in my life right now.  I've been searching for an indoor tri but thought they were all over until early spring. I've done a pool triathlon before, but never a triathlon that takes place entirely indoors (the swim is in the pool, the bike is on spin machines, and the run is on treadmills).
Here are my options:
Advanced: 600 yard swim, 10 mile bike, 3 mile run
Beginner: 300 yard swim, 5 mile bike, 1 mile run
I'm definitely signing up for the triathlon, but I can't decide what category to enter. Clearly, I'm not a 'beginner' (and I think that's more of a description of the race length v. an actual this-is-for-novices-only designation) but the advanced race seems a bit long to do indoors. I can barely squeak of 3.0 miles on a treadmill in normal conditions before I want to gouge my eyes out with my iPhone.  Also, if I did the shorter one, I could maybe do really well… I bet I could squeak out some fast times for those shorter distances.  Plus, both categories cost the same amount.  That being said, the advanced race would be a better workout… Hmmmmm.
It's only been two months since I did the Half Ironman, but I feel like I've lost so much of my triathlon fitness!  I've only got three weeks to 'train' for this event, so expect a massive step-up in swimming and biking.
Speaking of my race…
I finally updated the Race Recaps page.  I can't believe that I've done – and recapped –  54 races over the life of this blog!  Remember when I used to be (kind of) fast?  Me too.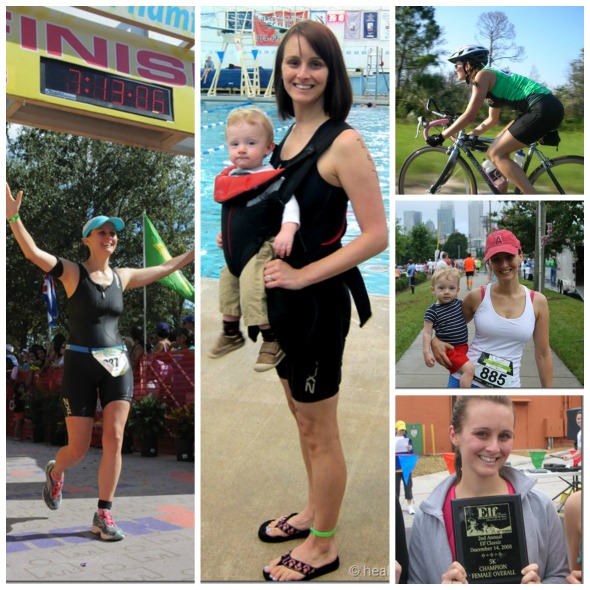 I also updated the Pregnancy and Birth page.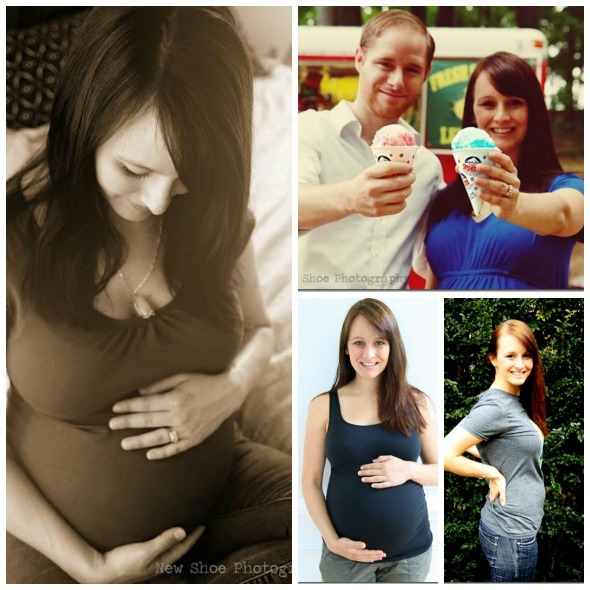 Side note: I miss the baby bump but I like Henry being outside my body more.  Also, I still really miss my long hair.  Grow hair, grow.
So – what do you think? Should I sign up for the longer race or the shorter one? I've got to  mail in my entry form today to be sure I make the cut-off!