Ford is sponsoring the Ford Fiesta movement, which challenges YouTubers to 'missions' that range from silly to charitable and everywhere in between. This month's theme is social activism.
I was asked to participate in the movement by writing a blog post spotlighting an individual doing incredible things in her community.
I am SO THANKFUL that I had an opportunity to meet Katie Holme of Healing Horses. Healing Horses began nearly 28 years ago when Katie suffered a terrible assault while working as a nurse. She suffered crippling physical injuries and severe emotional wounds after being attacked by a patient.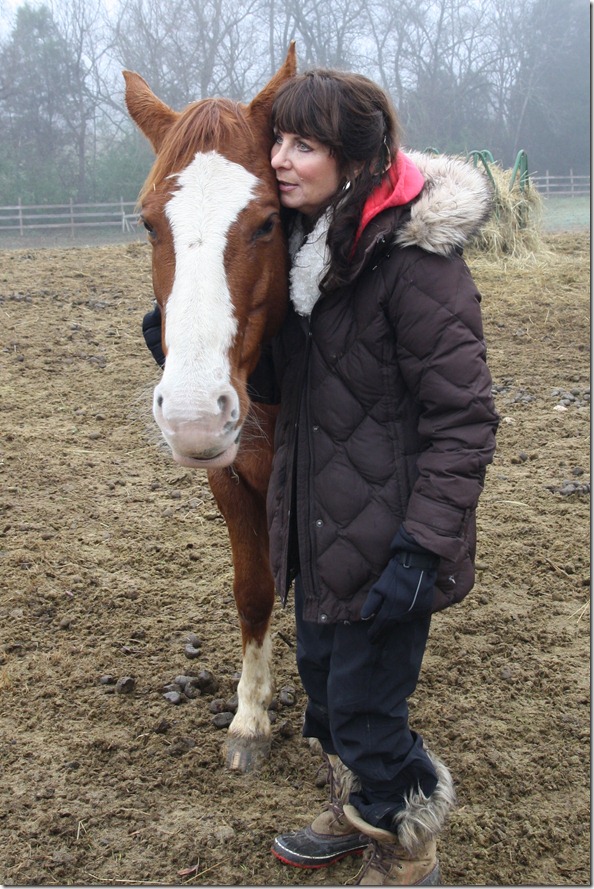 Her trauma was so great that she became intensely agoraphobic, refusing to leave her home or truly interact with people besides her husband for more than 7 years. Katie also developed crippling OCD that began when she checked – and rechecked – the locks on her door. She couldn't turn off the intrusive, negative, harrowing thoughts that bounced around her brain. Her post-traumatic stress disorder (PTSD) intensified, and although she sought treatment, she found little relief.
After many years, Katie began to find some peace by working with animals. She was asked to help a horse that had been neglected and starved.  And then there was another horse that needed her help. And another. And another. Katie blossomed as her horses recovered.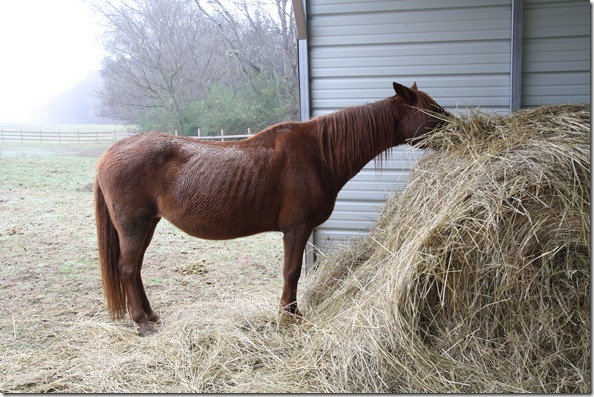 Click through to read more.
For many years, Katie's mission was simply to rehabilitate abused horses.  But about 8 years ago, two doctors, each suffering with PTSD, anxiety, and addiction, came to Katie's farm. They had heard Katie's story and wanted to meet her incredible horses. Katie watched in amazement as her horses transformed into "healers," helping mend the doctors troubled hearts and spirits… just as they had helped her.
More horses came, and more people came. Over the years, more than 50 people have come to Healing Horses to be "healed." Katie works with these people seven days a week – some people come once a week, some come once every two weeks. Some people come for a few weeks or months, and others stay for as long as five years.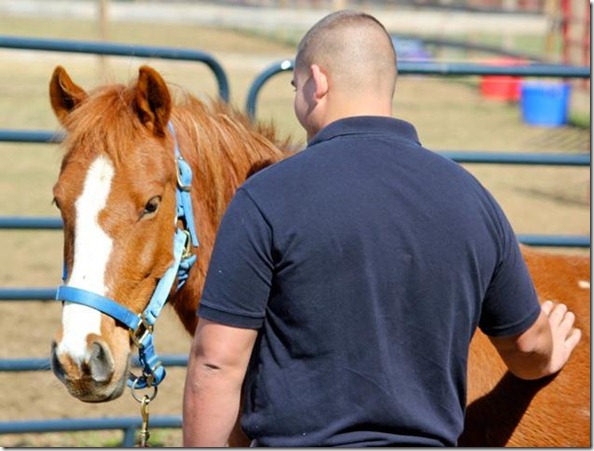 They feed, groom, and (occasionally) ride the horses, but most of their time is spent simply being with these gentle giants. Katie says that many people spend their sessions walking along the horse, sharing all their horrible secrets with the animal – things they can't tell their parents or their spouse or even their therapist.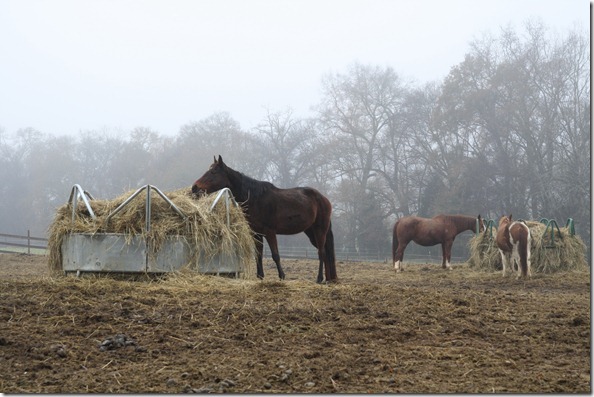 While I was walking around the farm, I noticed a pile of earth with some stones.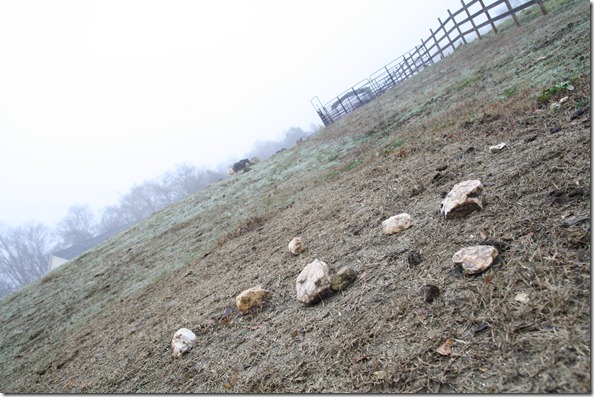 I asked Katie what the stones represented.
A horse named Faith is buried under the stones. Faith was very malnourished when she arrived at the farm, and neither Katie nor the vet thought that Faith would ever recover – no matter what they did.  But she lived several happy and peaceful months before eventually succumbing to her internal injuries. And while she as alive, Faith connected with a teenage girl suffering from PTSD as a result of abuse and neglect.  When Faith died, the girl painted Faith's grave marker.  And now she stands at Faith's grave when she visits, and she holds each rock tightly and whispers secret thoughts to Faith's spirit.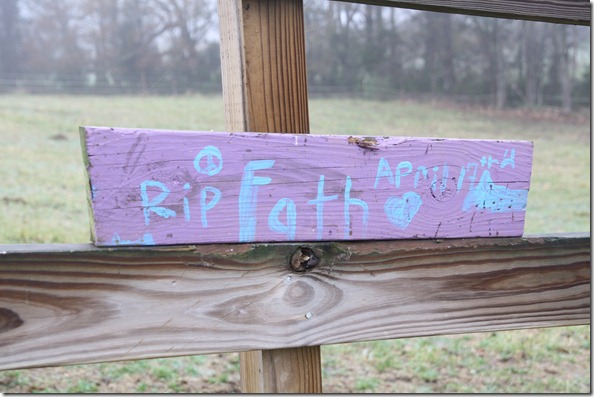 Katie told me that most of the people who come to Healing Horses are victims of sexual assault, sufferers of eating disorders, or veterans coping with PTSD. 
"These horses and Katie were the light in a dark tunnel for my husband, who battled PTSD. He connected immediately with a lovely little mare who had been used, starved, and tossed away… Much like he had felt after returning from Afghanistan. They healed each other, through their pain they found peace." – Ashley
"I can say with certainty that the herd at Healing Horses are the way out of the tangled webs you store in your mind… The horses accept you as you are. They have their own way of reading and assessing your pain. They don't turn away from it. They are not afraid of it. It's like they see into your soul, the unique fingerprint of the past and present pain that is YOU. They come to you. They go in without hesitation. Without judgment. And lead you out of the pit of the hell you may be living in. Please keep in mind – it may not be a straight path out… but this is not daunting to the horse. He doesn't give up on you. It's up to you to choose to come to the sanctuary. The way out maybe a wandering, meandering path; but he's in no hurry." – A. Cherokee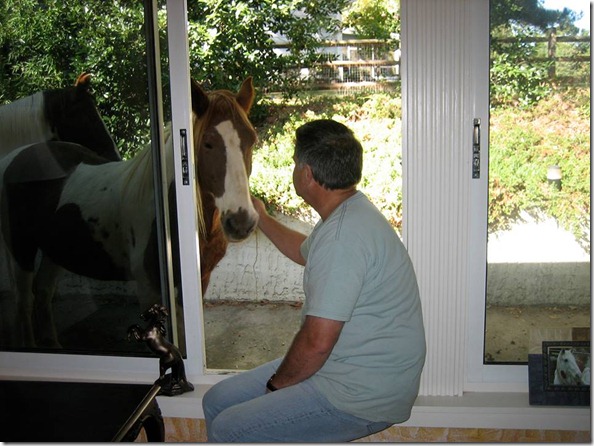 When you arrive at the farm, a horse 'picks' you. Katie believes that your horse is a reflection of you. Katie's first horse – a great guy named Chief, who I got the chance to meet – was so much like Katie.  He had been abused and was incredibly fearful. But together, they came out of that dark space. Katie told me that there are three types of abused horses: flight, fight, and freeze.  The horses than would rather run away will connect with people who have drawn into themselves, and the pushier horses will connect with people struggling with aggression.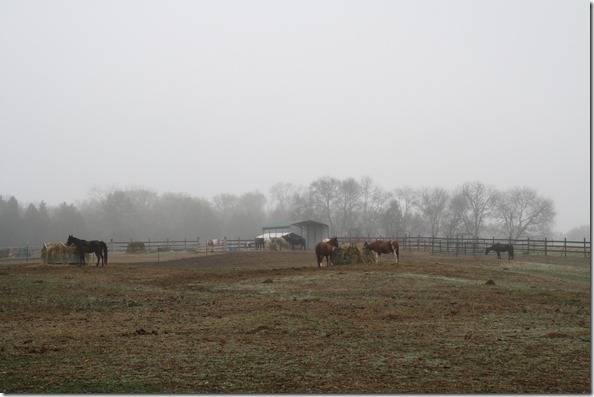 As I watched the herd in the cold mist, I couldn't help but think of this proverb: "A bird does not sing because it has an answer. It sings because it has a song."
The horses do not know human problems or concerns, but they do know fear, pain, and sadness.  And more than that – they know how to come back from it. 
Thanks to Healing Horses, they know comfort and love.  The horses have a song – and Katie connects them to people who've forgotten how to sing.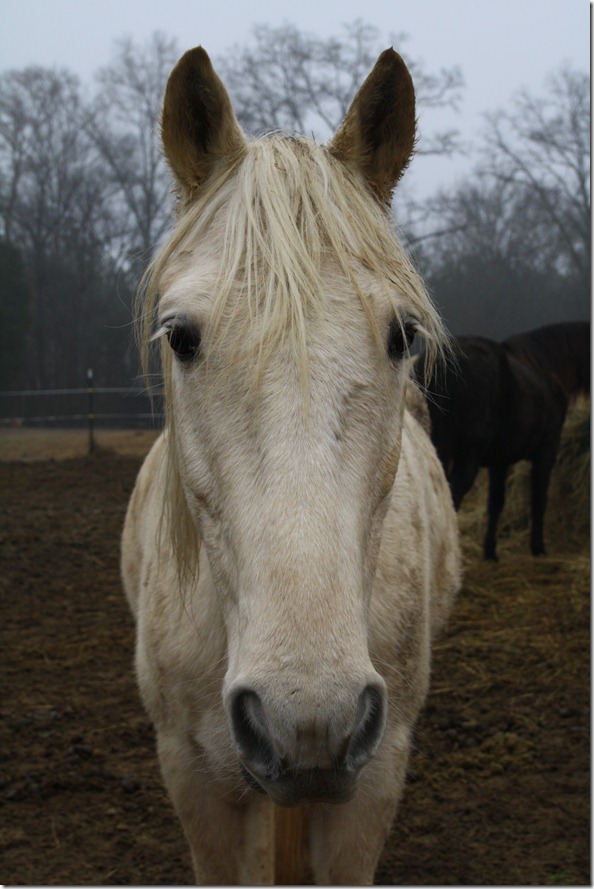 Later this week, I'll be sharing a bit more about how Katie rehabs the horses.  But until then, if you're interested in supporting this fantastic non-profit, you can head over to their website.  They are funded entirely by donations.  $25 feeds a Healing Horse for an entire week; I happily donated enough to support two horses for the entire month of December. I love knowing that my contribution will not just help the animals… but will also help my fellow man.
This post was sponsored by the Ford Fiesta movement.