I kind of dropped the ball with my Mind + Body After Baby updates, huh?  That's because, well, time suddenly felt like it was moving at the speed of light, and I could never remember to take our monthly pictures. Also, I felt like I had nothing new to say about my 'mind and body after baby' because after eight months or so, things pretty much went back to normal.
But now – I think it's time for an update about Mr. Henry.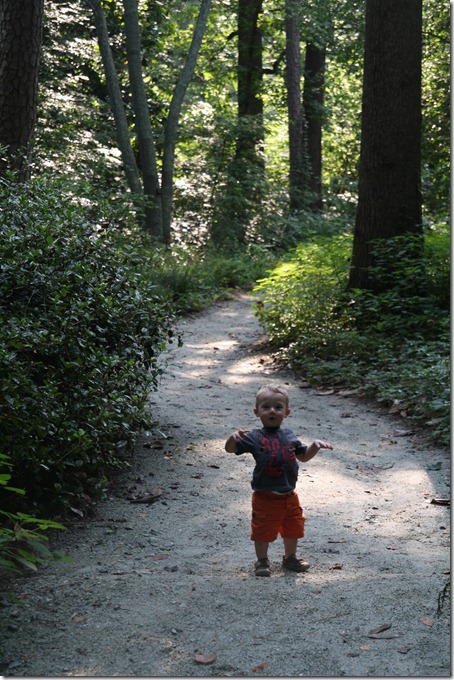 Henry is such a joy.  He's funny and friendly, happy and curious, and craaaaazy.  Oh man.  Henry is so nuts!  He is not a sit-still-and-look-around kind of baby.  He's been walking now for five months (how?!) and is very, very good at running, darting, dodging, dashing, and escaping.  People always say things like, "Man, he's nimble!" or "Future soccer player!"  And I kind of nod and smile before I have to turn around and sprint after him.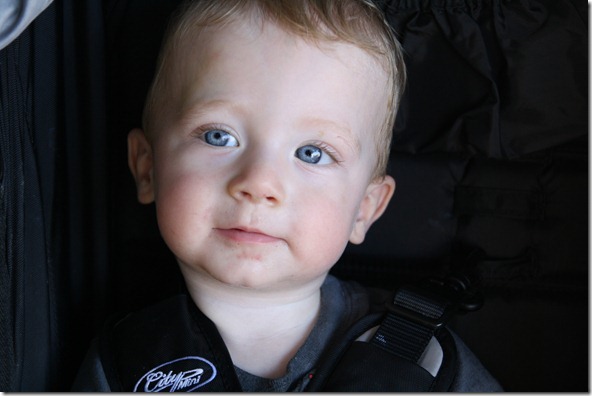 There's so much to say!  I think I'll break it into categories.
Sleeping:  Henry sleeps from 7:15 PM to 6:15 AM every night.  He rarely wakes up in the middle of the night.  I don't remember the last time that I had to go up into his room in the dark.  He takes one nap, beginning around 10 AM, and sleeps for 2 to 3 hours.  He's a very, very good sleeper – something that I never thought I'd say when he was four months old and up 4 – 6 times a night.  I love that he's down to one nap!  One nap is soooo much better than multiple short naps. His naps are my only chance to work, and I manage to get a lot done while he sleeps.
Eating:  Food is… okay.  Henry is just not super food-focused, as some other kids are.  This can make mealtimes very frustrating because I know he should be eating and needs to eat, but sometimes, he's just not interested at that moment (and is then screaming for a sandwich in thirty minutes). He gets better with solids every single day, and I'm no longer super nervous that he's going to choke on harder foods.
He eats three square meals and two snacks.  His favorite foods include:  eggs, hummus, potatoes, broccoli, smoothies, peanut butter sandwiches, sunflower butter straight from the jar, and beans.  We give him a DHA, B Vitamin, and D3 supplement every day per the advice of his doctor.  He loves to take his supplements and sticks his tongue out to say, "Ahhhh!"
Words:  Learning to talk has been SO MUCH FUN.  I thought that Henry might be a little delayed on language because he walked so early, but nope – he chats up a storm.  The words really picked up in the last two weeks or so. 
He can say:  dada, mama, baba, ball, cat, dog, meow, hi, bye bye, rock, bird, block, up, no, and duck.  He can also say the following words in "Henry speak" (i.e. I understand him but a stranger probably would not): applesauce ("app)", fish ("ffff"), two ("ta ta ta" – as part of me saying one, two, three), and diaper ("dip").  In terms of non-verbal communication, he can wave bye, blow a kiss, give a kiss, give the sign for "up," and give a hug.  I can tell that he gets easily frustrated when he wants something, and we can't understand him.  That's normally when this happens…
Behavior Issues:  About six weeks ago, I started to see the first signs of toddler-ness.  You know.. temper tantrums, hitting, and biting.  All of these things are completely normal developmentally, but man – it is so hard to handle, because the behaviors frustrate the heck out of me, I don't want him to hurt anyone, and it's hard to watch your child be upset.
I'm working hard on being the parent that I want to be… not necessary the parent that I regress to when I'm cranky, tired, or worn out.  Especially how it relates to stuff like hitting and spitting.  Henry would hit when he was happy, sad, mad, bored, tired, or excited.  He would smack me hard in the face or hit the dogs (I was more concerned about the dogs than me – our dogs are so forgiving… but you never know).  After weeks of quickly correcting the behavior with a stern "No hitting!" and a mad face, the behavior was only increasing, and Henry suddenly started to mimic me with non-stop "no, no, no" to absolutely everything.  I realized then how often I was saying, "NO X, Y, Z!"  So I've decided to try a gentler technique and have been saying lots of "Ouch, that hurts momma; mommas are for hugging, not hitting."  We've been doing this for a few days, and I wouldn't say that he's been decreasing his smacking, but at least I don't feel like the No No No Queen.  You know what I mean?  (I'd love other parents to weigh in on this issue… I really value advice and feedback.)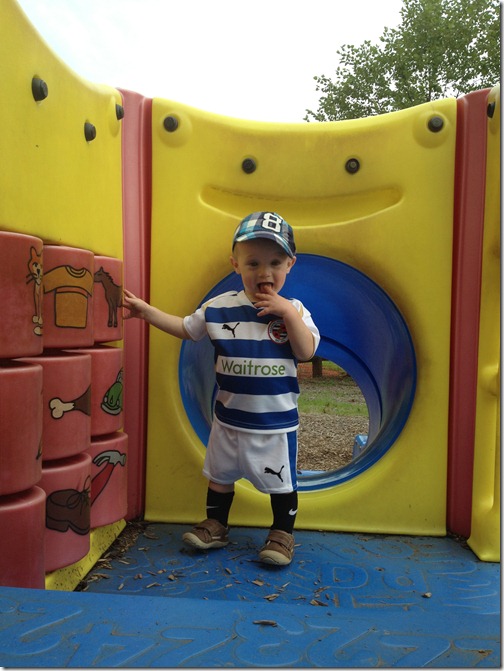 Oh, and regarding the bottles… Remember I asked a few weeks back about getting Henry off bottles? So many of you said not to stress out about it and to let him naturally give them up… I decided to follow your advice.  So Henry's still using the bottles, but I've got him down to only three a day before naps.  That's a big improvement!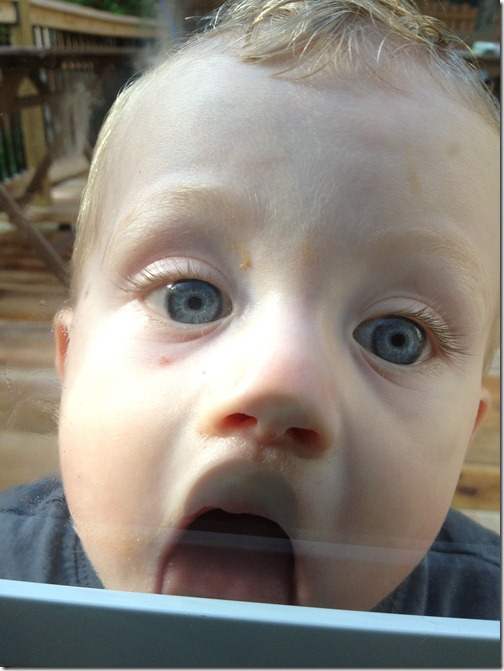 Fun:  On a lighter note, here's a few of Henry's favorite things:  going to swim school, reading books, going to the park and going down the big boy slides, hanging out with the ladies at childcare at the gym, playing with the cat, digging in the dirt, playing in his sandbox, cleaning alongside his momma (he has a baby vacuum and likes to mop the floors with a rag), and brushing his teeth. 
I love Henry so very much, and I love being his mom.  It's so much fun.  He's such a joy to be around, even during challenging moments.  He pushes me to be a better person and mother.  Being a parent is everything I thought it would be and more, from the quiet, sweet moments when we're cuddling before bed to the big, crazy moments when we're laughing and screaming happily.  Henry has helped me see the world through his eyes, for that, I'm eternally grateful.
Now… if only I could find time to shower.