Something sweet for breakfast…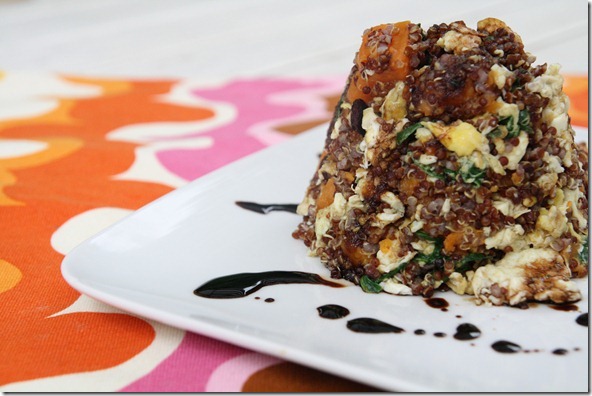 Someone sweet to love!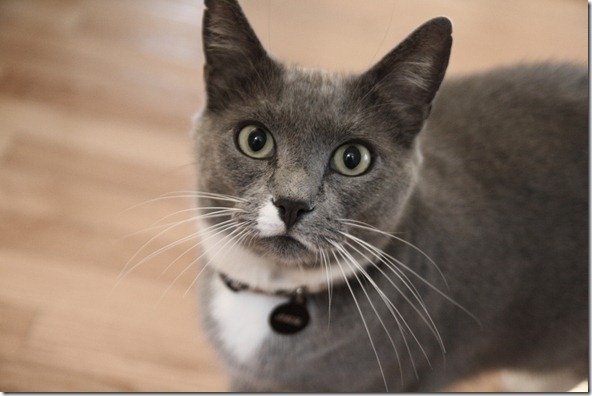 I figured it was time to write 5 Facts About Pippa since there's already 5 Facts About James and 5 Facts about Maggie.  Pippa's been with us since this Fall, and we love her so much!
Fact #1:  Pippa's full name is Pippa Middleton (all of our pets are named after Brits – Maggie Thatcher and James Bond).  Her shelter name, however, was Sweetie Pie (Maggie's was Tinkerbell and James was Oscar).
Fact #2: Pippa loves food. A lot. When we first brought her home, she ate so enthusiastically that I ended up overfeeding her.  I put her on a diet when my mother-in-law came over and asked me if Pippa was pregnant. She's down to her fighting weight now.  You may remember pictures of Pippa eating on top of the powder room toilet – we fed her in the bathroom so her bowl was away from the dogs.  But then, every time a guest walked into the bathroom, Pippa would sprint after them saying, "Meow? Meow? MEOW???" and jump onto the toilet before they could sit down.  She now eats in the dining room.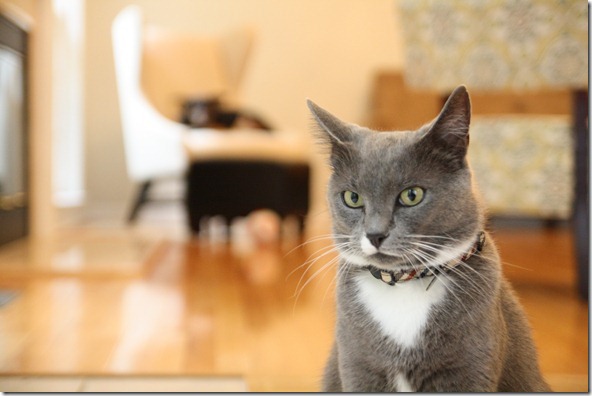 Fact #3: Pippa has at least two BB gun pellets under her skin.  She was a stray (with kittens) when she was picked up by the rescue group that we adopted her from, and she had apparently been used as target practice.  Doesn't that make you sad?  People are screwed up.  But Pippa is not scared of people at all and is super friendly.  Animals are so forgiving.
Fact #4: Pippa is Alpha.  She gets along really well with both of the dogs, sometimes cuddling up next to them for daytime naps.  She follows them everywhere they go.  However, every now and then, she will suddenly turn around and beat the heck out of Maggie or James.  No warning!  I think she just wants to keep them in line…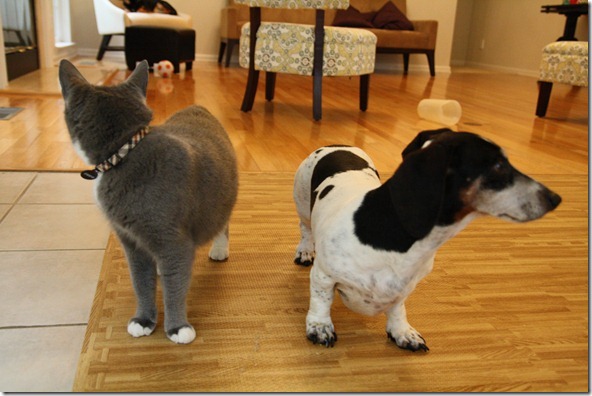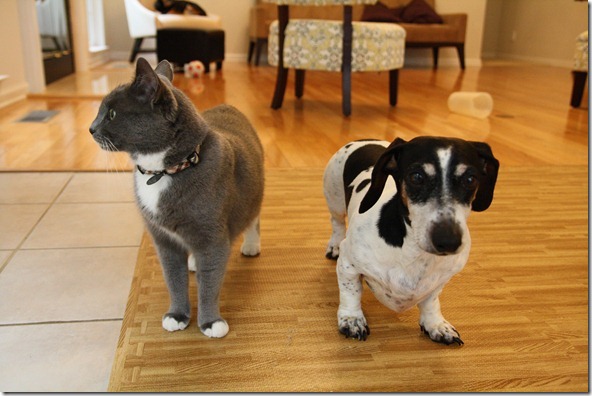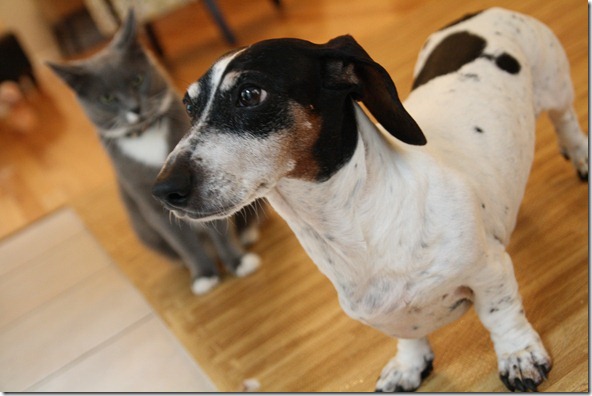 Fact #5: Pippa is really great with Henry and likes to play ball with him.  He will throw a tennis ball in her direction, and she will dive on it and bat it back to him!  It's pretty incredible.  She's a really sweet, fun cat who comes when called, likes to cuddle, and doesn't give you the cat cold shoulder.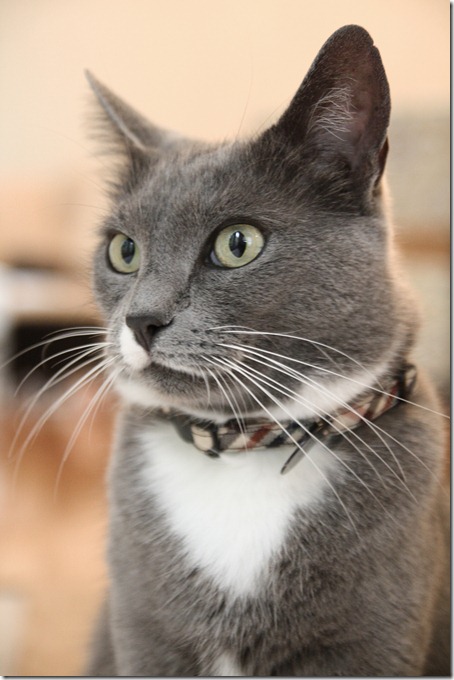 Pretty girl!
And now… something else that is very sweet.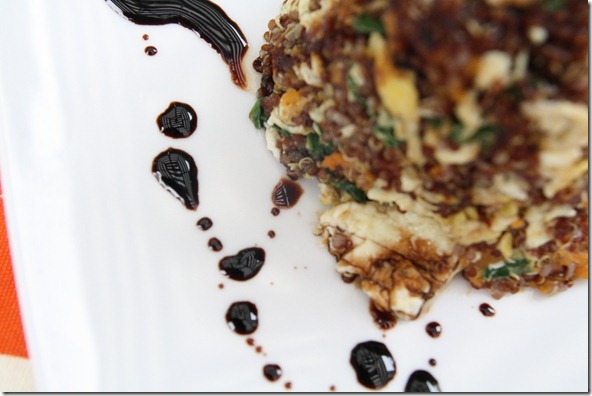 This breakfast was oh-so-good. One of my best creations in a long, long time.  I will definitely be making this again soon!
Sweet Quinoa Scramble with Balsamic Reduction
Ingredients (for two servings):
1 large sweet potato

3/4 cup balsamic vinegar

4 eggs

1 cup loosely packed raw spinach

1.4 cup cooked quinoa

1/4 cup dried cranberries

Sprinkle of cinnamon

Sprinkle of salt
Directions:
Stab potato with fork.  Microwave for 6 – 8 minutes or until soft.

Meantime, in a small pot, cook balsamic on Medium High until it reduces to a thick sauce.  Keep an eye on it once it starts to bubble.  Reducing will take about 10 minutes – and if you over cook it, it's donezo.

In a non-stick pan, scramble eggs.  Once eggs are almost ready, reduce heat to low and add in chopped spinach, cooked quinoa, cranberries, and a dash of cinnamon and salt.

Remove potato from microwave, peel skin, and chop cooked potato. Add to pan.

Thoroughly mix the scramble.

Plate the scramble and pour balsamic reduction on top.
For presentation, pack the scramble into a small juice cup and then turn it upside down on a plate!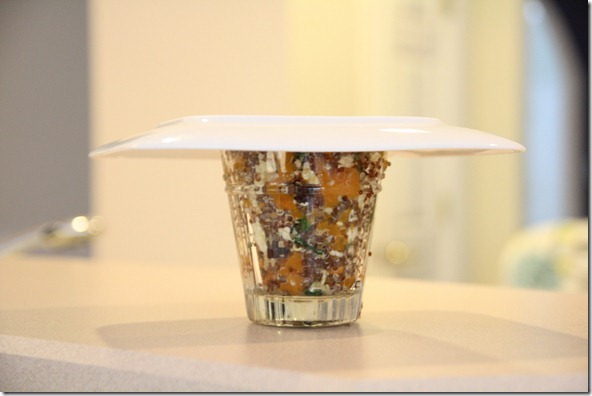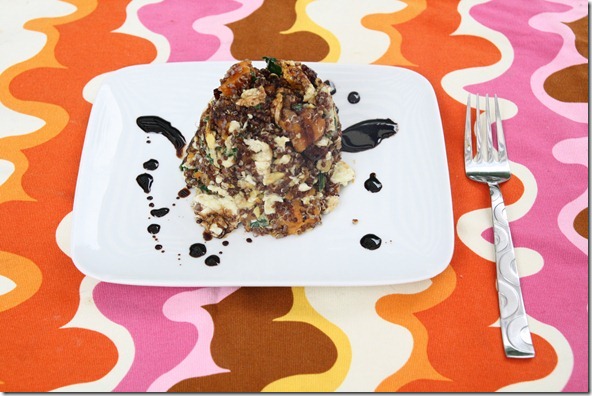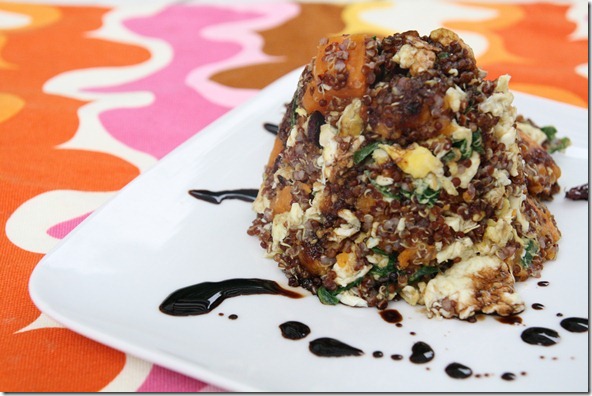 The flavors – sweet from the cranberries, cinnamon, and sweet potato – really complement the eggs and balsamic.  I'm making this again tomorrow for sure.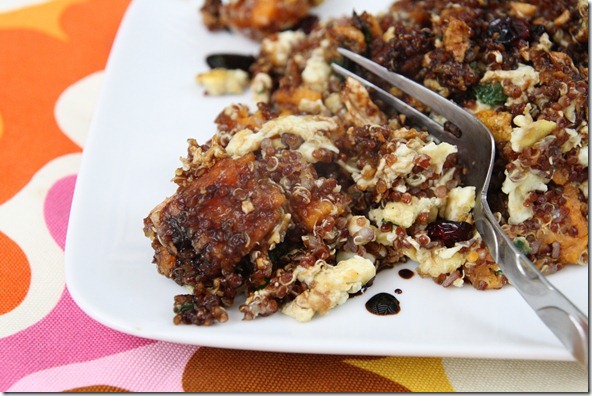 Have a delicious day.

What's a fun fact about your pet?