Ah, another workout debate!  (For more debates, check out:  Do you acknowledge strangers when exercising outdoors?, When on a run, do you do a little jig at red lights or come to a complete stop?, Do you secretly race others at the gym?, No Men Allowed:  What do you think about women's races?, and Do personal records ever expire?).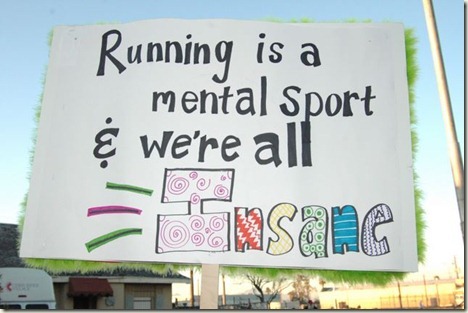 (Source)
The idea for today's debate came to me during my recent triathlon.  It was the bike leg, and I was slow.  Slow. As. Molasses (if molasses ever rode on a bike).  I was passed by about fifty other racers (not exaggerating) and did not pass a single other person. I was totally undertrained for the bike and am naturally pretty slow while riding anyway – can I blame my super short legs?! – so this was expected.
While riding past me, my fellow racers were very kind and considerate.  "Way to go!" they would shout.  "Keep it up!" or "You can do this!"  Other women would say, "You go girl!" and zoom past me.  The men would comment, "Lookin' good, lady!" and zip away.  I would wager that thirty out of the fifty people who passed me did so with an encouraging word.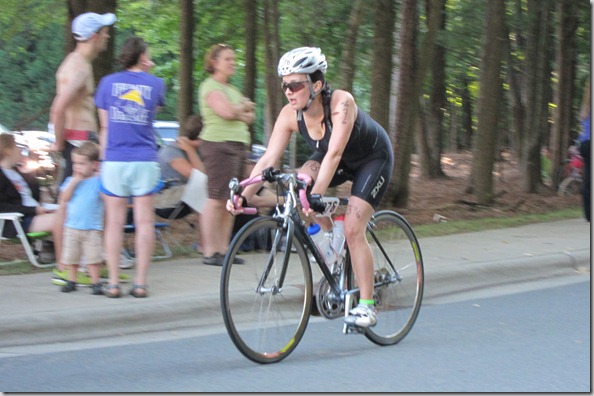 So – the first dozen remarks were really nice (I don't mean to sound ungrateful; I really did love it at first).  "YES!" I thought.  "I CAN do this. I AM kicking butt!"  Every cyclist that rode by with a motivational chant left me feeling happy and pumped. 
And then… the remarks kept coming.  And coming.  And coming.  Thirty "You can do its" in an hour and ten minutes.  It started to wear on me.  I got more and more tired; my legs felt heavy; it was hot; and – shit – I was really, really slow.  There was no way for the nice people encouraging me to know that I'd already been 'uplifted' for being slow TWENTY NINE OTHER TIMES.  By the end of the ride, I seriously wanted to throttle every sweet person zooming past me.
Don't get me wrong.  I normally LOVE to be encouraged (and to encourage) during races.  But maybe the key is not to encourage someone when you're kicking their ass?  Maybe it's better to encourage someone who is roughly your pace but seems like they are struggling?  For example, during the run leg, I ran with two other women for about half a mile.  We told each other, "Keep it up, you're doing great!" and said things like, "I know this is hard, but we can totally do this."  The encouragement felt mutual and real. 
As a side note – what's the most annoying thing you've heard shouted out by a spectator at a race?  My pet peeve is when people yell, "YOU'RE ALMOST THERE!" and the finish line is, oh, two miles away.  "Almost there!" means you can see the finish line, in my opinion.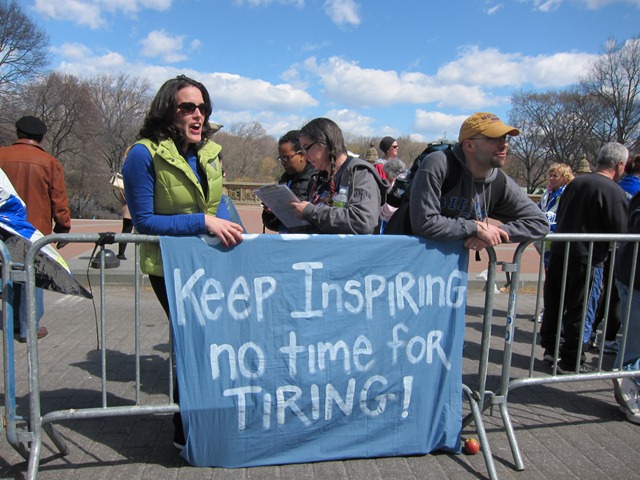 So – what are your thoughts?  How do you feel about mid-race encouragement?  And does, "You're almost there!" annoy you as much as it does me?