When I began to run again after a 28 week hiatus (I stopped running at 16 weeks pregnant and didn't start up again until 4 weeks post-partum), I knew I could look at my return to fitness in two ways.  Either  "I am slow, my endurance is crap, and I'm carrying all this extra weight" – thus making running a source of stress – or "This is a fun test of my commitment to the sport; getting back into shape is awesome!" – thus making running a stress reliever.  Obviously, I'm choosing to look at it the second way, not getting too wrapped up in my pace or obsessed with gaining back mileage too quickly.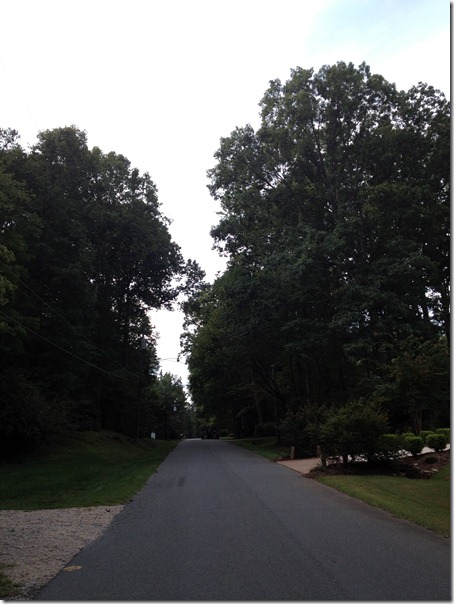 BUT… Today, I am proud to report that I kicked running butt.  I think last week I turned a real corner with my workouts, clocking in a total of 13.5 miles.  I'm on track to do 15 miles this week.  And this morning, I banged out a long run of 5 miles at an excellent pace.
I'm doing a 5-mile race in two weeks, and I knew I wanted to do the race distance prior to the event… just for the mental confidence it would give me.  I'm trying to decide how I'll pace myself at the race (just have fun with it v. try to rock it out), so I figured this morning would be a great opportunity to see what I am currently capable of.  I strapped on my Garmin, put on my game face, and committed.  While I didn't have a good night's sleep, I did have two cups of coffee and excellent weather – 68 and cloudy – working in my favor.
Check out these stats!
Mile 1: 10:22

Mile 2: 9:59

Mile 3: 10:23 <—timed walking break/sports bra adjustment (explained below)

Mile 4: 10:08

Mile 5: 9:08
That's 50 minutes on the nose.  While I'm really not down with paying too much attention to pace right now, I must say that I'm pretty pleased and have definitely decided to GUN IT at the race in two weeks.  Good times!
In other news… I tested out a new sports bra on my run.  You all know that I'm obsessed with the eternal quest to find the "perfect" sports bra (all my sports bra reviews are right here).  This one was a winner!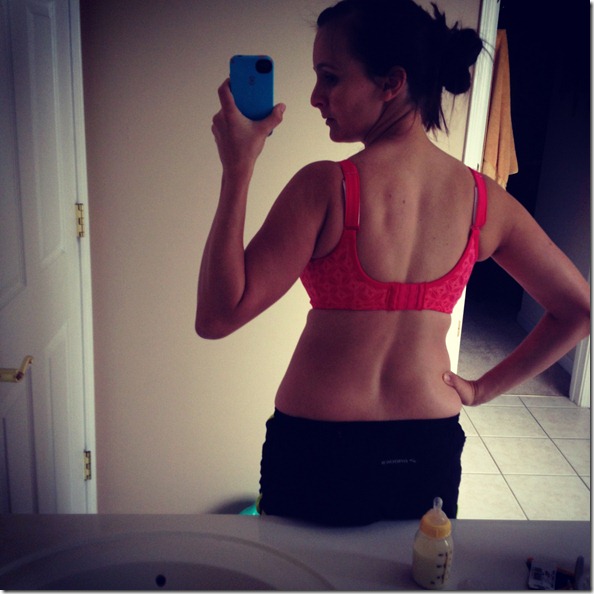 I love that there is a bottle in this picture.  Running momma!
In my last sports bra review of the Champion Custom Criss-Cross, I reported that I was disappointed in the support level of Champion bras in general.  Champion wanted to prove to me that they did, in fact, make bras that worked for runners with bigger chests and sent over the Shape Scoop-Back Full-Figure Underwire bra.  I have to say – I was impressed!  The bra comes in a variety of D and DD sizes, is slightly padded, and includes an underwire.  I've never ran in an underwire bra before but it was pretty comfy.  I especially liked the back of the bra – it had a low scoop (maximum breathability!) and comes up pretty high in the front.  But I really liked the hook-and-eye closure in the back and the Velcro adjustable straps.  Also – no awkward uniboob, and it was actually a pretty bra (which is hard to find in this size range).
However – I snapped it on the widest setting, which you are supposed to do at first because, in theory, the bra will stretch out over time and you can eventually adjust to the tightest setting, but after 2.5 miles, it was too loose.  I ended up standing on the side of the road, reaching up under my shirt to adjust it, and threw out my shoulder!  It hurt SO much, and I seriously don't even know how I did it.  Not the bra's fault, though.

Happy Friday!
Stay tuned for a Mind and Body After Baby Update, coming this afternoon.