Back in 2011, I wrote a post called "Sports Bras for the B.T.C."  B.T.C., if you will recall your middle school acronyms, stands for Big Titty Committee.  While women with smaller breasts can get away with any old sports bra, a larger chest requires a seriously great sports bra.  To me, a great sports bra must meet many requirements, the most important of which are fit and bounce control.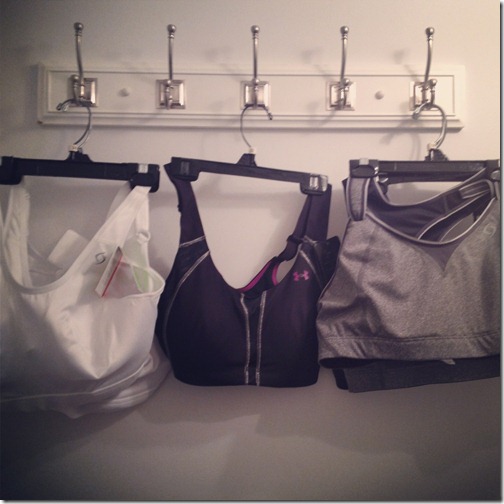 The first installment of Sports Bras for the B.T.C includes a round-up of recommendations from over 60 HTP readers, endorsing more than 15 great bras.  Personally, I've always been a huge fan of Moving Comfort's Fiona bra.
But recently, I headed to a local running shop to locate a new and even more supportive running bra.  Because if there's anything that seals your status as a member of the B.T.C., it's getting pregnant and nursing a baby.  Not only am I new cup size, but I'm also a new band size.  My old bras simply aren't up for the task.
I tried on three different bras.  Here's my review of each one.
Under Armor Armor Bra (Size A, B, C, D, DD)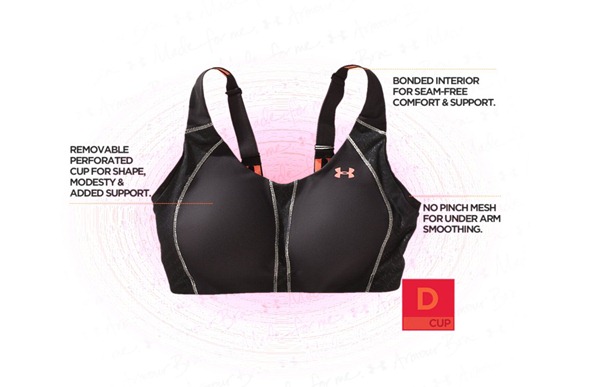 For larger chests, the Armor Bra comes in 32D – 38D and 32DD – 38DD.  I like this bra a lot; unfortunately, they didn't have my correct band size in stock.  First of all, it's an extremely pretty bra, which isn't a requirement of mine but certainly doesn't hurt.  I also liked the feel of the fabric and molded cups.  The seaming is bonded, which eliminates chafing, and the straps are stretchy and adjustable.  Bounce control was excellent.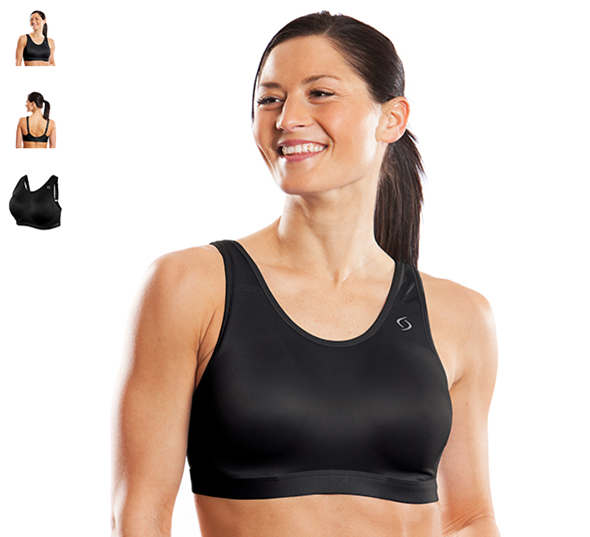 This bra is one of the ones mentioned in the original sports bra post.  The Maia comes in sizes 32C – E, 34C – 34E, 36C – E, 38C – E, 40C – E, 42C – D, 44D – a very nice range.  The Maia is actually two bras in one; there is an inner bra with underwire and an outer bra that comes up pretty high on the necklace.  The straps in the back are adjustable.  I couldn't try this bra on in my true size, so I can't speak to bounce control; however, I really liked how high the bra came up.  I hate to show cleavage at the gym, especially when I'm on a spin bike or leaning forward, and this bra would definitely provide adequate coverage.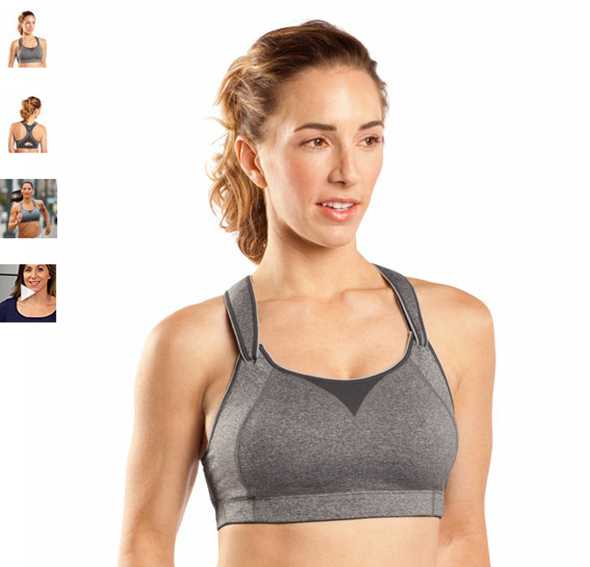 The Rebound Racer comes in size 30B – DD, 32B – DD, 34B – DD, 36B – DD, and 38B – DD.  Like the name suggests, this bra is a racer back-style bra with an adjustable back closure.  The shoulder straps are also adjustable.  The cups are subtly shaped and the front fabric comes up decently high, although not as high as the Maia.   The bounce control is extremely effective, and I really liked how the shoulder straps were adjustable.
I ended up buying the Rebound Racer, mainly because it was the only bra that I could find in the store in my exact size.  A bonus – because the Rebound Racer has Velcro straps, it can function as a nursing sports bra!  And that makes me a happy momma, indeed.
Whether you're in the B.T.C. or not, what's your favorite sports bra and why?  What features are most important to you in a sports bra?  I really like adjustable shoulder straps – I think I have a 'short' chest area so a lot of non-adjustable bras seem too big in the straps.