Put work aside; it's time for lunch!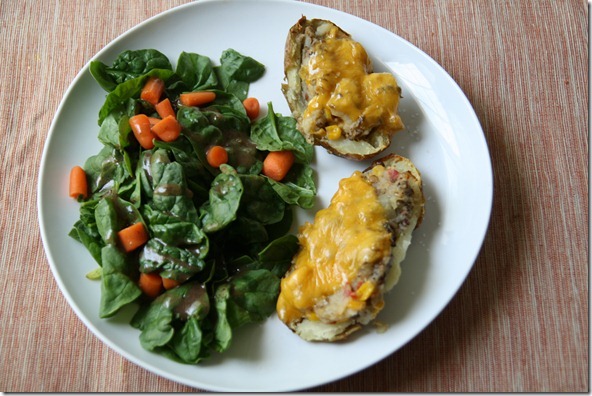 These twice-baked potatoes are stuffed with lentils, corn salsa (from Trader Joe's), and a little Earth Balance.  Topped with melty cheddar cheese.  To make 'em, I baked the potatoes for an hour at 400, let them cool off, scooped out the insides, and mixed the insides with the lentils, salsa, and butter.  Cheese on top and back in the oven for another 10.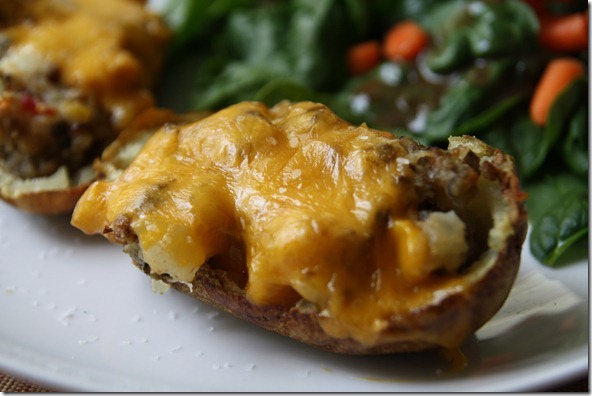 SO good.  I wish I had made a larger batch.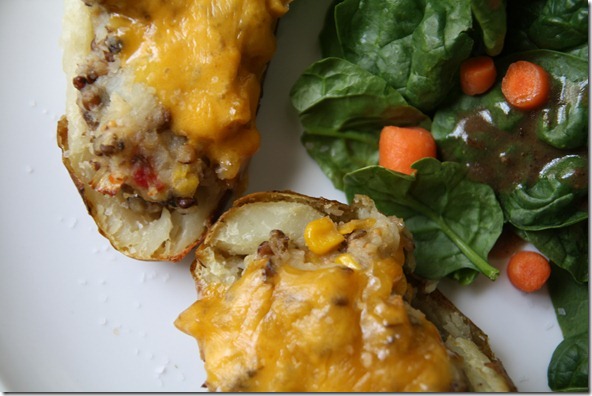 In other news… I got clearance from my doctor to begin post-partum exercise.  I'm excited and SO thankful that I healed well.  I don't know what to do first!  Should I run (um, or try to…)?!  Should I swim?!  Should I go to a spin class?!  Too… many… options.  Someone stop me from signing up for an October triathlon!
FAQ Monday
What's your favorite race ever and why?  This one is hard!  I have different favorites for different reasons.  Probably my most memorable race was the Wildman Olympic Triathlon back in March 2010; this was the last time I had a panic attack during a triathlon and the first time I overcame my fear!  The prettiest race that I ever did was Lake Logan Olympic Triathlon; I hope to this race again next year.  However, the most fun that I've ever had during a race is the Croom's Fools Run 15 Mile Trail Race.  The race takes place in the middle-of-nowhere Florida in an isolated state park. The participants are always very friendly, the aid stations are stocked with candy (yum), the terrain is challenging and the scenery interesting, and it's a very low-pressure race.
A panic attack AND a bike crash!
What were your back-up baby boy names? We were torn between Jack, Oliver, and Henry.  Right away, we knew Henry wasn't a Jack and eliminated that name choice.  But we couldn't settle on Henry.  Our friend Jude sent us a joking Facebook message and suggested we name the baby Jude – we seriously considered it for about two hours! 
What is something quirky about you that only your really close friends know? I really love indoor roofs.  You know when you go to a restaurant and they have a thatched roof over the bar?  That's an indoor roof.  I look for them everywhere I go; whenever I spot one I get so excited.  I have no idea why I find indoor roofs so funny, but I do.
Your turn!  What's your favorite race and why?  What kids' names do you love?  And gimme one quirky fact about you (any other indoor roof aficionados?)!