Today was a very special day.  It was my 40th race, a huge milestone for me.  And it was my strongest triathlon to date!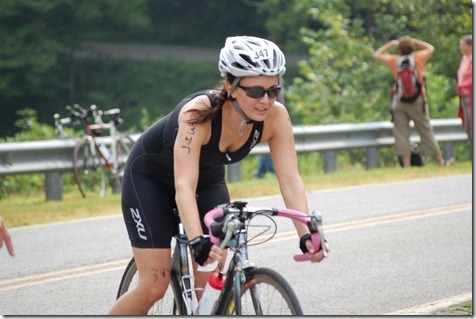 (A big THANKS to Kelly, Carolina John's wife – a wonderful photographer who took so many of these great race pics!)
Plus, I got to race in the scenic mountains of Asheville, North Carolina.  It was beautiful!  I felt like I was swimming, biking, and running in a postcard.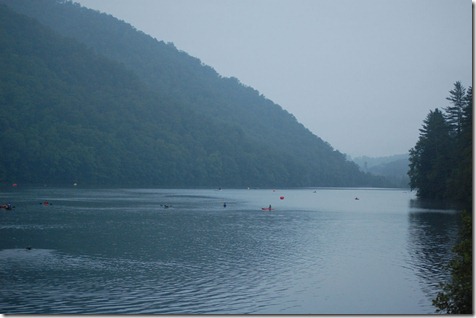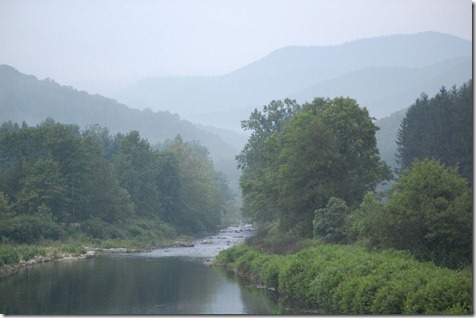 Alright – let's back up.
Today started off like all the other 39 races.  My alarm clocked blared at 4:45 AM (how come I can race on 4.5 hours of sleep but cannot work on 7?), and Healthy Ashley and I geared up and ate peanut butter sandwiches.
We hopped in the car and drove 30 minutes in the dark to the very beautiful Lake Logan.   We unloaded all of our stuff and headed over to packet pick-up.
I thought I'd explain how packet pick-up works for a triathlon since it can be kind of confusing, especially if you're a first timer.  For a running race, all you need is your bib number and timing chip (if the race is timed).  For a triathlon, you need THREE numbers, a chip, and body markings.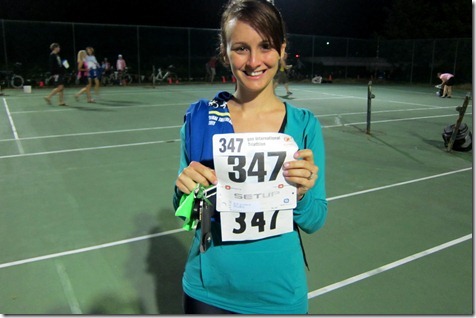 Step 1 is to pick up your numbers and show proof of USA Triathlon membership (or pay a $10 per race fee).  This is basically insurance in case you drown or crash.  You think I'm joking… but I'm not. 
The three numbers are for:  1) your body (for the run); 2) your bike; and 3) your helmet.
After picking up your numbers, you'll head over to another station and pick up your timing chip.  You attach it to your foot using a tie or a Velcro strap.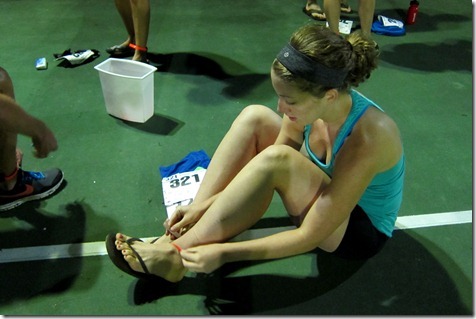 Last, but not least, you need to head over to body marking.  Volunteers will mark your bib number on your arms and knees, and your age and division on your calves.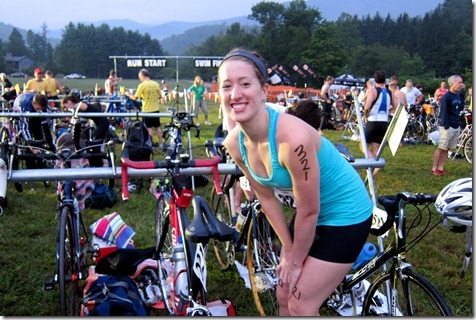 After picking everything up, we headed to transition, racked our bikes, and set up our gear.  It all sounds very intimidating, but I promise – it's really not.  Just give yourself time to get everything done.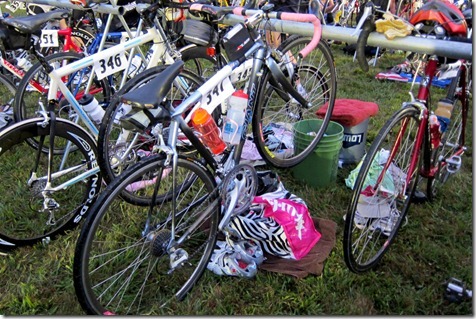 Ashley and I ran into Carolina John in transition!  Hi, John!  I've been reading his blog for YEARS.  Funny how you feel like you know bloggers even if you haven't met them in real life.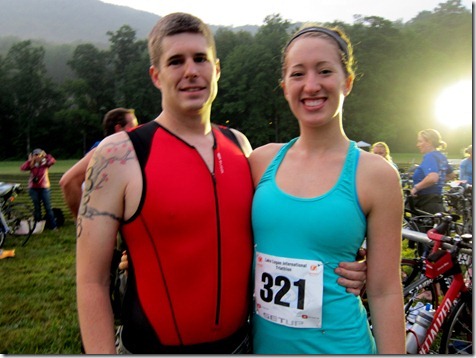 And then… it was time to RACE!
So – this race was an Olympic/International triathlon, which consists of:
1500 meter swim
40 KM (24 mile) bike
10 KM (6.2 mile) run
First up:  the SWIM!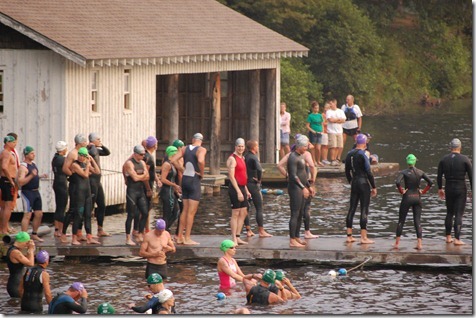 The lake was BEAUTIFUL.  Each wave staged on the dock and then jumped in the water to start.  Most everyone around me was wearing wetsuits, but I was SO GLAD I opted not to get a wetsuit.  The water was 74, which I know some people find to be cold, but I was perfectly okay.   Wetsuits can be so restricting.  I was much more comfortable in my trisuit.
Ashley looked like she was going to pass out at the start, and I almost vomited into the sand waiting for the whistle.  We vowed to stay together for the first 500 yards or so.  I think swimming slowly together for the first 10 minutes helped us both adjust to the water, and I talked Ashley through a minor little panic attack at the second buoy. 
The course was a big rectangle.  The scary thing about lake swims is when you look at the course, it always seems SO FREAKING LONG.  And it was – 1500 meters is FAR.  But I was so, so proud of myself because when Ashley and I separated, I really focused and buckled down.  I think I swam 750 meters straight without a break!  I was a powerhouse, people!  And to think – I used to be terrified of open water.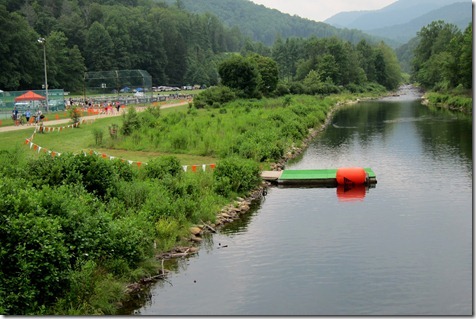 Just because you're scared of something TODAY doesn't mean you always will be afraid.  Practice makes perfect.  If you can't swim, bike, or run right now, it doesn't mean you shouldn't try to do a triathlon.  You can get through anything if you practice enough.  Heck, it took me 4 or 5 tris to get to this point.  I'm glad I waited out the fear!
We passed under a bridge and jumped up on a dock to run to transition.  I crossed the mat in 38:08, about two minutes faster than my last Oly tri.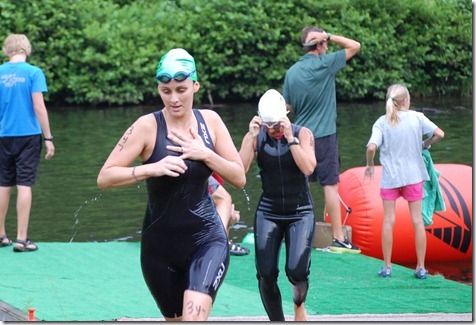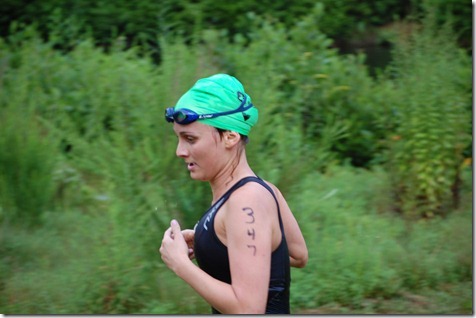 I came out of Transition 1 in 3:21 – not bad, but not great.  I really need to work on transitions!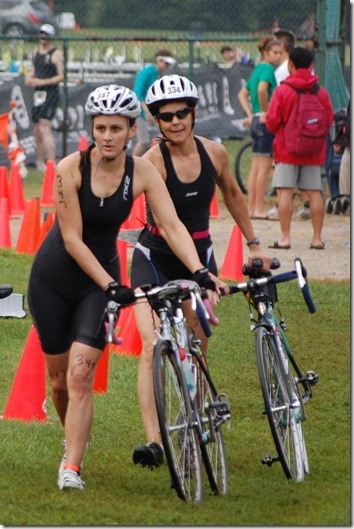 The bike was awesome.  I thought it was going to be the worst leg, but I really focused on being in the right gear, and the 24 miles went by so quickly.  The few tough hills were killers, though.  My calves and quads were aching during the last climb. 
On the bike, I ate three packets of Hammer Gel and drank a bottle of water.  I knew it was so important to take in calories, even though I was experiencing the dreaded "I'm doing hard cardio and don't wanna eat."  I said, "Tummy, shut up.  Eat your Gel."  So I did.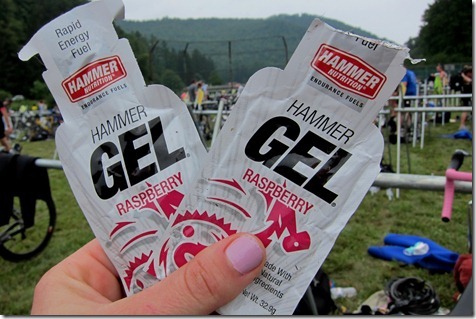 I finished the 24-mile bike course in 1:29:39.  I was THRILLED because I was expecting it to take closer to 1:45.  I was in and out of Transition 2 in 3:02.
Oh man – the run.  What to say about the run?  It was a 10K out and back course with the turn around at 3.1 miles.  The ENTIRE first 5K was uphill.  A very gradual uphill, but uphill nevertheless.  I was dying.   I can't tell you how great it felt to turn around and know the next three miles would be a downhill breeze!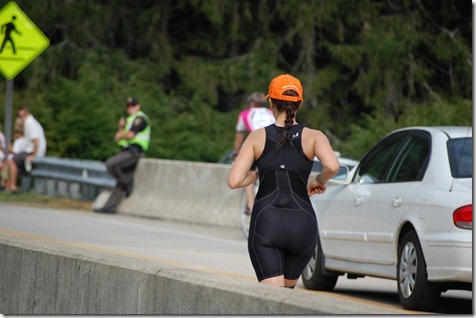 With about two miles to go, a girl (we'll call her Purple Shorts) passed me.  I glanced down at her body marks and saw she was in my age division.  "Oh, hell no!" I thought.  I strategically hung about 20 feet back, hoping she wouldn't noticed my sneakiness as I dogged her.  But when Purple Shorts took an unexpected walk break, I was forced to pass her. 
I could literally feel her when she saw my age and realized what was happening.  In a flash, she was right on my heels.  I dropped down to a 8:00/mile pace (which was seriously excruciating at this point in the race) and held her off for 0.75 mile.  Just as the finish line came into view, she passed me.  I felt so defeated!  I was totally out of gas during the home stretch.  I couldn't believe she had more juice in her after the last punishing mile I had put her through.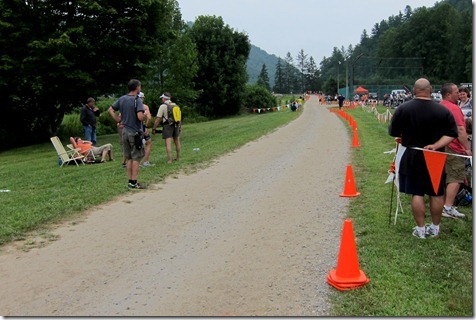 But then – totally unexpectedly, she slowed about 200 yards from the finish!  I think Purple Shorts kicked it up too early.  I slammed past her and through the finish line.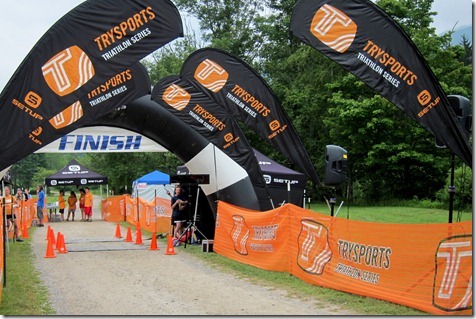 The little competition with Purple Shorts I was exactly what I needed to finish the 10K in 57:44 – a time that would've been an amazing finish for a NORMAL 10K, let alone one at the end of an Oly tri!  My final time: 3:11:53.  I finished 12th in my age division (out of 15), and since the field was so competitive, I feel pretty good about it!   One day – mark my words – I will finish an Oly tri under 3:00 hours.
Ashley finished strong and happy!  You'll have to check out her blog for a recap.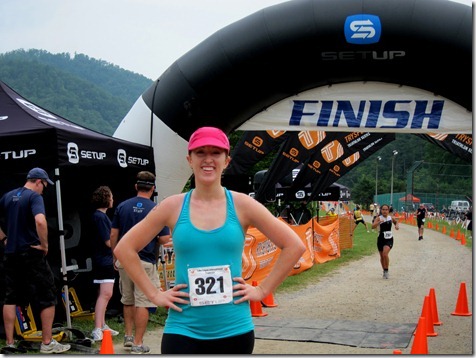 Post-race, we grabbed some grab (the race organizers had amazing food – hummus and cheese sandwiches, potato chips, apples, and more!), pulled our gear together, and drove home.
All in all – an amazing race with my amazing friend!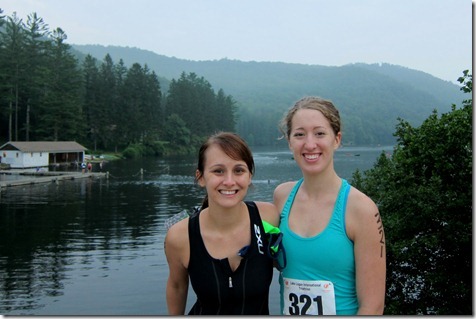 After showering, I actually met up with my mom for a day in Asheville.  We shopped 'til we dropped, snacked on gooey fudge, and ate at a great vegetarian restaurant (the Laughing Seed).  I ate my face off.  So hungry after so much hard work!
I would HIGHLY recommend anyone in the area do the Lake Logan Triathlon next year.  Very well organized, totally beautiful, and lots of fun.  What else does a triathlete need?  Not much! 
…Except maybe flippers.