Dear BabyHTP:  On the 29th week of your development, we moved into your first house.  Hooray!
Here's what BabyHTP is up to this week: "Your baby now weighs about 2 1/2 pounds (like a butternut squash) and is a tad over 15 inches long from head to heel. His muscles and lungs are continuing to mature, and his head is growing bigger to make room for his developing brain." (Source)  Basically, Baby is working on getting big.  And I can tell.
I have officially entered that "OMG. I am so uncomfortable!" stage of pregnancy.  I shouldn't complain because I know I had it oh-so-easy the first trimester (not a single hurling incident).  But now, I am plagued by heartburn (no remedy helps, although I haven't had a chance to try acupuncture), insomnia, sore hips and feet, food aversions, crankiness, and other awesome side effects.  I feel like all of these symptoms are only going to get worse from here on out….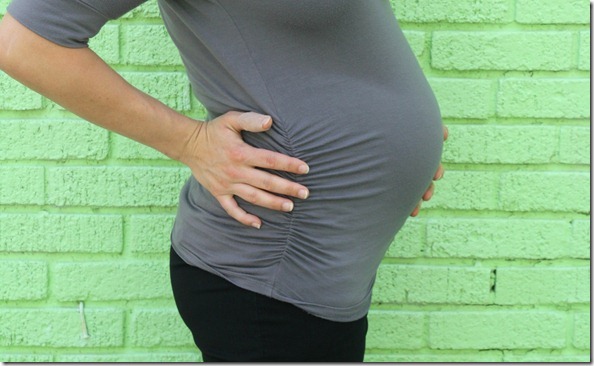 That being said, I am really happy and excited to finally get settled in our new place on Saturday. I'm SO pumped to begin to organize the baby's nursery.  The pregnancy feels real, but the parenting part still feels a long way off (and it's not) – I think unpacking the toys and washing the clothes will help solidify my new reality. 
Onto this week's topic…
I thought I'd be a pregnant runner.
But I'm not.  I'm definitely not.  Up until my pregnancy, I ran multiple times a week, every week, for five straight years.  I averaged anywhere from 15 to 30 miles and did well over 40 races, including two marathons.  I was never particularly fast, although I did once win a local 5K and shaved 32 minutes off my marathon time through dedicated training.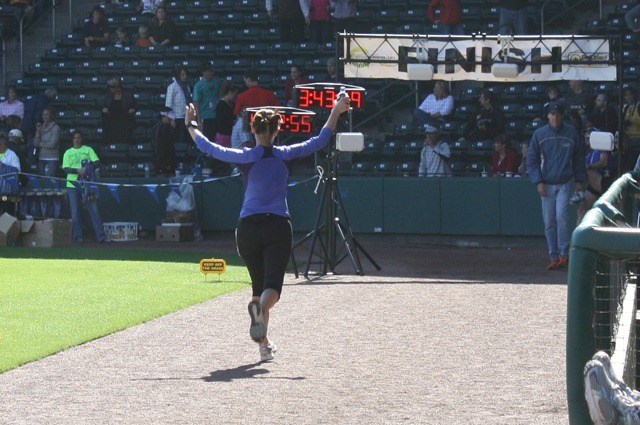 I really love to run. So, naturally, I thought I'd be a pregnant runner.
My friend Jen was totally my pregnancy running inspiration.  She ran well into her third trimester, knocking out nearly 15 total miles in Week 32.  And she wasn't 'slow,' either – she was crushing 9:00 per mile paces (here's Jen's post on Running in the Third Trimester).  She co-coached Girls on the Run with me last season and would chase the girls around the track with her big bump.  It looked hysterical but – damn – was it awesome.
(Source)
Then… it came time for my pregnancy.  And I tried to keep up with running; I really did.  I continued to run 5Ks around my neighborhood into the beginning of the second trimester, even doing two 5K races while pregnant (the last at 16 weeks).
My grand plan for running while pregnant was this:  I would run well into my third trimester, hopefully until Week 30 – 33.  I'd be slower and tackle shorter distances, obviously, but I would maintain three runs a week and a decent cardiovascular base.  I hoped to keep up with racing, doing a few 5Ks and maybe even the swim legs of some early spring triathlons. 
You know what the say about plans (make 'em and God laughs in your face)… As much as I wanted to be a pregnant runner, it just did not happen.  Running while pregnant did not agree with my body.  After my 5K at week 16, I was reduced to walk/running, and shortly after, I quit all attempts at running altogether.  The biggest reason I stopped running was I started to get horrible pains in my groin area; my doctor said this was because of the increase weight of my uterus and the baby pulling everything forward.  Running exacerbated the pain.  But also, I just didn't like it – I could feel the bump moving around, I got really tired easily, and it didn't seem fun anymore.
It's been about 13 weeks without a run and, to be honest, I miss it a lot.  I miss the feeling of taking out my frustration on the pavement or popping in my earbuds and sweatin' up a storm.  What I'm not struggling with, however, is disappointment.  I've had a few running-induced injuries in the past, and it's always difficult to take 'forced' time off due to a knee issue or a sprain.  But taking time off due to pregnancy is okay with me.  It's what my body needs, after all.  I think some people's bodies are just built for running and others aren't so ideally suited for the sport.  And similarly, some runners can keep up the habit while pregnant and others cannot.
So – what have I been doing instead?
Yoga – Specifically, the prenatal kind.  I went 5 or 6 times, sucked it up and bought a package for 10 classes, and haven't gone since.  Ugh.  I'm looking forward to getting back into prenatal yoga after this move is over.

Walking

– My favorite new form of exercise!  Check out

How to Create a Walking Habit

and the

Walk the Dog Workout

.  I aim to walk 2 – 3 miles at least 3 times a week, but this is getting to be very challenging.  I can definitely tell I'm hauling around an extra 25 pounds or so.
I'm glad that I've been able to maintain a decent level of activity throughout pregnancy; I am fully aware that some women get put on bed rest!   And I am very much looking forward to getting back into running shape.  But until then, I'll just be grateful for all the amazing things my body is doing – including building this precious baby.
Week 29 by the numbers:
Total weight gain:  No official weigh-in, but likely hovering around 25 pounds.  One way or the other, I've gained a bit more than is recommended at this point, but I don't really care – I eat when I'm hungry and stop when I'm full.  My body knows what it's supposed to be doing better than some chart!

Gestational Diabetes Results:  No one from my doctor's office ever called me… so I guess that means I passed?

Baby-Related Purchases:  Does a house count?

Workouts:  Three this week!  A 2.5 mile walk, 1 mile walk, and a 700 yard swim.  And the sheer act of moving.

Current Conundrums: As mentioned, we are 100% decided on a girl's name but torn on a boy's name. And I think the division of preferences has officially occurred.  I called the bump my favorite boy name the other day, and the Husband said, "Who is that? His name will be XX."  And I said, "Well, maybe…"  Uh oh.  Standoff time.
How active are you / were you through pregnancy?  (Psst – You can read all my weekly updates here!)