Also check out  So You Wanna Do a Triathlon:  Swimming
You could say that cycling is in my blood.  DadHTP is an accomplished rider and passed the love of the sport onto me.  Not that I had any choice in the matter – I practically grew up on the back of a road bike!
Cycling is probably the most difficult part of a triathlon to 'figure out' because it 1) involves the purchase of expensive gear; and 2) involves the development of very practical skills.  Although cycling is not my favorite part of a triathlon, I do really enjoy the sport, mainly because there is so much to learn.  It is very easy to feel overwhelmed by cycling, but I think it's important to point out that no newbie has any idea how to put a gear chain back on or change a tire.  No one is born knowing how to shift gears or use clipless pedals.  All cyclists start somewhere!
This post will cover:
Gear and skill basics

Confidence on the bike

Biking in groups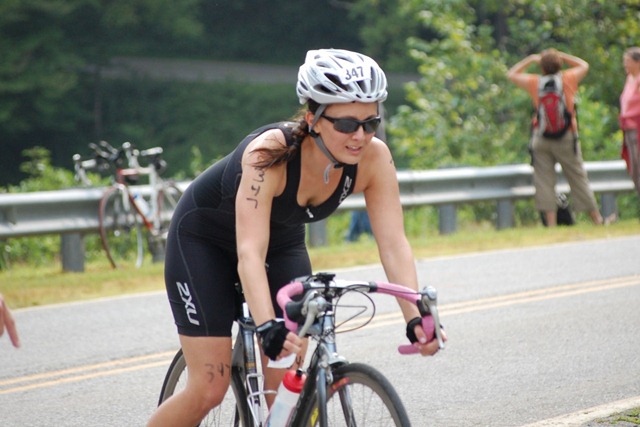 Step 1: Get the Basic Gear and Develop Basic Skills
In general, there are three types of bicycles:  road bikes, mountain bikes, and hybrid bikes.  The biggest difference between these bike types is the weight of the frame (mountain bikes are thicker, heavier, and sturdier), and the width of the tires (road bikes have skinny tires so you go faster).  Hybrid bikes are a combination of the two. 
If you're going to do a sprint triathlon, the bike distance is usually around 10 miles.  If you already own a mountain or hybrid bike and want to try the sport on for size, it's perfectly acceptable to do a sprint triathlon with those bikes.  However, if you're going to do an Olympic triathlon or really want a fast bike time, you'll want to invest in a road bike.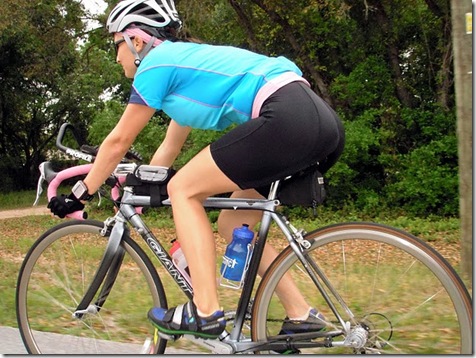 Do not feel like you have to walk into a fancy bike store and drop a thousand bucks on a new bike.  My road bike retailed for about $1400, and I snagged it on Craigslist for $350.  Here's a very helpful post that DadHTP and I co-wrote about buying a new bike, whether new or used.
In addition to the bike, at a minimum, most newbie cyclists invest in the following:
Padded shorts.

  Not optional.  People often complain that their butt hurts after cycling, and there are two solutions to this problem:  1) you must use padded shorts and 2) you must break you ass in.  There's no other way around it – your butt just has to get used to being the saddle.  If you are doing a triathlon, you could wear a trisuit or trishorts instead, which feature less padding.  I only own one type of bike shorts –

Aerotech

– and would highly recommend them.
A helmet.

  Also not optional.  You 100% need to wear a helmet

every single time

you ride your bike – even if it's just down the road to the store.   You can buy a nicer, more comfortable helmet at a bike shop, but the $20 helmets at Target or WalMart work just fine.  Make sure it fits you properly (it should come down your forehead, not high up on your hairline), and the straps should be adjusted so it doesn't wiggle.   FYI – If you ever crash you bike and even

tap

your helmet to the ground, you should replace it –

here's why.

Bike gloves.  Gloves are optional; however, they are really worth the small investment.  First, gloves pad your hands so they don't hurt as you grip the handlebars.  Second, gloves protect your palms if you do fall over. 

A flat repair kit.  Absolutely not optional.  Hopefully, you will never blow a tire on the side of the road (it hasn't happened to me yet – knock on wood!) but if you do, you need to be able to repair your tire.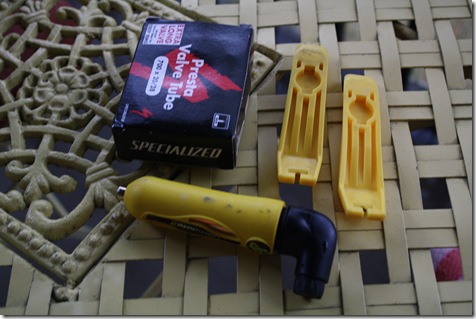 Sunglasses.  Sunglasses are also optional but highly useful, both for keeping the sun out of your eyes and protecting your eyes from debris, such as dust or gravel.  Don't wear regular sunglasses, though – buy a pair of shatter-proof sunglasses.  I got mine for less than $15 at the grocery store (they are Ironman brand).

Clipless Pedals.  Also known as 'clip-in pedals' (clipless doesn't make much sense because you are actually clipping in), clipless pedals combine with special clip-in bike shoes that allow you to fully attach your foot to the pedal.  Clipless pedals are optional, and if you don't want to invest in the shoe/pedal combo, consider getting toe cages that you can use with sneakers.  However, clipless pedals make it much, much easier to ride because your stroke becomes more efficient – you can push down and pull up.  I was very nervous to use clipless pedals at first because you're literally attached to your bike.  I highly recommend practicing clipping in and out in a doorway until you get the hang of it.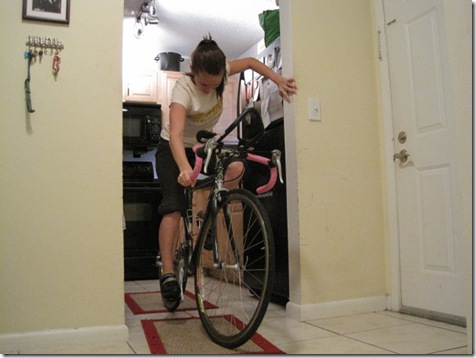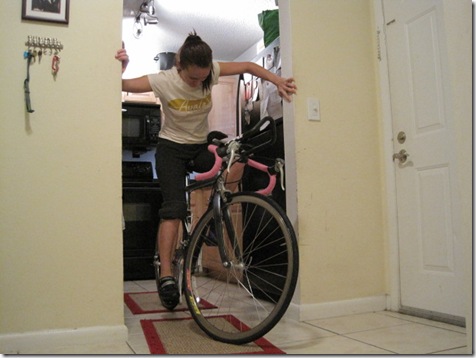 If you're planning to ride at night or dusk, you also need a light.  There are many other items that cyclists can buy – here's a list of my other recommendations.  But if you've got a bike, shorts, helmet, and flat repair kit and are riding during daylight hours, you can give triathlons a whirl. 
In terms of skills, all cyclists need to know how to change a tire.  A tire on a bike contains two parts: the outer tire and the inner tube.  Often, when you get a flat, the tube will burst but the tire will be fine.  A flat repair kit contains a tube, tools for removing the tire from the wheel, and a CO2 pump to inflate the tire.  Changing a tire can be very difficult, especially for the back wheel, as you have to work around the gears.  I learned how to change a tire by trial and error and by watching YouTube videos.  I would differently recommend practicing on your bike at home when you don't have a flat – just take the wheels off, remove the tire, deflate the tube and remove it, and put the tube back on.   It took me over an hour to change the back tire on my first try and – trust me – I was glad I was sitting in my living room and not on the side of the road.
To learn other important bike skills, consider taking a Bike 101 course at a local bike shop.  They can show you how to clean the chain, adjust the brakes, and develop other key mechanical skills.  And, as always, you can learn a lot from YouTube.  In fact, I learned how to dismantle my entire bike, pack it for cross-country travel, and put it back together thanks to a YouTube video (and a little help from DadHTP).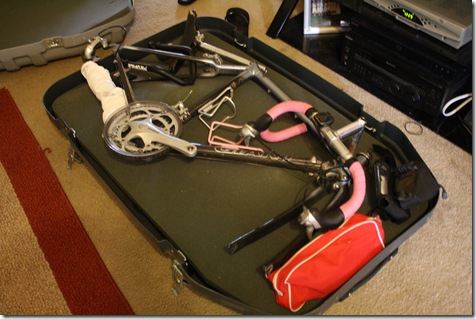 Step 2:  Get Comfortable on Your Bike
Prior to your triathlon, it is very important that you feel comfortable on your bike.  You'll be riding on the shoulder of a road (which may contain car traffic) and around other cyclists.  The best piece of advice that I can give about cycling is that you must be alert the entire time.  Cycling is not like running, where you can simply 'zone out' and stare at the ground in front of you.  When you are riding, you have to be constantly aware of who's in front of you, who's behind you, what potholes are coming up, etc.  Every time I have ever crashed my bike, it was because I zoned out.
The best way to get confident on the bike?  Practice, practice, practice.  I do not recommend riding a road bike on the sidewalk (you can easily pop a tire, and it is unsafe for pedestrians).  Start off riding on a designated bike trial; check out your city's Parks and Recreation website for info.  Eventually, graduate to cycling in designated bike lanes and then along quieter roads.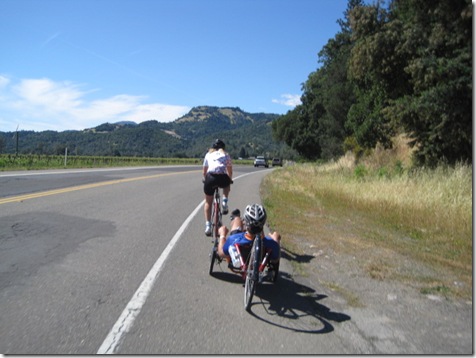 And when it comes to riding on the road, remember this – cyclists have a legal right to be on the road.  Contrary to what many drivers believe, they have to share the lane with cyclists.  You do not have to stay crunched up along the edge of the asphalt (in fact, this can be very unsafe). 
You must obey all traffic laws while on your bike.  Stop at stop signs and red lights.  Remember to always bike with – not against – traffic.  And lastly, be aware of the common ways drivers hit cyclists (as a cyclist, I have personally suffered from The Right Hook – it was not cool at all, my friends). 
Another important bike skill is figuring out how to shift bike gears.  DadHTP wrote a great guest post on this very subject called How to Shift Bike Gears (Without Falling Over).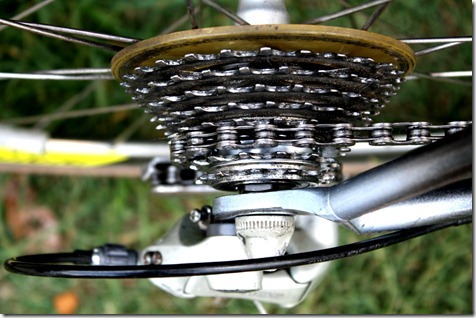 Try not to ride alone.  If you don't have a friend to ride with, consider joining a cycling or triathlon club.  On days that you do ride alone, always tell somewhere where you are going and when you will return and, most importantly, carry identification, your health insurance card, and your cell phone.
Step 3:  Biking in Groups
Last, but not least, you'll need to be comfortable biking in groups, as you will undoubtedly be cycling with other people during your triathlons.  Some basic points:
Don't get too close.  Riding too close to someone else is asking for a crash.  It is important to never 'cross wheels,' which is when your front wheel is adjacent to someone's back wheel.  If you are in this position, you should loudly state your position and pull back.

It is illegal to 'draft' during a triathlon.

  Drafting is when you ride within another cyclist's aerodynamic drag, which makes cycling easier for you (hence why it is illegal).  According to the USAT, the drafting zone is

two bike lengths

behind the cyclist.  You can enter the drafting zone only if you plan to pass the cyclist within 15 seconds.  On the other hand, if you are cycling with friends under non-race conditions, it is perfectly acceptable to help each other out by drafting, as

Ashley

and I are doing in the picture below.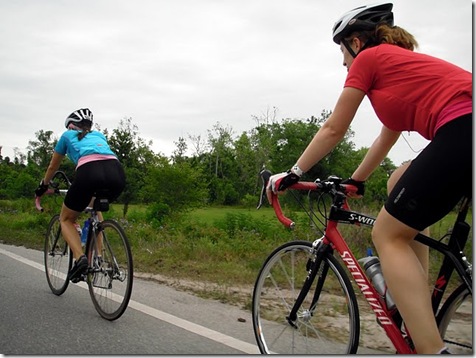 Pass on the left.  Enough said – always pass on the left side, never on the right.

Hold your line.  Don't swerve around. 

Communicate. 

When you are approaching another cyclist and plan to pass them, say, "On your left."  If a car is coming from behind you, alert other cyclists by shouting, "Car" or "Car back."  If you are stopping, say, "Stopping."  If you notice a pothole or debris in the road, use your left or right hand to point down to it and say, "Hazard" or specifically "Sand" or "Hole."  You can learn the

cycling hand signals

to indicate a turn, but I generally just say, "Left!" or "Right!" 

Congratulate:  Hearing "Way to go!" or "Good job!" during a triathlon never hurts. 
I have only wiped out during one triathlon – it was actually during the same Olympic that I had a panic attack in the lake.  'Twas a memorable race, indeed.  You can see my wipeout at the 1:00 mark.
The reason why I crashed was 1) I was distracted by the crowd and 2) I took the turn way too tight.  Every time I have witnessed a bike crash in the middle of the triathlon, a cyclist was going too fast around a curve.  Slow down as you approach turns (alert other riders by yelling, "Slowing!") and take your time.  Be alert, be safe, be sensible.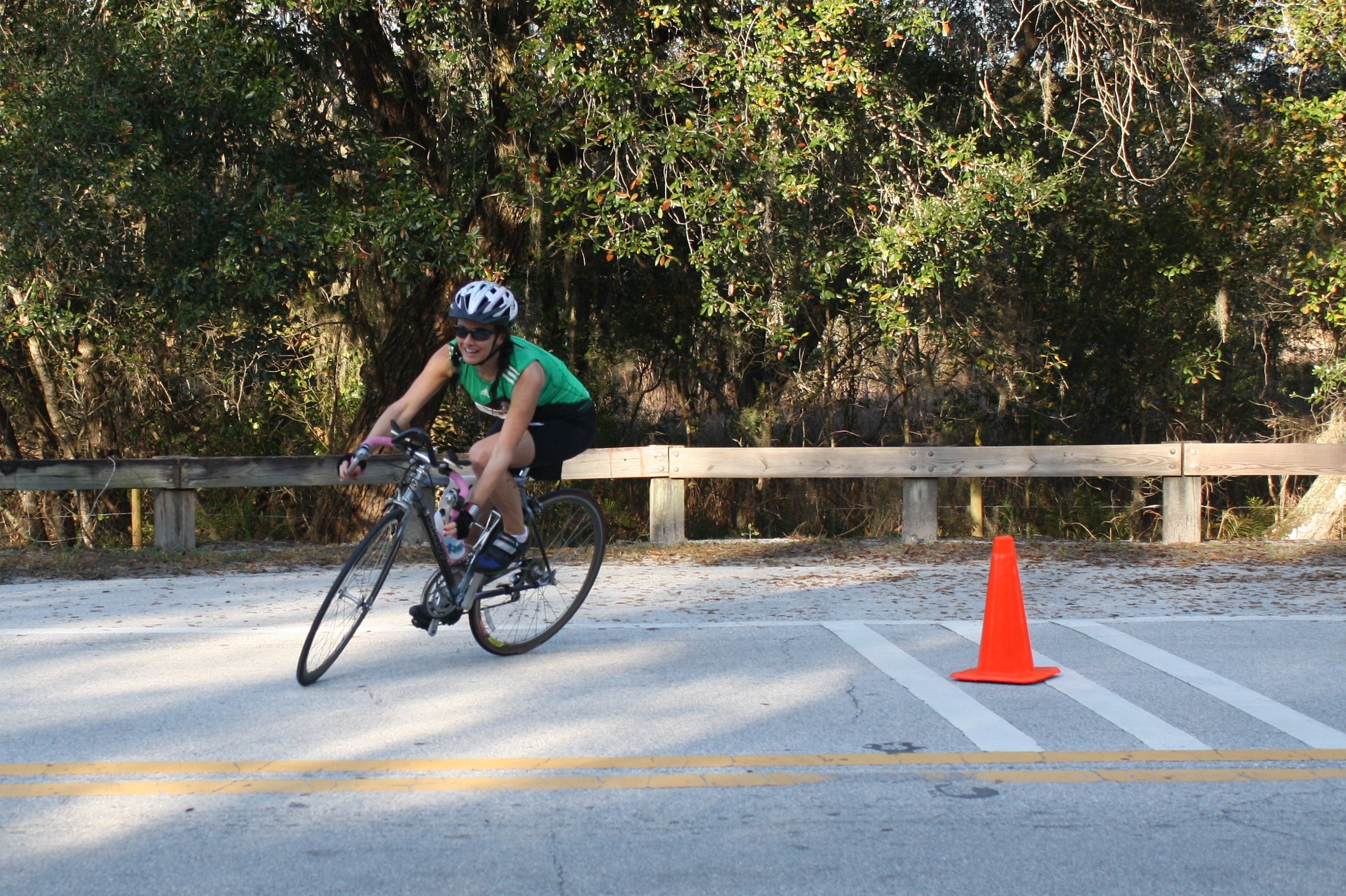 Whew!  What a long post.  And I know only scratched the surface.  If you're a triathlete or cyclist, feel free to add your own tips in the comments section!
Also check out:
Is cycling your favorite part of a triathlon?  What tips do you have to share?  And what optional gear do you think is the most worthwhile investment?