It's been a lazy Sunday here.  The Husband is reading a book, and I'm getting some work done.  Maggie and James are snoozin', of course.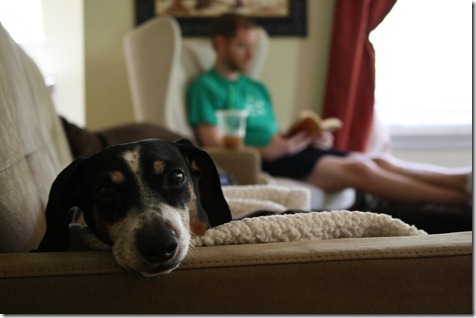 I stayed up way too late last night, but at least I did a lot of stretching as I watched television.  I was tight and sore from yesterday's triathlon.  The race ripped my calves (all those hills) and shoulders to shreds.  I think my arms are so sore from the swim + bike combo.  Holding yourself up on the bike is exhausting! 
These are my favorite post-race stretches:
Downward Dog:  Feels so good on your back and calves!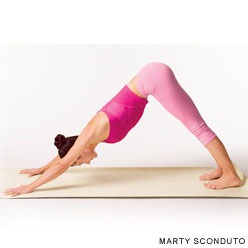 Pigeon Pose:  Ultimate hip opener.  I like to lay forward across my folded knee and breathe deeply.  Hurts… but so good.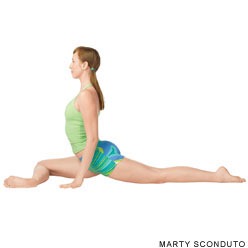 Bound Ankles:  My feet always hurt after a hard race, so I rub the soles while I sit in this post.
Extended Triangle:  Best… pose… ever.  Stretches so many things.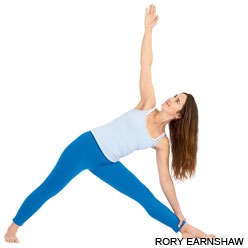 Yoga – it feels so good.  Even on your rug in your living room.  A little practice is better than no practice at all!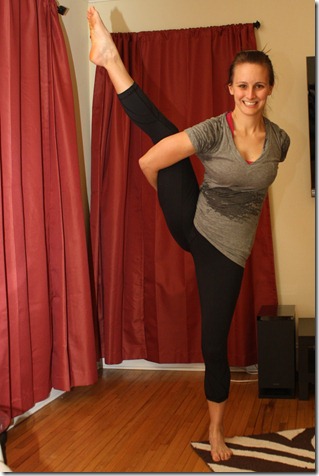 (Not last night – Lordy knows that kind of flexibly is not happening anytime soon!)
Breakfast featured… Mmmm Sauce.  Obviously.  Still working through that huge jar!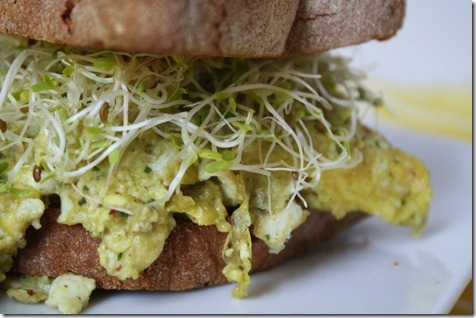 I made a scrambled egg and sprouts sammie, but mixed the Mmm Sauce in with the beaten eggs before scrambling.  The result was very curry, very fluffy eggs.  Get in my belly!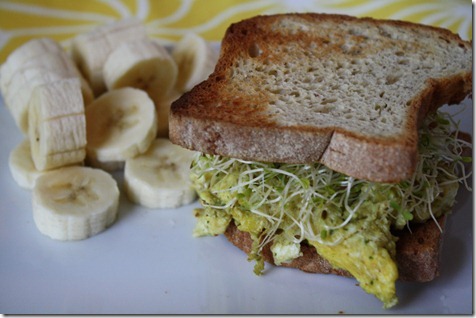 I'm off to Nicole's bridal shower.  I have two great gifts to give her – I'm excited!  Giving gifts is nearly as fun as receiving them.  Heh. 
Happy Sunday!