I love bridal showers.  The "oooing!" and the "ahhing!"  And making the ribbon bouquet for the rehearsal dinner, which I always volunteer to do!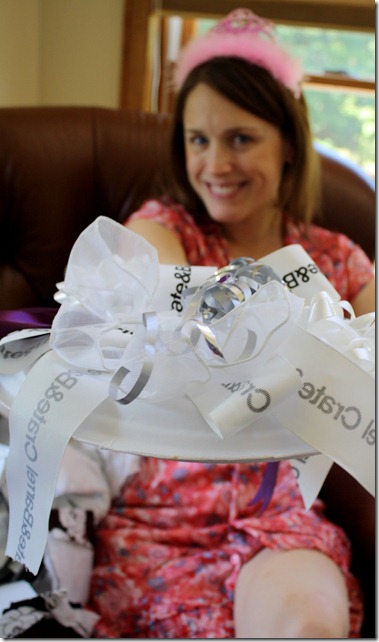 Doesn't Nicole make a beautiful bride-to-be?  And actually, she plans to carry her ribbon bouquet during the 10K we're doing together on the morning of her bachelorette (in September)!
Her grandma hosted the cutest bridal shower today.  The food – pimento cheese sammies, fresh fruit and whipped cream, homemade hummus, pita chips, and spicy peanuts – was so tasty and so Southern.  Yum!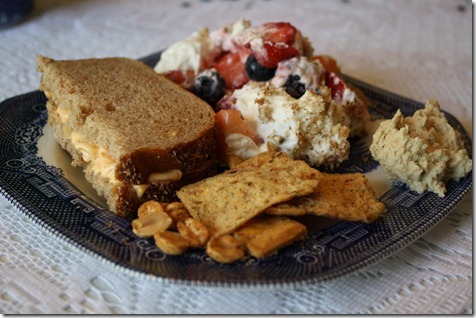 Nicole promised there would be pound cake, and pound cake there was!  With super thick globs of icing.  Hello, delicious sugar crash.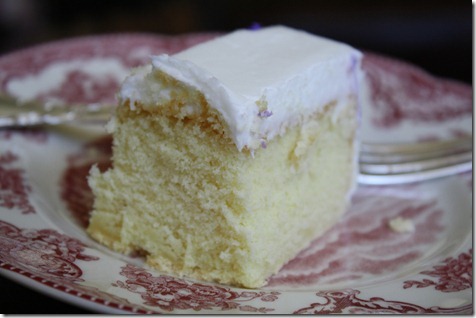 Nicole unwrapped presents – I got her an electric kettle (love!) and a copy of Mama Pea's amazing and beautiful cook book – and then we drove home in a serious sugar coma from the pound cake.  Bridal showers are the best!
Somehow, in a sugary haze, I managed to cook dinner.  This one is a goodie…  Very citrusy and flavorful.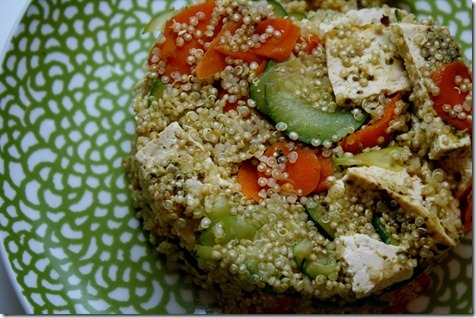 Cilantro Zest Quinoa Tofu
Ingredients (for two servings): 
1/2 cup fresh cilantro
Juice of one lemon
1/4 cup nutritional yeast
2 tablespoons olive oil
1 tablespoon water
1 block extra firm tofu
1 zucchini
2 carrots
1/4 cup water
3/4 cup quinoa, rinsed (if necessary)
Directions:
Preheat oven to 375 and grease a large glass casserole dish (or cookie sheet).
Remove tofu from the package and slice into thin, 1/2 inch slices.  Place on greased cookie sheet.
Combine olive oil, water, cilantro, nutritional yeast, and lemon in food processor until smooth (to get the maximum amount of juice out of the lemon, microwave it for 45 seconds before slicing and squeezing).  Drizzle over tofu and place in oven.  Set oven timer for 45 minutes.
Meanwhile, using the slicing attachment on the food processor or by making cuts with a knife, shred the zucchini and carrots into very thin silvers.  Place in wok.  When 15 minutes are remaining on the tofu, pour 1/4 cup water into wok on top of veggies, cover with lid, and cook on high.
Bring small pot of water to boil.  Add in quinoa and cook for 5 minutes (per these directions).  Drain and fluff.
Remove tofu from oven and chop into thin pieces with a knife.
In a bowl, combine quinoa, vegetables, and tofu.  Mix thoroughly.
Serve and enjoy!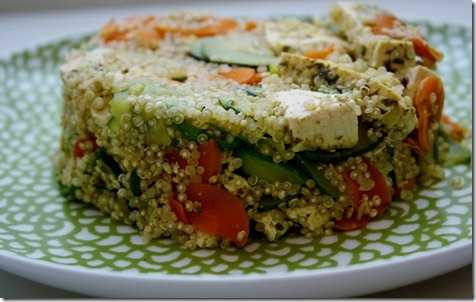 I promise – if you like cilantro, you will love this dish.
Time to get in bed.  Have a wonderful Sunday night.
PS – Updated the Olympic Triathlon recap with some new race pics!