Last week, I was napping in my bed and spooning Maggie.  Her body is perfect for spooning – long and soft.  I stroked her pretty fur, lovingly counting each of her little black and brown spots.  As I stared into her big, brown eyes, I noticed something startling.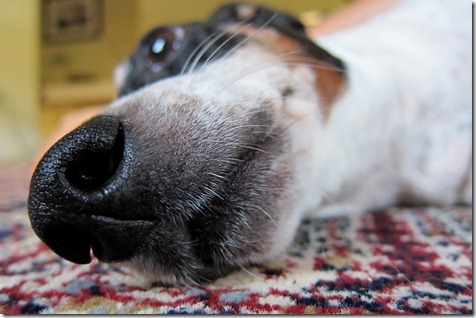 Maggie's brown eyebrows are going white.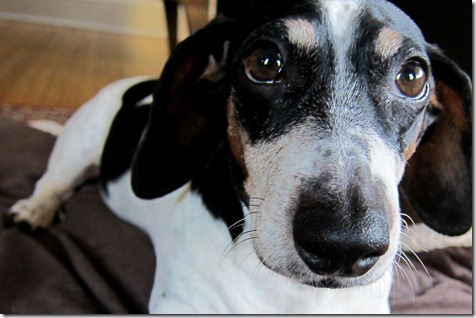 It was a sweet – but sad – moment.  My little fur girl is growing up.  Today, she is seven years old! 
The Husband and I adopted Maggie back in August 2006.  She was two years old and had been 'relinquished' to an independent rescue organization for being needy and difficult.  She's still needy and difficult, but I like to think that we understand her.  We got the love of her life, James, six months later.  We were both 22 years old, living in a $400 a month one-bedroom apartment, and surviving mainly on Ramen noodles and love.  It was perfect.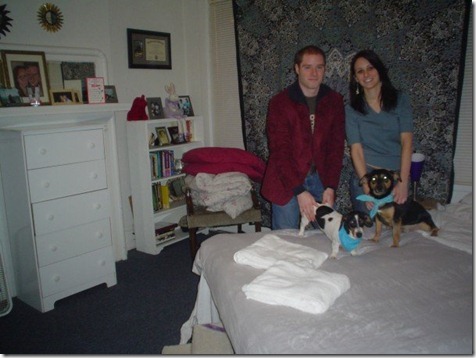 I know there are dog people and cat people and no-pet people.  So maybe a lot of you can't understand how I can love a 19-pound tube of sweetness so much.  But Maggie is something truly special.  She makes me happy on a daily hourly basis.  Dogs are a lot of work, and the decision to get one shouldn't be taken lightly, but I promise – for every time I've had to take Maggie out in the rain, clean up doggie puke, or give her a bath after she rolled in a dead animal, it's been worth it.
So – Happy Birthday, Maggie!  I hope we have many more birthdays together.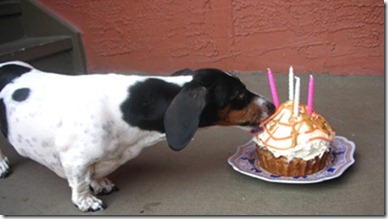 Since Maggie is currently on a vet-ordered diet, she didn't have cake this year.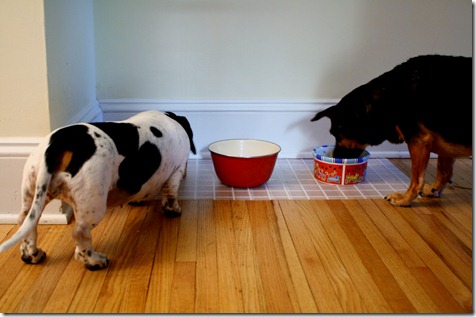 Instead, she had some sunflower seed breakfast with her kibble.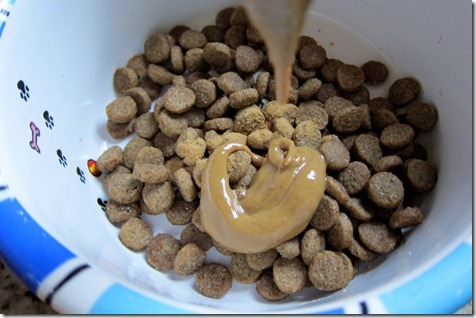 And I had some, too.  Sunflower seed butter, that is.  Not kibble.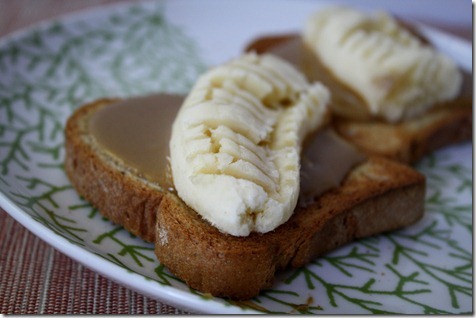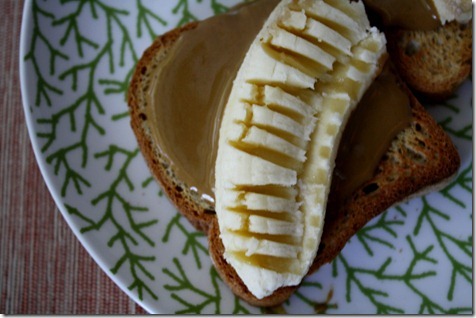 In honor of Maggie's birthday, I am going to give away a 5-pound bag of her favorite organic doggie food, Organix.  This giveaway is hosted by yours truly.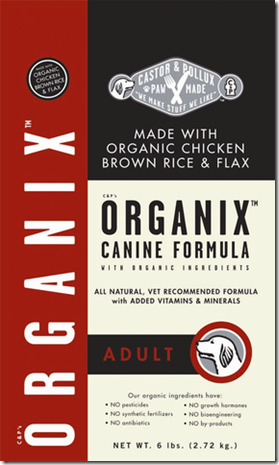 We fed Maggie and James Organix because it contains organic, free-range chicken; no wheat, corn, or soy; organic quinoa, organic flaxseed, organic brown rice; and lots of other organic fruits and veggies.  In other words – only the good stuff, and none of the bad!  It makes their coats so shiny; there's an actual visible difference between Organix and other brands. 
If you'd like a chance to try Organix for your pup, simply leave a comment describing why he or she makes you happy!  You can either use the bag of food for your own pup or I'll donate it to a shelter in your honor.