Times are changin', but being a Southern vegetarian is still kind of… well, it's odd.  Southern food is based around BBQ, pork, lard, and fried veggies.  Tofu is not a staple.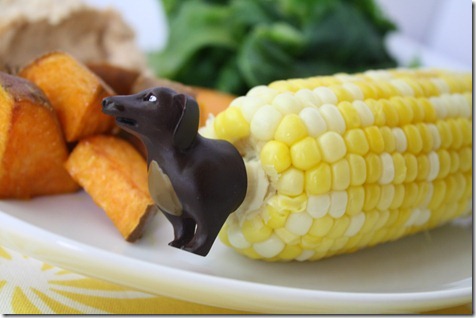 I'll never forget the time I crashed my car and hitched a ride back home with the tow truck driver.  The driver was proud to be born and raised in northern Florida – a very Southern spot indeed.  We were chatting and, for some reason, I mentioned that I was a vegetarian.  He said, "What's a vegetarian?"  I said, "Oh, it means you don't eat meat or chicken."  He slowed at a stop sign, turned, and stared at me like I had just suggested we both ditch our spouses and ride off into the sunset together.  "What about fish?" he said suspiciously.  "No fish," I replied.
He paused.  "But what about BBQ?" he asked.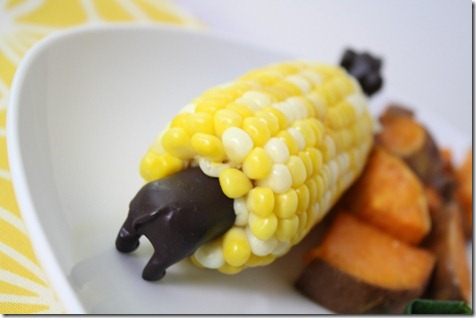 I'll admit – BBQ chicken is one meat-based dish that I miss.  But it's more the flavor of the meal than the actual meat itself, which is why this lunch was the perfect fix for my strange BBQ cravings.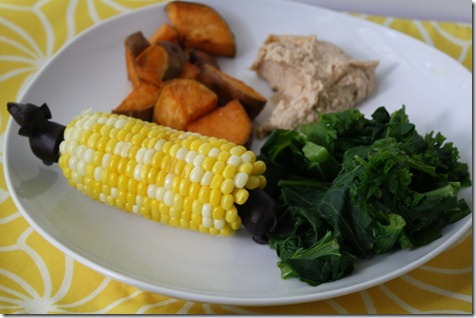 On the menu:
Roasted sweet potatoes, per this method
Steamed collard greens and kale, per this method
Boiled corn on the cob
BBQ Hummus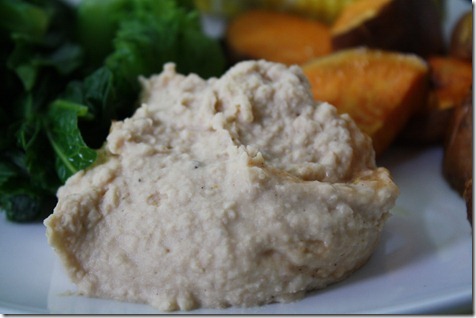 Oh yes – I went there… BBQ Hummus.  Now, many of you (correctly) pointed out that a hummus made with white kidney beans is not a hummus at all, as hummus requires chickpeas.  Semantics, I say!  Try making hummus with white kidney beans; it's so much creamier.
BBQ Hummus
Ingredients:
1 can white kidney beans
1 tablespoon tahini sauce
Salt and pepper to taste
3 tablespoons BBQ sauce
Directions:
Drain and rinse kidney beans.
Combine all ingredients in a food processor and blend until smooth.
You can take the cook out of the South, but you can't take the South out of the cook.  Or something like that. 
Speaking of getting out of the South, this Friday is the 3rd Annual Healthy Living Summit (hosted by Quaker Oats).  I am so excited to see everyone in Philadelphia.  It's going to be tons of fun – I can't believe this is the Summit's third year!