Racing is awesome – but it's even more awesome when you cross the finish line with epic race photographs to share with all your friends.  Race photography can be challenging; after all, your primary focus is running, biking, or swimming, not snapping pictures.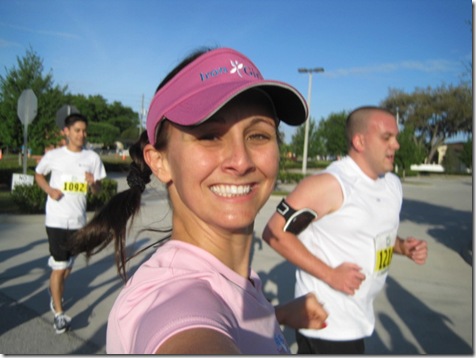 I know mid-race photography isn't for everyone, but it's so fun to have detailed pictures to look back on and help you clearly remember the race.  After (mostly) self-photographing 40 races,  I've discovered a few tricks.
Photo Trick #1:  Bring your camera.
Sounds obvious, right?!  But you have to have your camera on-hand if you want to get good race photographs.  I really love my SpiBelt; it's an excellent way to carry a camera mid-run.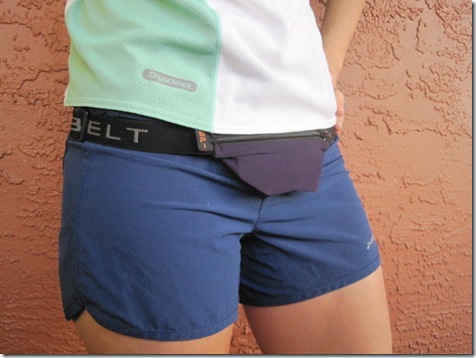 Another option is investing in a CamelBak, which is a hydration backpack.  There's a zipper in the front that you can put a camera in (or tape a DVD to, as shown below).  When I use my CamelBak to carry my camera, I always put it in a plastic bag!
Photo Trick #2:  Arrive early and shoot scenery.
I always, always get to a race a little early so I can take scenery pictures, like photographs of the lake or the finish line.  This method is really helpful if you are going to write a race recap on a blog.  Think of the "story" you want to tell and shoot photographs accordingly.  If my car is parked close to the start, I will even bring my nice camera out to the starting line and take pictures, and then swap out my SLR for my Point and Shoot for the race.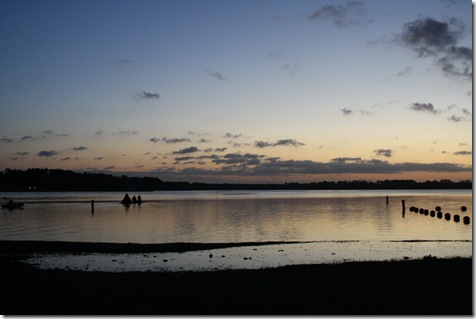 Photo Trick #3:  Ask others to take your picture.
Don't be shy about asking people to take your picture – just ask!  In general, people at races are SUPER friendly and are always willing to snap a quick shot.  If you're mid-race, you might not want to interrupt someone who is in "the flow," but if you start chatting with someone else who is also taking a walk break, they might not mind!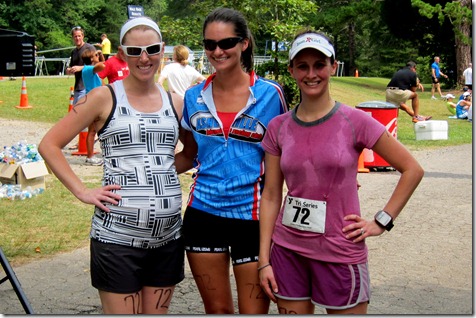 Photo Trick #4:  Think beyond people.
We want pictures of ourselves, of course, but race photos are so  much more interesting when you take photographs of things, too.  I love to take photographs of the crowds, bib numbers, the registration table, water stations, mile markers, funny race signs, landscape, and the finish line.  Snap, snap away! These images really tell the story.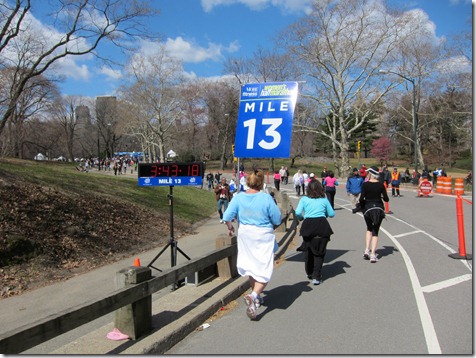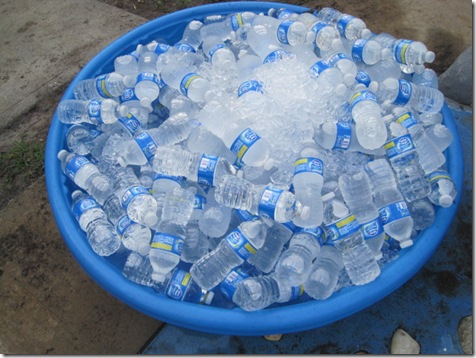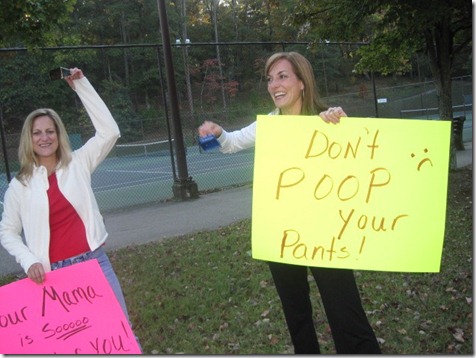 Photo Trick #5:  Pre-determine where your support crew will be able to spot (and photograph) you.
If you have friends or family coming to the race to support you (and photograph you), plan ahead where they will wait for you on the course.  Don't just pick out a landmark – also decide what side of the street you'll be running on.  For example, "Wait for me after the water station at Mile 6, I'll be on the right side of the road."
If it's a really big race, provide your support crew with flags, a balloon, or matching t-shirts to it's very easy to spot them.  Otherwise, you will NEVER find them!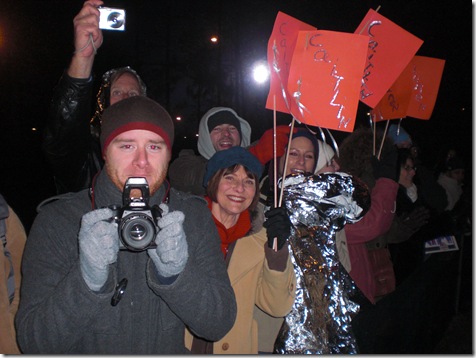 Seriously, how cute is the Husband's near-crying-of-pride face as he photographed my first marathon?
Photo Trick #6: Smile for the professionals!
Many larger races and most triathlons have professional photographs on-site.  After the race is over, you can search the photographs by bib number and locate your pictures!  You can usually buy hard copies, as well as digital copies.
I must say that I am a professional race photograph pro.  Heh.  The key?  Look for the photographer!  At a triathlon, there will always be a race photographer 1) when you exit the water; 2) when you are ending the bike ride; and 3) when you are finishing the run.  Look up and smile.  Keep smiling until you pass them, as they are probably waiting for you to hit a certain spot before they click.
Also – be silly for the professional photograph!  Kiss your guns or do a heel click.  They will love it, and so will you!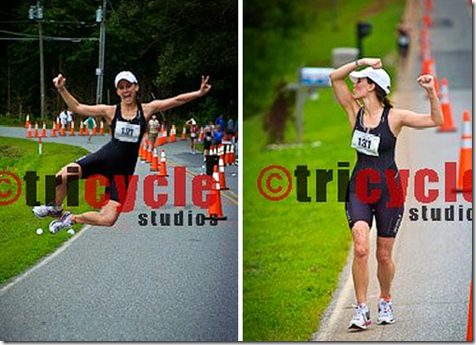 (Sources)
Photo Trick #7:  Fake the finish.
If you're attending a race by yourself, it can be disappointing to not get a "crossing the finish line" photo.   I often attend races without spectator support, so how do I get so many great finish line pictures?  I wait until most people have crossed, and then I ask a race official if I can run back through the finish line!  If they say yes (and they always do!), I ask a volunteer to snap my picture.  Tada!  A perfect post-race finish photo.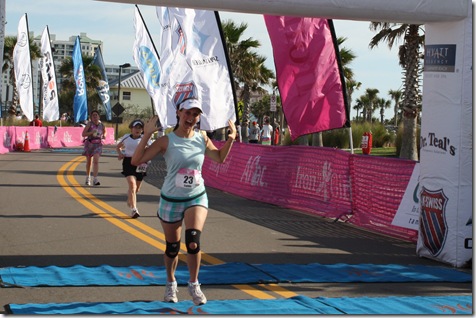 Fun fact:  I ran through the IronGirl 15K finish line three times to get that picture!  No one minded.
How do you get the perfect race photographs?