I believe that small efforts really add up over time.  And guess what?  All you need to be healthier is two minutes a day.  Yes, just two minutes!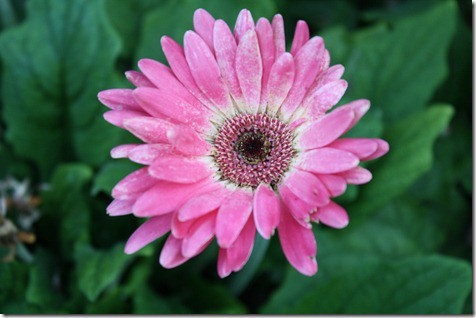 What do you do in those two minutes?  You think about tomorrow and how you're going to fit in your goals – eating better, exercising, meditation – and anticipate any challenges.  "Do I need to wake up a bit earlier to squeeze in my workout before work?"  or  "Should I boil brown rice for dinner as I make breakfast?"  I really believe so much of healthy living is planning ahead because – trust me – it doesn't happen by accident! 
If you take two minutes to plan ahead, you prioritize your health. 
So, last night, I was in bed, thinking about tomorrow (well, today).  I knew I had a busy morning and that it would be really hot outside by the afternoon, so I had to squeeze in my morning workout.  Thus, the alarm was set for 6 AM.  I snacked on two dates for pre-run fuel, and I was out the door by 6:40 AM for a lovely 3.0-mile run!
Breakfast in the car… you do whatcha gotta do.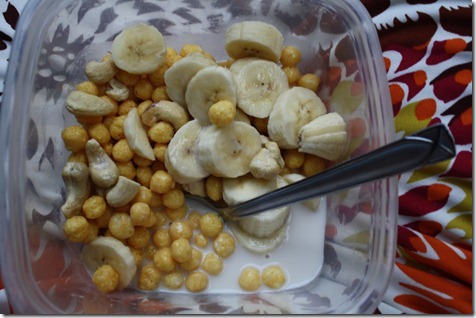 Panda Puffs, banana, cashew, almond milk.
Okay, kids.  I've been dropping hints about this… but now it's official.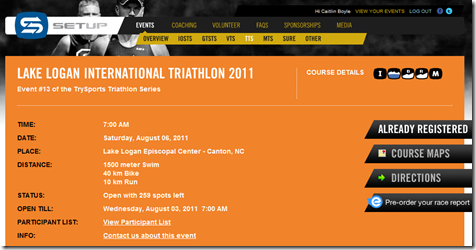 In two weeks, I'll be doing the Lake Logan International/Olympic Triathlon – 1,500 meter swim, 40K bike, and 10K run.  I have only done one other Oly tri (race recap here) and finished in 3:06:07.  That race included a bike crash and a panic attack, so I'm hoping this one will go smoother. 
Obviously, with only two weeks to go, I'm totally going to phone in my training.  Here is my crash training plan.  I do not recommend doing this, of course, but I'm hoping I can draw from my extensive race history and overall cardiovascular fitness to push through.  My goal is to have fun, so if I need to walk during the run, that's cool with me.  Ashley and Carolina John are doing the race too, which is exciting!
PS – This will be my 39th race!  I am so excited.  I'm really hoping to break 50 races before my 30th birthday (in 2.5 years, but I anticipate I will lose time with babymaking).  I think I can do it if I stay focused!