As a Miami girl, born and raised, I'm used to a little heat and humidity.  But this is not running weather, folks: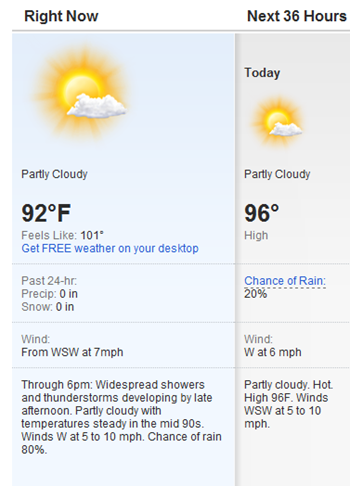 Ugh.   It feels so hot out there!  I was dripping on the dogs' morning walk and knew that it just wouldn't be safe to run outside.   No cloud cover at all.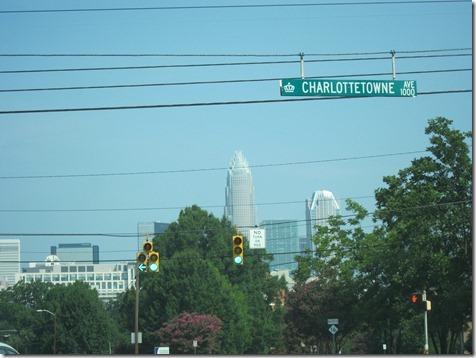 So instead of a planned swim-run, I did a swim-bike in the comfort of the Aquatic Center and my living room.  Thank goodness for the Bell Motivator!  All cyclists should invest it an indoor trainer.  It makes it easy to get your bike time in (although, of course, it's not a replacement for the road). 
Pre-swim breakfast of egg and hummus sandwich + cherries: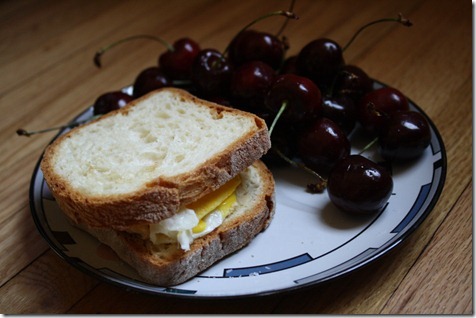 My plan was to swim 1,500 meters – race distance – but unfortunately, the pool staff began to break down the long course right as I finished 1,300 meters.  Practically speaking, 200 meters won't make that big of a difference, but I'd like to feel emotionally confident about the race distance.  Oh well.  There's always the next swim. 
Many people have asked about this long vs. short course thing, so I took some pictures to explain: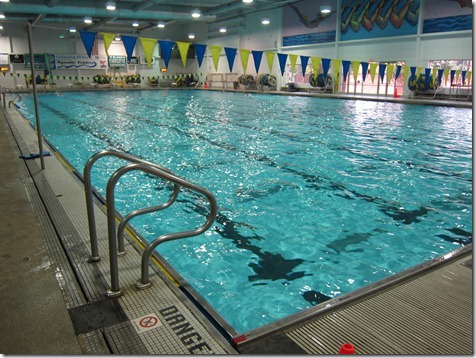 The long course is 50 meters – the long length of the pool.   They set up the ropes to go lengthwise.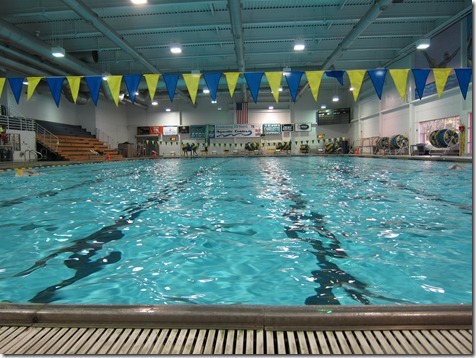 The short course is the 25 yards – the short width of the pool.  When it's short course time, they run the ropes the other way.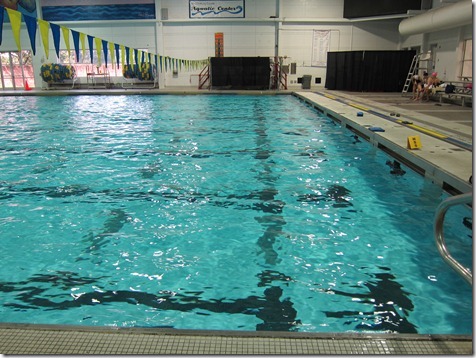 Now, I prefer to swim the long course because it feels harder, even if you swim the same distance, because you don't get as many built-in breaks.  You also get more time to work on stroke form because you're not stopping to turn or flip every 25 yards.  Also, since you gain momentum by pushing off the wall, the long course (with less push-offs) is a more realistic idea of what swimming in open water feels like. 
If you're a newbie swimmer, the short course is a great starting place because it really lets you get your bearings.  But if you're training for a race and have the option to swim a long course, do it!  You'll feel more prepared.  That being said, this is the first pool that I've ever gotten to swim in with a 50-meter option, and it's certainly not impossible to train for a tri in a 25-yard pool. 
Yay, swimming.  You are my favorite sport!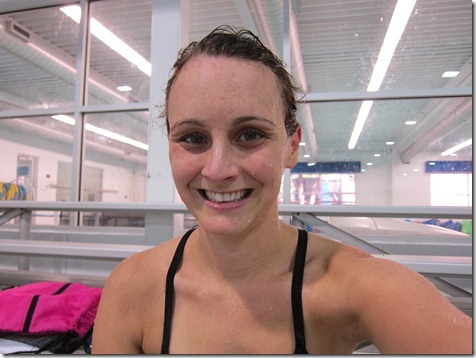 Came home, switched into cycling gear, and did my spin bike thing for 30 minutes.
Maggie's moo cow watched me ride.  It's her favorite toy because it looks just like her.
See?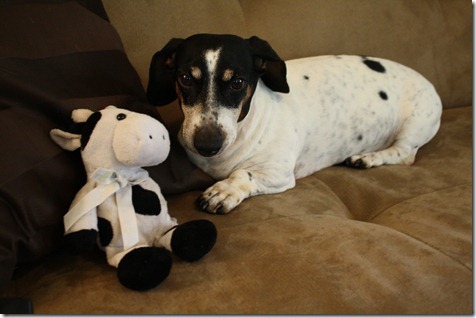 Post-workout protein smoothie: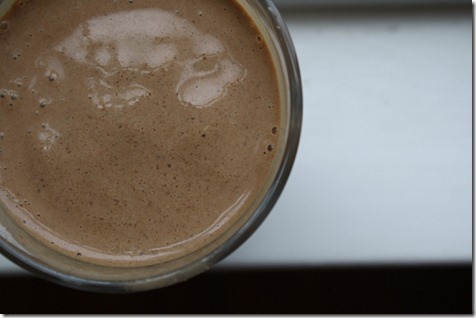 In the mix:
Frozen banana
Almond milk
Couple ice cubes
2 scoops of cocoa powder
Protein powder
'Twas delicious. 
Stay cool and comfortable today!  Remember to drink yer water!