It has been a real struggle to exercise lately.  Not only have I been struggling with motivation (remember the sloth v. honey badger post?), but I've also had trouble simply finding the TIME to workout.
I've been juggling working at the clinic, writing a book, writing two blogs, and closing on the house (which is seriously a full-time job in itself), and by the end of the day, I end up feeling like I'm behind on everything.  Not a good or relaxing feeling.  I can't walk away from any of my commitments – but man, things will be so much calmer in September when I'm done with the book.
Okay, but really – I have the time.  I definitely waste time sleeping in, playing on Facebook, browsing blogs, or watching a little TV.  Part of my problem is that I've been looking at exercise like it's a chore.  Exercise is NOT a chore.  Exercise is a release – a much better one than mindless Internet surfing.  And it's a good reason to step away from work and relax.  Above all else, I only exercise in ways that I derive pleasure from (swimming, running, cycling). 
No one forced me to sign up for my upcoming sprint triathlon (2.5 weeks to go!) – I signed up because I think races are FUN.  And if this isn't fun, then why the heck am I doing it?  
Not really sure where I'm going with this post, but the point is that I need to change my current perspective about workouts.   I need an attitude adjustment.  Plenty of people are busier than me and are training for much bigger races.  I haven't taken on a race that I am too busy to train for; I just need to remind myself that I love to workout and that it makes me feel better.  And it will all be worth it on race day. 
If I want to do it, all I have to do is do it.  As Ben says!
On that note – I FINALLY made it to the pool!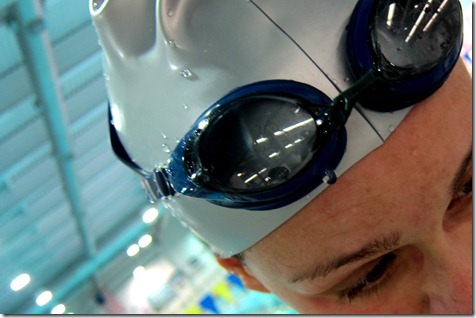 I love-love-love going to the swim center on Tuesdays and Thursdays because that's when they set up the long course (50 meters as opposed to 25 yards).  However, they take down the long course at 1 PM sharp!
I was 800 meters in when they started to dismantle the ropes.  Awww, man.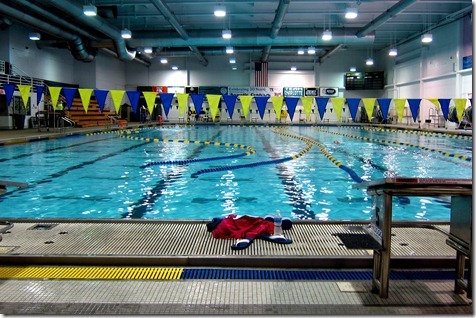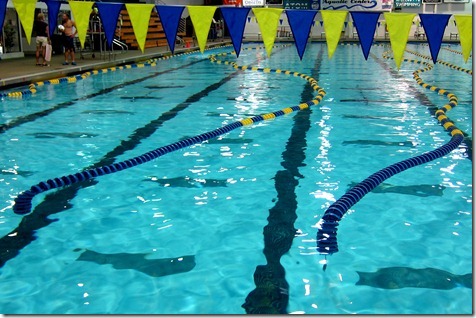 Post-swim lunch of millet (how to prepare millet) and navy beans, and a fresh summer salad of spinach, goat cheese, strawberries, and creamy balsamic.
Get in my belly!
Is a race helping you stay committed, too?  What are you training for?