The Husband borrowed my camera's memory stick to tape his golf swing, so I'm stuck without any fun photos.  Hence, a complete word vomit post.
Random Thought #1:  Last night, I was laying in bed and had a genius idea:  race medals make excellent Christmas tree ornaments!  Wouldn't that be fun?  I keep my medals on a display rack in my hallway, and I'm not sure I'd want to cut off the ribbons, but Christmas tree ornaments are certainly a really cool alternative.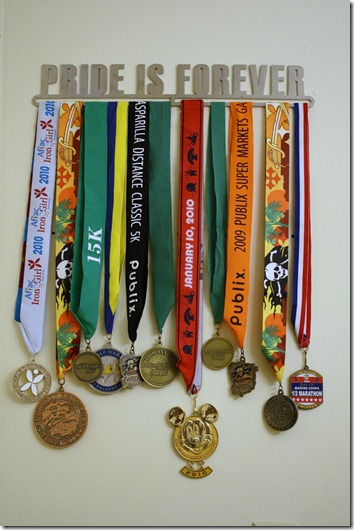 Random Thought #2:  A few people have passed this onto me, so I'll share it with you!  It's a great article called How to Talk to Little Girls.  The article focuses on building girls' self-esteem without complimenting them on their appearance – very important!  Looks aren't everything, but sometimes adults send subtle messages that looks are paramount just because we're nervous and don't know what else to say (speaking from firsthand experience).
Random Thought #3:  Fellow healthy living blogger Susan from The Great Balancing Act was recently diagnosed with lymphoma.  Please head over to her blog, read her story, and wish her well.  Can you believe she's still putting out incredible posts, such as How to Make the Sick Sicker?
Random Thought #4:  SOMEONE I know is getting MARRIED at the courthouse on Friday!  I am so excited!  All I can say is that my lips are sealed.
Random Thought #5:  Today, I get to do a group run with Pat Farmer.  Pat is running from the North Pole to the South Pole.  He "will run two marathons every day, no days off, for almost a year, over 13,000 miles through 14 countries in a race to raise $100 million for the International Red Cross."  Crazy, right?  He's running through Charlotte and is doing a meet-up with Girls on the Run, and I'm tagging alone.
He has run across America… twice. I have no excuse not to do a 5K with this dude.
What random thoughts / links do you have to share today?