Oh yeah.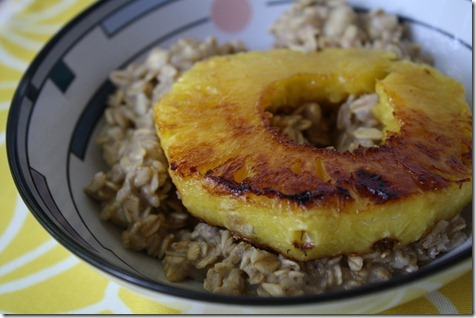 This recipe is actually an oldie but goodie, back when Healthy Tipping Point was named See Bride Run (most short-sighted blog name, ever – I got married six months after starting my blog!). 
Fried pineapple in the morning – what's not to love?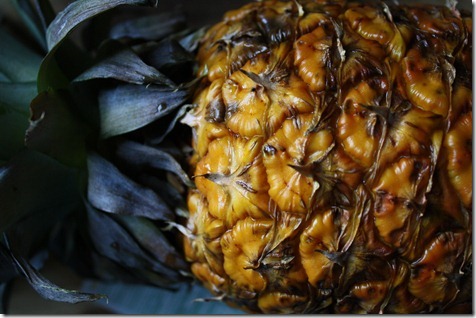 Ingredients (for one serving):
1/2 cup old fashioned oats
1/2 cup milk or milk substitute
1/2 cup water
1/2 banana
1/2 tablespoon cinnamon
1 pineapple ring
1 tablespoon brown sugar
Directions:
Combine first five ingredients in a small pot.  Turn heat to high.  Stir occasionally.
Meanwhile, heat and grease a small saucepan.  Place ring in center and sprinkle with brown sugar.
Once liquid has boiled off oats (5 minutes or so), remove from heat.
Flip pineapple once it's browned and allow to brown on other side.
Plate oatmeal and top with pineapple ring.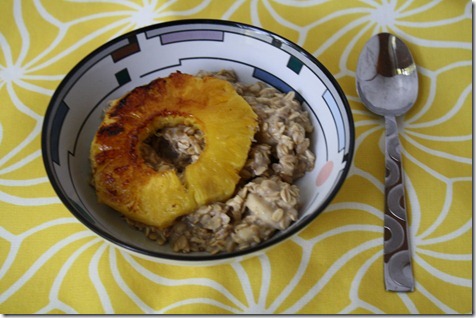 Want a little trick?  If you don't have a pineapple core machine (um, who does? Anyone?), you can always use shot glasses to remove the woodsy core!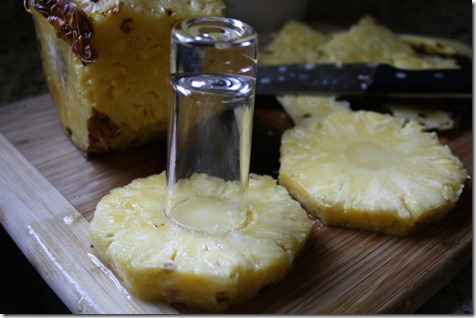 Two shot glasses are also good for holding up hard tacos!