This post is part of a new series called "Prepping…"  I plan to do some more simple how-to posts featuring fun ingredients and cooking techniques.  Next up: Prepping Baked Tofu and Prepping Quinoa.  If you have any requests, feel free to holler.
This is how I prep millet.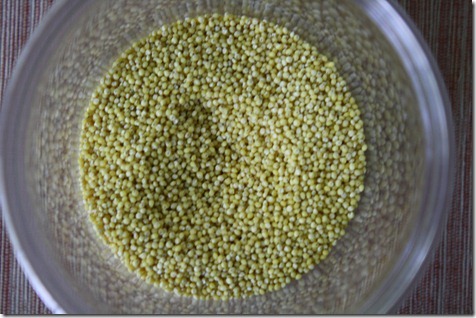 Millet is technically a seed (thus, gluten-free) and is pretty high in protein – 11%.  It is also a good source of B vitamins, folic acid, calcium and more.  And it's delicious!
First, bring a small pot of water to boil.  Add in your millet.  I usually make about 1 cup dry millet for two people because we're eating it as a entrée and not a side dish.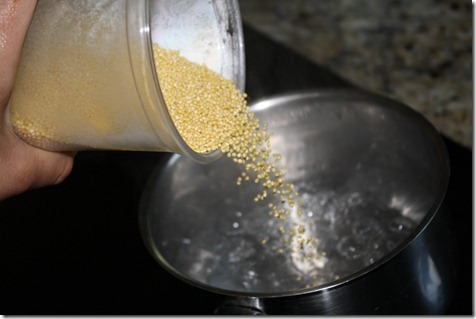 Let it boil for 13 minutes, then remove from heat and drain.  It is VERY easy to overcook millet so set a timer!  And because millet pieces are so small, I use a pot top to pour off most of the water instead of using a colander.  Return to the stovetop, turn off the heat, and let it sit for another few minutes to remove any extra moisture.
And that's it – pretty easy, huh?
Millet was AMAZING with lunch today.  We had millet, chickpeas, and steamed kale.  But what really made this combo stand out was this Red Curry Sauce.
Don't be scared of Red Curry Paste – it's really rather mild, not too spicy in the slightest.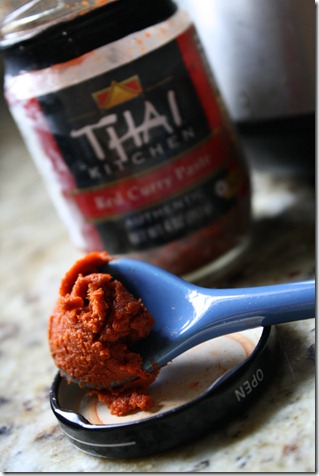 Red Curry Sauce
Ingredients:
1/4 cup raw cashews
1/4 cup water
1/4 cup chickpeas, drained and rinsed
1/4 cup plain hummus
3/4 tablespoon red curry paste
1/4 cup fresh tightly packed cilantro
1 tablespoon vegetable oil
Squirt of hot sauce
Salt and pepper to taste
Ingredients:
Combine first three ingredients in food processor and blend until smooth.
Add remaining ingredients and blend until well-mixed.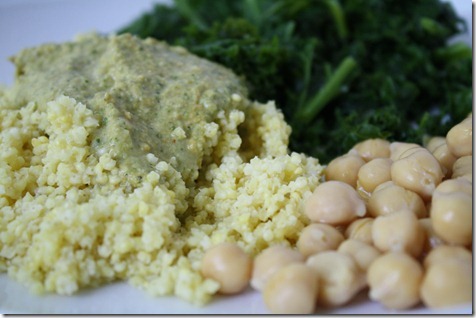 The Husband declared this sauce was "amazing."  But he says that about everything I cook (he firmly believes in, "Happy wife, happy life.")  All kidding aside, it was pretty delish.
Oh – here's breakfast!  A microwaved sweet potato with scrambled eggs and spinach.  Plus a glass of OJ.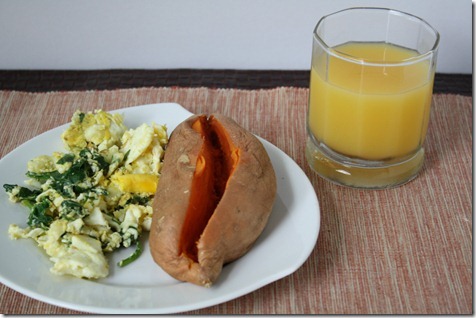 Hi-ho, it's back to work I go!