When I was in college, I was friends with some boys who were in a fraternity and had their own chef.  The chef's specialty was chicken salad sandwiches, which I had never eaten before but promptly became OBSESSED with – I would sneak into the kitchen and steal entire Ziploc bags of chicken salad mix!  Don't tell! 
When I went vegetarian, chicken salad sandwiches were one of the meat dishes that I missed the most.  One day, I figured out that you can easily sub out the chicken with plain baked tofu and make a vegetarian version of this awesome dish.
Here's a fun twist on my favorite sandwich stuffer!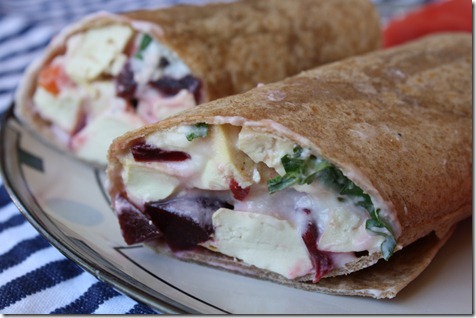 Instead of celery, this tofu salad contains chilled beets, which gives the dish a pinkish hue.  Yum!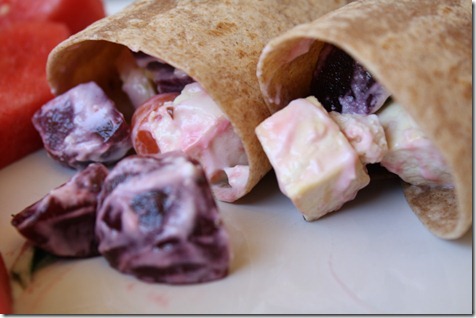 Pink Tofu Salad
Ingredients (makes three servings):
1 block tofu
4 chilled beets (I bought pre-cooked beets from produce section; not canned)
2 carrots, chopped
1/4 cup chopped and loosely packed basil
1/3 cup plain yogurt
Sprinkle salt and pepper
Directions:
Preheat oven to 425 degrees.
Slice tofu into tiny square.  No need to drain.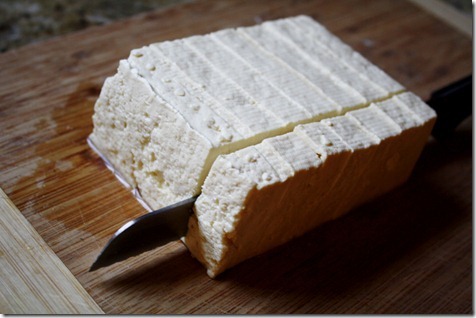 Place tofu on greased cookie sheet and bake for 20 minutes.
Meanwhile, chop carrots and beets.  Rinse to remove excess beet juice.
Remove tofu from oven and let cool (or stick it in the freezer for 5 minutes).
Combine carrots, beets, basil, salt and pepper, tofu, and yogurt in a small bowl.
Scoop onto bread or wrap and serve!
I really loved this tofu salad twist.  The beets were SO delicious!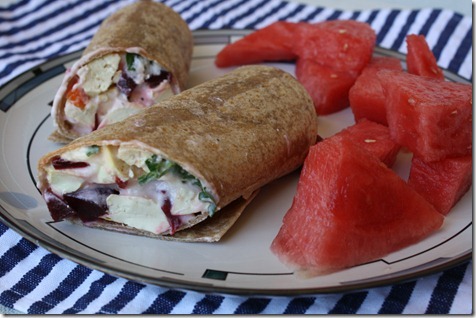 In addition to plowing through my To Do list, I stopped by Omega Sports, a Girls on the Run supporter, to pick up our team's packets for this Saturday's 5K!
I cannot BELIEVE the race is this Saturday.  I know the girls are ready to have fun!  I just hope I can keep up.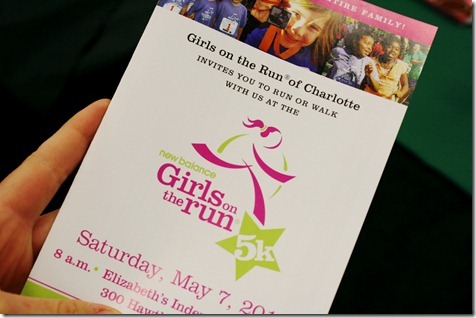 Off to our last meeting… So sad.