Part of my half-marathon training plan calls for speedwork, which so far I've been pretty good about fitting in.   In fact, I did two speedwork seshs this week!
Normally, I refer to the contraption below as the dreadmill because I really, really hate running on a treadmill.  I find it intensely boring.  I know it's necessary to run indoors when it's too cold or too hot, but really – it is not my favorite thing.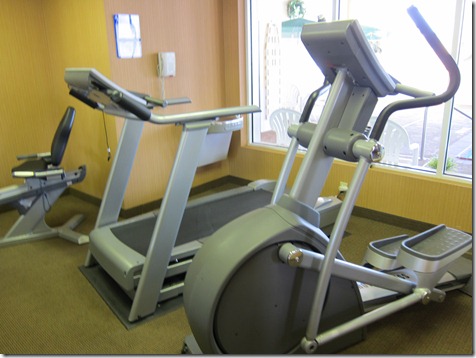 However, I do not mind doing speedwork on the treadmill at all!  It goes so fast and constantly adjusting the speed gives me something to do.  Plus, I'm much faster on the treadmill. 🙂
Today's speedwork sesh was Progressive Speedwork.  This means that with each speed interval, I either got faster or held the speed for longer.  Progressive Speedwork results in a beautiful negative split!
Here's my times (roughly):
Distance: 3.0 miles
Duration: 24:56
Mile 1: 8:50
Mile 2: 8:17
Mile 3: 7:50
Here's my speedwork breakdown:
Minute 0 – 1: 6.0 mph
Minute 1 – 3: 7.0 mph
Minute 4 – 5: 8.0 mph
During Mile 2, I extended my 8.0 mph sprint to two minutes (twice), and during Mile 3, I held it for three minutes once (which was so hard) and sprinted at 9.0 for the last minute or so.
Refuel!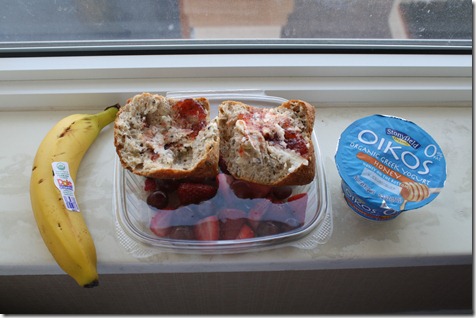 Banana, fruit tray (grapes and strawberries), roll with butter and jam, and Greek yogurt.
I better get going – I have a plane to catch!
Do you love speedwork?  Or do you despise it?