Something fun:  I'm looking for YOUR one-paragraph book reviews of popular sport/endurance/healthy eating books, like Born to Run, Ultramarathon Man, Fast Food Nation, Age is Just a Number, It's Not About The Bike, What I Talk About When I Talk About Running, and more.
I want to compile all your reviews in a big post about inspirational healthy living books!  If you want to be included, send me your name, your blog (if you have one), the title of the book, and why you did or did not like it.  I'll credit everyone for the reviews, even if I don't use your specific review in the post (in case I get doubles).  Send them to caitlinjboyle@gmail.com!
So…
Last night was lots of fun – the Husband and I went over to Isaac and Nicole's for dinner.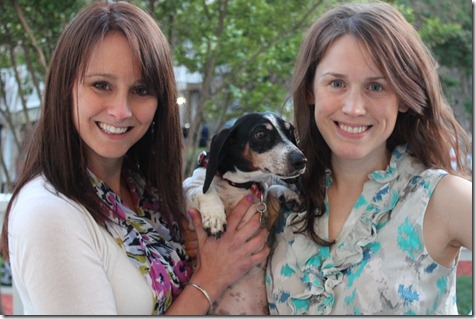 Nicole and Isaac are actually on a Candida-elimination diet, which basically means no sugar, no high-glycemic foods, wine, or chocolate.  You can check out her blog for a description.  I was curious about what they would feed us – but it turned out to be AMAZING.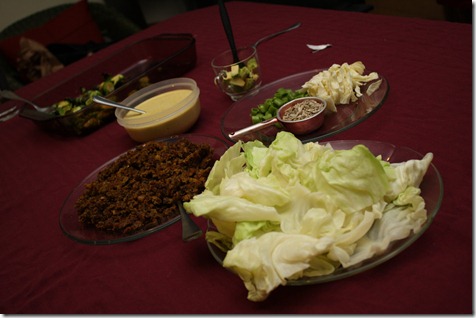 They made homemade veggie burger lettuce wraps with roasted Brussel sprouts on the side.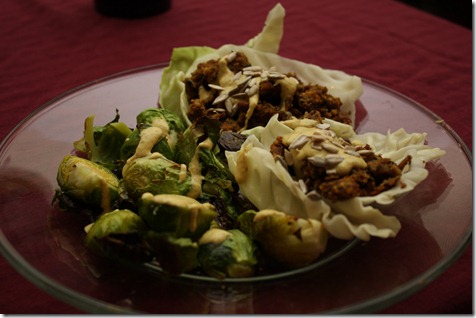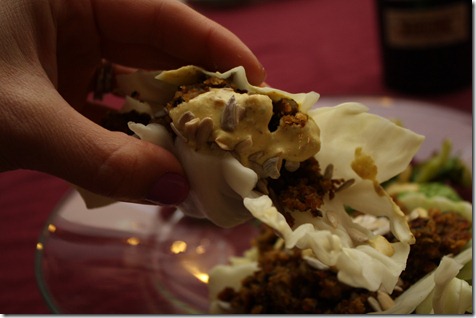 But the kicker was Mama Pea's Mmmm Sauce, which I will be making again in, oh… tonight?  Lunch?!  It was heavenly.  Make this now, drizzle on everything!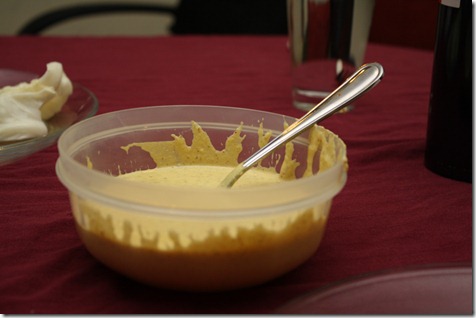 Afterwards, the Husband and I drank wine and ate dark chocolate, which was provided by Nicole.  I thought it was very nice of her to share sugar when she can't eat it. 🙂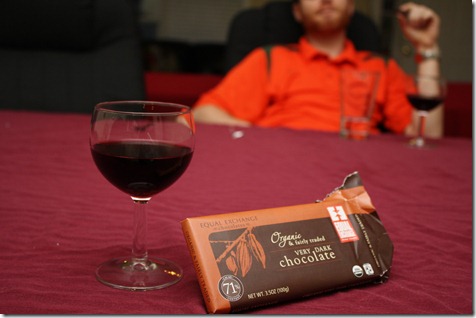 We stayed up sooo late talking about politics, vegetarianism, education, religion… Luckily, I think the four of us agree on pretty much everything (or are polite enough to keep it all kosher).  It was a late night of debate!
A big breakfast before a very big activity: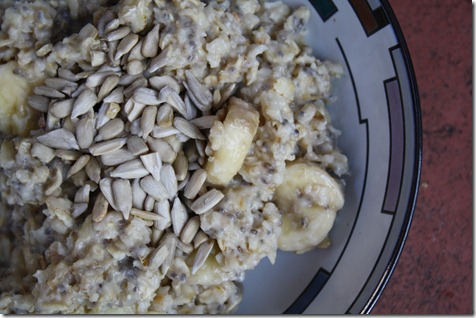 We are going KAYAKING today!  I am so excited.  I haven't kayaked in years.
To fuel:
3/4 cup oatmeal
1/2 cup almond milk
1/2 cup water
1 banana
Chia seeds
Vanilla extract
Topping: Sunflower seeds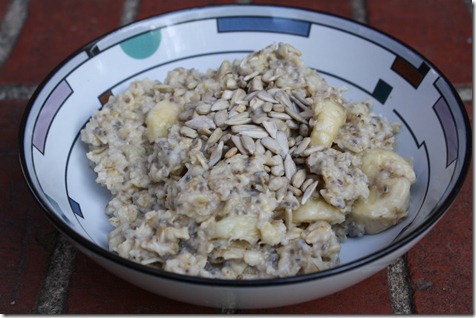 Gotta go! 
I look forward to your book reviews.  🙂