You know what?  Grilled bananas really are vastly superior to raw bananas, especially on French toast.  :)  Should've grilled mine this morning!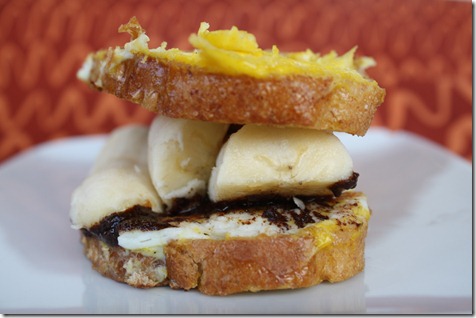 My breakfast was a hybrid of Lazy Girl's Cinnamon Bread French Toast and Grilled Banana Sandwich… It just wasn't the same without grilling, though!
Lunch included leftover vegetarian sushi: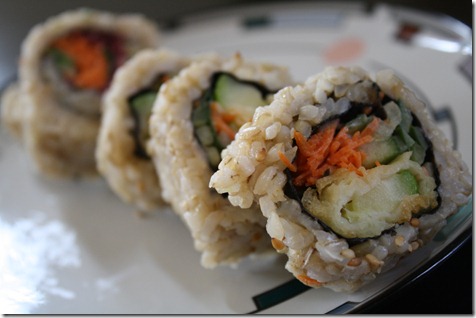 Coconut water because I feel parched (it's the 'natural Gatorade'):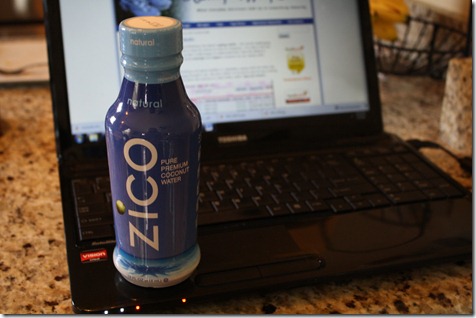 And a deliciously crisp apple: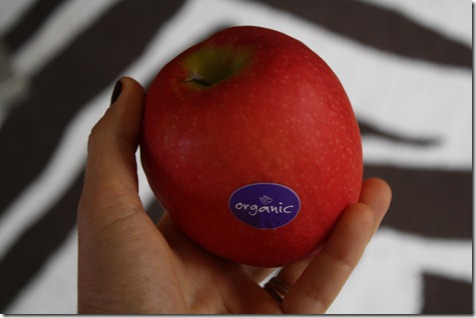 Get Rugged
I have a new and exciting race challenge coming up!  This morning, I signed up with a group of girls to do the Rugged Manic 5K on April 9.  Tonyne totally talked me into it!
Now, this isn't just any old 5K. This is an obstacle course 5K.  Just check out this (very dramatic) video!  Seriously… it's a good promo video!  You'll want to do it after watching:
Obstacles on the muddy, hilly 5K course include:
7 to 13 foot barricades
Belly crawl through dark tunnels
Off-trail run through the forest
Cargo net climb
Hanging tire obstacle
Leaping from various 'islands' across a muddy waterway
Mud crawl
Slip and slide into mud
JUMPING OVER A FIRE PIT (Awesome)
Doesn't that sound… fun? Messy? MUDDY? Challenging? Grueling?  Yes, yes, yes! I'm really excited but I know this is going to be a hard race.  I better start working on that upper-body strength!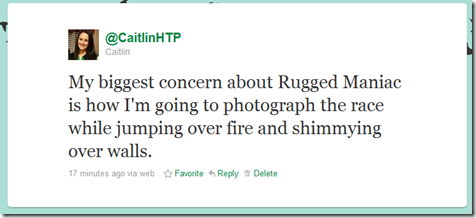 Let the push-ups begin.
If anyone is interested in doing the event with our 'team,' we're Team Epic Bloggers (very tongue-in-cheek) and our wave is 11:00 AM! One reason I'm really looking forward to this race is that they do the teams in waves vs. a mass start so there's no congestion at the obstacles!  Rugged Manic is all over the east coast – check out upcoming dates!
Would you ever do an obstacle race?  Have you?  What tips do you have to share with the muddy newbies?