A slight departure from the food, fitness, and healthy living posts of norm to discuss book publishing!  Beyond "What breed is Maggie?" (a piebald dachshund), the most common question I receive is "How did you get your book published?"  I began to answer this question in this post (check out this post for Part II).  Basically, my agent read an article about Operation Beautiful in the New York Daily News and contacted me.
One thing that I want to add about my experience with getting my first book published is that I got rejected a LOT (I wrote about my rejection experiences here).  Although my route to publishing began in a non-traditional way, it ended like all other books-to-be.  My agent had to shop my proposal (non-fiction books require a proposal and fiction books require the entire thing to be pre-written) to a bunch of publishers, and many (around 13) rejected the book proposal.  So don't give up if you're a writer and finding the process hard.  It might seem like I had a fairy-tale-book-story, but I most certainly did not.
Through this post, I hope to illustrate that there are many ways to get your book published.  If you have a dream of writing a book, DO IT!  :)  It's a really fun, exciting, and – I'll admit it – sometimes draining experience.  But it's totally worth it.
First thing:  I spoke at the FitBloggin' conference last year on the Beyond the Blog: Getting Published panel.  Of course, this panel was very specific (blogs to books!).  Although I do not agree with everything that is said at the panel (you can kind of tell when I start to speak up!), I think each panelist does provide some important lessons through their own experiences.
This website is mentioned in the video as a good resource for writers.
Another great website to check out this blog, which has a TON of 'publishing essentials' posts on the left hand side.  Topics addressed include how to write a non-fiction proposal and how the publishing process works.
Next up: I interviewed my literary agent + four published authors to see what they had to say about the experience since everyone's path to publishing is so unique.  The biggest difference is that some people are a huge fan of agents (I'm in that camp) and some blazed their own trails.  Their advice is below!
MY AGENT: CHRIS PARK FROM FOUNDRY LITERARY AND MEDIA: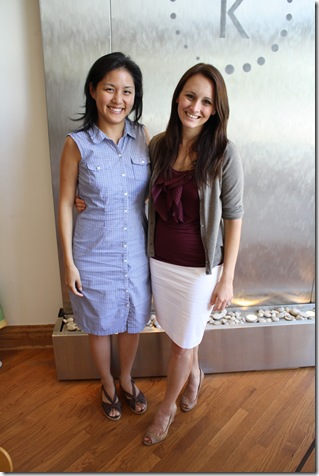 Chris says, "I started in publishing as an editorial assistant. This meant that a big part of my job was wading through the "slush," the unsolicited submissions that floods every publishing house. The editors I worked for (and later, I, when I became an editor myself) received bags of mail every week from would-be writers, and for the most part we sent back the SASEs with form letters. I'm sure at some point in the history of publishing a slush submission has been chosen for publication at a publishing house, but it never happened once during my ten years working for publishers. Now that everything is electronic, I'm sure most of the time editors press delete without ever responding. Some houses now have a policy of not accepting any work that is unagented. This may seem unfair, but publishers simply do not have the time or resources to respond to unsolicited submissions. That's why they acquire most of their books from literary agents, who have spent the time finding authors, developing their ideas, and refining their proposals before taking them to market.  
But say you are the lucky one whose idea (or blog) catches the attention of a publisher on an unsolicited submission: do you really want to accept the first offer that comes your way? How do you know if the publisher is reputable and has successfully published other books in the same category as your own? Whether you are getting fair terms in the contract? Will you be able to navigate the publishing process by yourself once a deal is struck? Do you want to be your own advocate in situations that are uncomfortable – say, when you don't like your cover design, or the publisher decides that they want to change the title? Or, heaven forbid, they want to cancel the book and want their money back? There are a lot of things that can go wrong during the publishing process, and having a good literary agent in your corner to address them is critical."  Here's some advice on how to find a literary agent.  
For a difference perspective, I also interviewed Kelly Lougheed, who is publishing her first book through a small publisher she sought out herself.
PUBLISHED AUTHOR:  KELLY LOUGHEED, AUTHOR OF CADS AND CADAVERS (which will be released on December 7 )
Kelly says, "I wrote my book Cads and Cadavers during National Novel Writing Month in my senior year of high school–like me, the heroine of my book was applying to college, but unlike me, she was also being running around with vampires every night. When I decided I wanted to do something with this 50,000-word manuscript I had sitting around on my hard drive, I couldn't find any interested agents, so I Googled small press publishers and submitted to a few.  When I got offers, I chose the place with the prettiest website (just kidding– I chose the publisher that would put my book into print format as well as ebook). Publishing is largely about personal taste–even if you can't find a big-shot agent, you might find some awesome publisher in Ohio who's completely willing to print your book."  You can learn more about her book here.
For yet another perspective, I also interviewed Rosie Molinary, who's been around the block with two published books. 
PUBLISHED AUTHOR: ROSIE MOLINARY, AUTHOR OF BEAUTIFUL YOU and HIJAS AMERICANAS
Rosie wrote, "In October 2010, Seal Press published my second book, Beautiful You: A Daily Guide to Radical Self-Acceptance.   About a decade ago, I went to grad school to get an MFA in Creative Writing because I was interested in using personal writing more deliberately in my classroom (I was a high school history teacher and soccer coach). In the process, I wrote a collection of personal essays on my own coming of age experiences complete with insight into my journey through ethnic identity (I am Puerto Rican), body image, and beauty perception. That manuscript, titled Giving Up Beauty, made me curious about how other Latinas reconcile how they grow up in a home that has one idea of what's beautiful, feminine, and appropriate for women with the often completely messages they receive outside their home about those issues to become themselves. In the meantime, Seal Press had picked up one of my books to include in an anthology called Waking Up American, and I was really impressed with them. When I conceived the idea for what would become Hijas Americanas: Beauty, Body Image, and Growing Up Latina (Seal Press, 2007), I went to Seal Press and negotiated my own contract. It was, as I imagined it would be, a great experience.  
Soon, I was doing a lot of traveling for Hijas Americanas and what women, of all backgrounds, wanted was a way out of their body hatred. I was struck by how the conversation in the book about body image and beauty perception as well as the messages  shared about those issues- that we are all enough, that our uniqueness is beautiful- were universally embraced by women. Women are really hungering for affirmation of what they inherently know to be true and guidance for how to let that truth shine out in them.  I have always been particularly interested in journaling and in creating and taking actionable steps towards a larger goal and so the idea of putting together an action plan
and empowerment guide for women where they could put together the pieces to their larger goal of loving and accepting themselves really resonated with me.   And so I wrote the proposal for Beautiful You and then sat on it for a bit while we brought our baby boy – now toddler boy- home from Ethiopia. After we were settled back at home for a few months, I went back to Seal with the proposal for Beautiful You and we had a deal.   
Since going to contract for Beautiful You came out, I have found an agent for future book projects because I simply have less time with a little boy at home to shop books projects in the way that is needed but it is absolutely possible to get a non-fiction book contract without an agent if you read a significant amount—Publisher's Weekly and Writer's Digest are great resources- and put some time into the effort. The most important advice? Keep going. Do something everyday that gets you closer to your dream." 
Here's the perspective of an author who almost got an agent and then went directly to a publisher instead!
PUBLISHED AUTHOR: SHAUNA REID, AUTHOR OF THE AMAZING ADVENTURES OF DIETGIRL
Shauna wrote, "I started writing my memoir The Amazing Adventures of Dietgirl in the evenings after work. After years of idle dreams of being an author, I realised I had to make the time, give up some crappy TV shows and get started! Writing is like getting healthy – you only need to commit to doing a little every day, regularly, then suddenly you're getting results.  I put together a proposal and was just about to start querying agents when an editor from Random House found my blog and asked had I ever thought of writing a book? Hell yes! I sent her my proposal and a few weeks later I had a book deal. My book is now published in four different languages and the whole experience has been a blast.  My advice is to be passionate and write-write-write like the wind! And be yourself, don't try to emulate others writer – publishers are always looking for a fresh voice."
And last, but not least, I interviewed the famous Mama Pea, another blogger who is having her blog turned into a book.
PUBLISHED AUTHOR: MAMA PEA, AUTHOR OF PEAS AND THANK YOU (which will be released in Summer 2011)
Mama Pea wrote, "I've always wanted to write a book but didn't know how or what to write.  I started several fiction pieces and then, after watching several of my favorite bloggers (i.e. Caitlin!) get blog-based book deals, I thought, "I can do that too!"  While there are hundreds of thousands of cookbooks on the market, I knew that there wasn't a book like mine: a collection of stories and recipes for a mainstream family on a non-mainstream diet. 
Through talking with Caitlin, I knew I wanted to find an agent, so I put together a ten-page pitch with an example chapter and started just sending it to various agents that were suggested to me by a friend in the publishing industry.  I received two rejections before hearing from my agent, a day that still is one of the most exciting days of my life!  We refined my pitched and sent it to a couple dozen publishing houses.  Finally, the book was set for auction and about five publishers "bid" on my project.  Some had a different vision of my book (i.e. just recipes, no stories or just stories, no photos, etc.) and some offered very little money.  By the end of the day, though I'd signed with Harlequin Non-Fiction and was overjoyed with their vision for my book.
For those wanting to get published, I think the key is having a niche–not every blog lends itself to being a book.  Have a strong vision of what you want to write and be able to sell that to an agent or a publisher.  What makes your book relevant?  What kind of following do you already have that will translate into people wanting to buy your book?  And overall, don't be afraid of rejection!  We've all experienced it, but the pain of rejection is definitely worth being able to realize your dreams, and you never know unless you put yourself out there."
Are you a writer?   Or are you a reader extraordinaire?  What kind of books do you love to read?