**Note: the Husband told me he hated this recipe.  I really liked it.  Make it at your own risk**
Another awesome vegetarian Thanksgiving recipe coming at ya!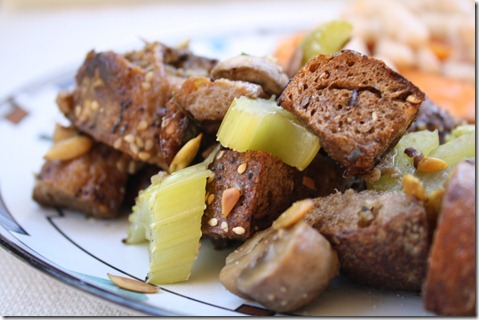 Past recipes (look, our menu is coming together, slowly but surely! Now, I just need an entree and a dessert):
Today's recipe is for Mushroom Dressing, AKA Mushroom Stuffing.  But since it's not stuffed in anything, we'll call it dressing.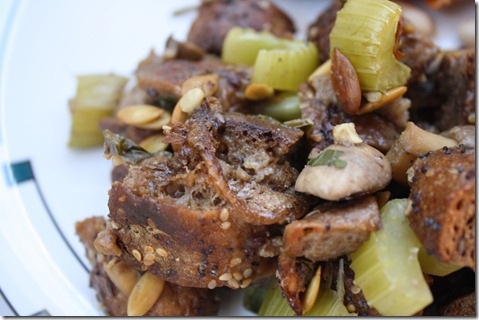 The bread is the most important part of great stuffing.  You want a long, thin multi-grain or whole-wheat baguette for this dressing.  The more seeds, the better!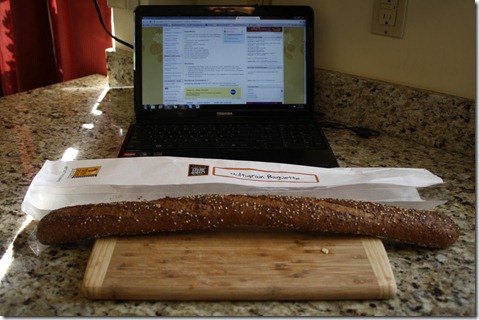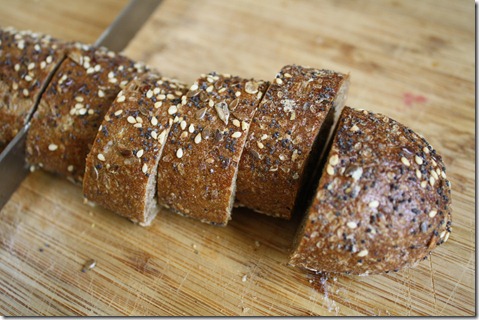 Mushroom Stuffing
Ingredients:
1 long, thin 13 ounce multi-grain baguette, with a hard crust
1 pack (8 ounce) white mushrooms
5 stalks celery
1 handful Italian parsley
1/2 cup roasted pumpkin seeds
2 cups mushroom broth
Salt and Pepper (generous amounts)
Directions:
Preheat over to 350 degrees and grease a long casserole dish.
Slice baguette into 1/2 inch wide pieces.  Pour into a large bowl.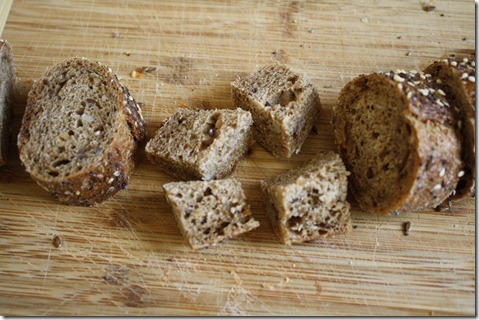 Chop celery and mushrooms. Add to bowl.
Chop parsley. Add to bowl with pepper and salt.
Add pumpkin seeds to bowl.
Toss ingredients.
Pour in broth and use your hands to thoroughly coat all the bread.
Pour into casserole dish.  There will be liquid at the bottom – that's OK.  Cover with aluminum foil.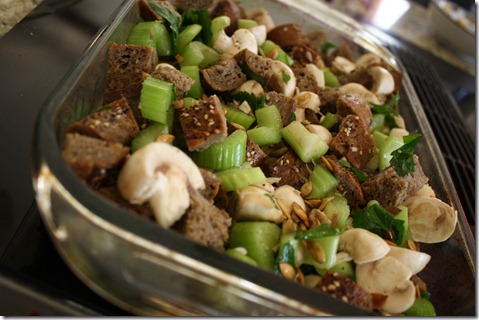 Bake for 1 hour, then increase temperature to 425 degrees, remove  aluminum foil, and cook for another 10 minutes.
Remove from oven and let cool.
Serve and enjoy!
I loved this stuffing.  If I were to make it again, I would probably add some melted vegan butter (1/4 cup) to the mix before baking just to give it that extra buttery taste.  But all in all, this is a very healthy stuffing dressing  – and I loved it.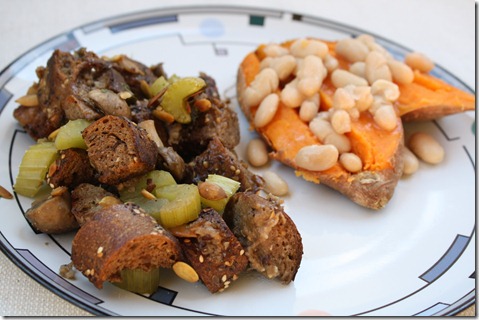 I had about 1.5 servings (the recipe makes about 6) with a sweet potato and beans.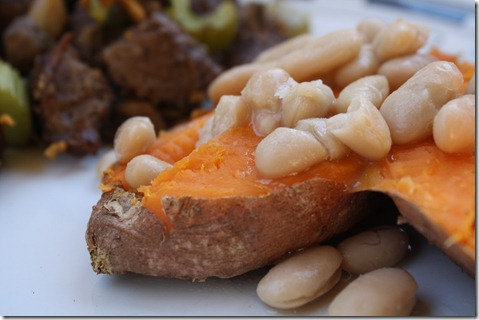 For dessert, a leftover bar.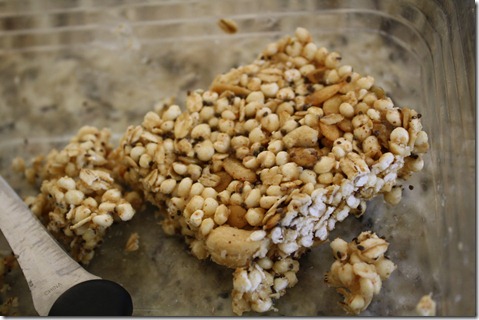 What I'm Currently Reading…
I don't blog about it a lot, but I read a ton of books! I love to read so much and prefer it to watching TV.  I'm currently reading Look Again by Lisa Scottoline.  I'm almost done, and it's really good.  Better and less predictable than you would think it would be.
Recently, other books that I've read/listened to on audio tape and stick out in my mind include:
Down Came the Rain (by Brooke Shields)
The How of Happiness: A Scientific Approach to Getting the Life You Want
I actually liked all the books I've listed, except Guerilla Marketing (it didn't apply to our acupuncture business as much as I'd hoped it would) and The Murder Room (because it was disjointed and creepy).
What have you been reading in the last six months or so?