Last long run of marathon training – you are MINE!  🙂
Riding high and feeling awesome after today's (suppose to be last Friday's) 18.0 miler.  I only have 13 days before the race so that means it's TAPER TIME!  🙂 🙂 :)  So exciting to be entering this final phase of training.
Pre-run lunch was standard fare: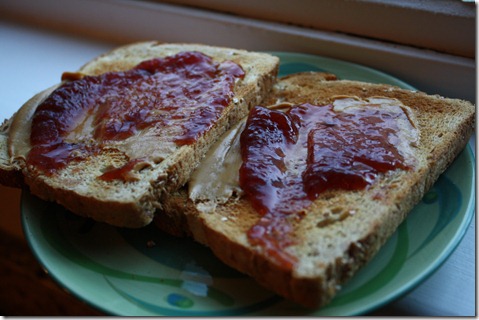 Today's run was kind of a test run to see what pace I should aim for during the race.  The first time (and only other time) I ran a marathon, my primary goal was to finish.  I think that's STILL my goal but now I'm thinking about time goals, too.   I shall reveal all soon!
Duration: 3:02:47
Distance: 18.0 miles
Average: 10:10
Mile 1: 10:06
Mile 2: 10:02
Mile 3: 10:10
Mile 4: 10:41
Mile 5: 10:03
Mile 6: 9:57
Mile 7: 9:55
Mile 8: 10:10
Mile 9: 10:13
Mile 10: 10:05
Mile 11: 10:50
Mile 12: 9:43
Mile 13: 10:03
Mile 14: 9:45
Mile 15: 10:02
Mile 16: 10:21
Mile 17: 10:05
Mile 18: 10:47
I took about six walking breaks and two stretching breaks.  And I ate two packets of this amazing tasting Gu.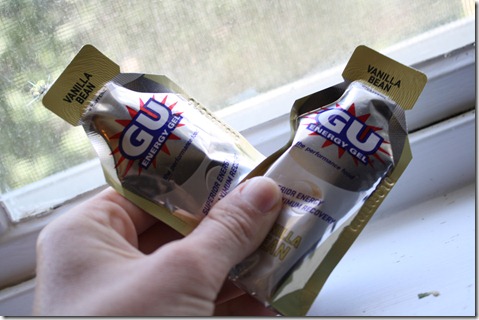 I grabbed little James for the last 0.4 mile but he didn't want to run very fast!  Arg!  I just wanted it to be over but he was dragging his little booty.  All in all, I was very proud of my time and super hopeful about the race.  October 30, here I come!
Post-run fuel: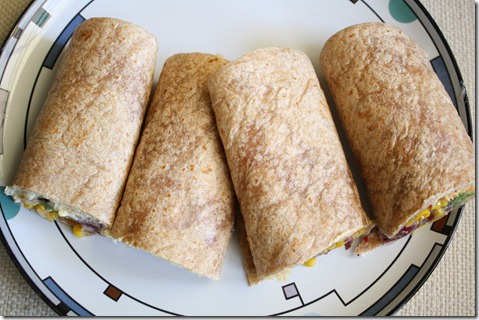 Two whole wheat burritos, one stuffed with kidney beans, hummus, corn salsa, and asparagus.  The other with cheese instead of hummus. 
And a banana.  🙂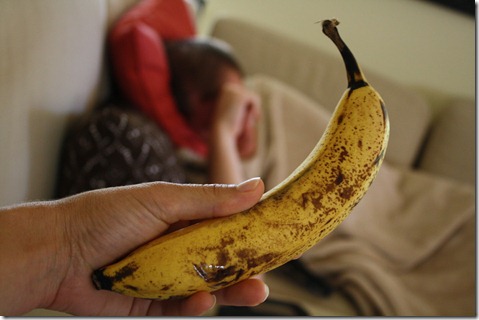 The Husband is still sick, but I managed to convince him to go to Yoforia with me for a little marathon treat.  :)  Cookies and cream with Oreo, Butterfingers, and animal crackers.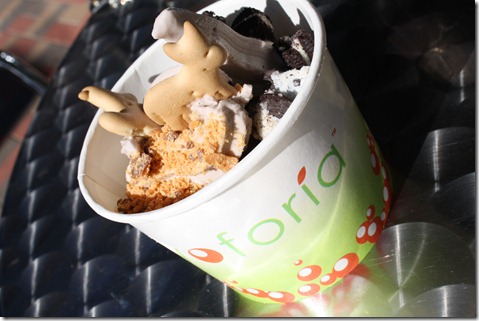 Made me think of Kath!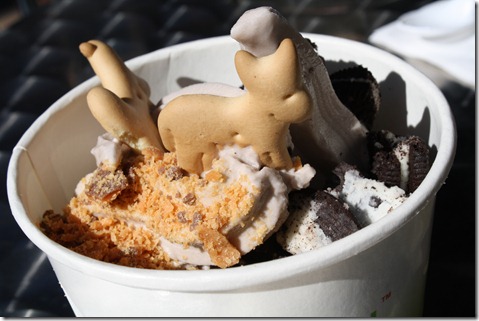 Maggie came with me but I don't think she had too much fun.  I wish she liked being outside, being petted by strangers, and seeing the world… she just doesn't.  But it's still important to socialize her.   Right?
And for dinner, I tried a new special recipe:
Have you ever made spaghetti squash?  This was my first attempt.  I had to explain to the Husband that it's actually squash.  When cooked, the spaghetti squash peels away from the skin in little strands… just like pasta!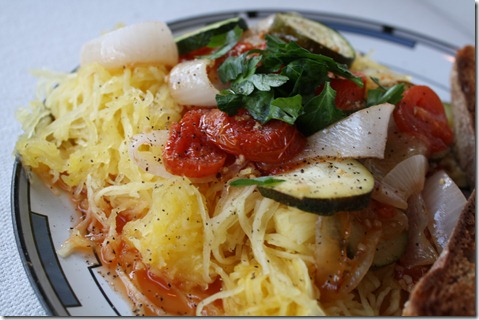 To make the squash, I washed the entire squash, stabbed it with a fork, and put the whole things into oven.  After baking it at 375 for an hour, I cut it lengthwise, scrapped out the seeds, and put the halves back in the oven for another 15 minutes.
To top our spaghetti, I roasted some vegetables: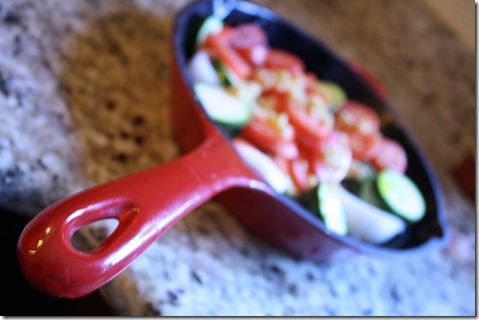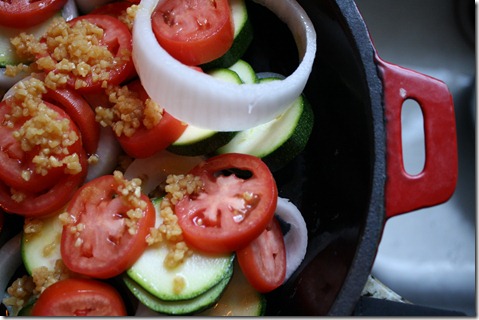 Just a little tomatoes, zucchini, onion, garlic, and olive oil.  Simple ingredients are so great.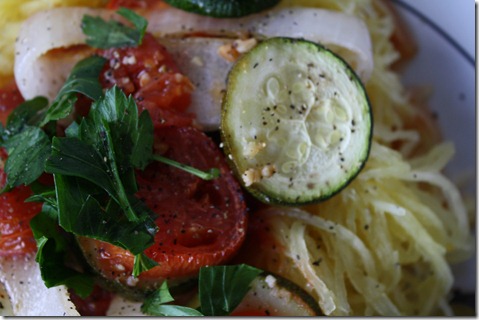 With two three four pieces of wonderfully crusty bread.   🙂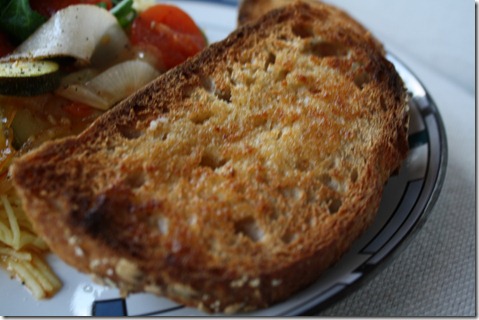 Another week begins – are you ready?  I'm gearing up!