I am totally up and at 'em today!  Soooo much to do.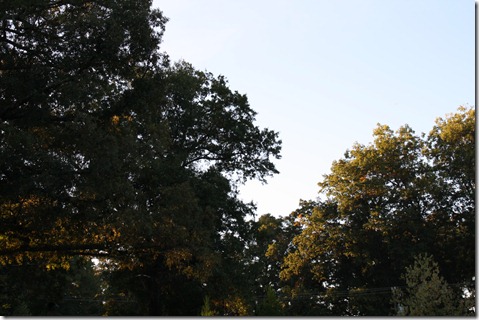 A simple bowl of oats was on the breakfast menu.  No fancy toppings today.  Just wholesome goodness.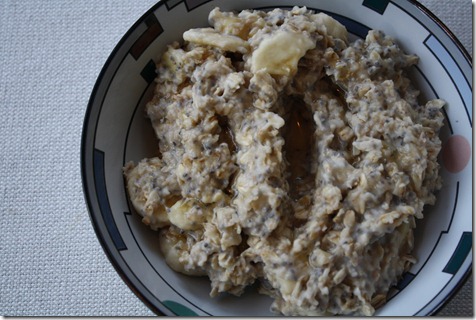 In the mix:
3/4 cup oatmeal
1/2 cup water
3/4 cup almond milk
Banana
Chia seeds
Hazelnut syrup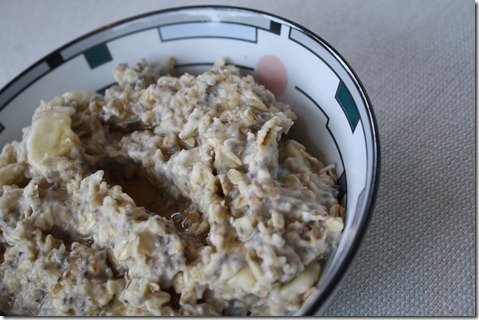 Setting Race Goals
One of my favorite posts of all time is How to Set Race Goals (and Not Drive Yourself Crazy) because goal-setting was a lesson that took me a REALLY long time to learn.  I tended to shoot high and be disappointed if I didn't reach my lofty goals.  While I think that setting ambitious goals is motivating, I think it's more important to:
Set your goals based on what YOU are capable of at the CURRENT time. 
Adjust your goals during your training and on race morning.
Set goals based on other factors, not just time.
With Marathon #2 right around the corner, I wanted to discuss how I'm setting my goals for this race.
For Marathon #1, I had one goal:  Finish alive (errr… mission accomplished!).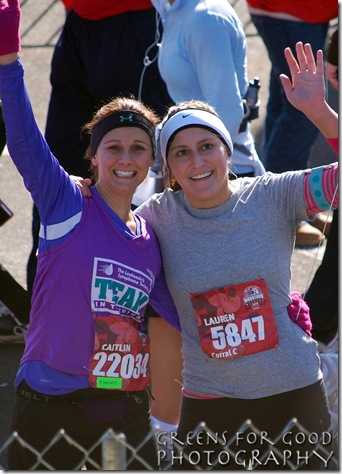 Seriously – people would ask me what my goal was, and I would reply, "My goal is to finish."  And I really meant it.  I had never run over 22 miles before, and I really didn't know HOW those 4.2 extra miles would go down.  I think that finishing is a great goal for ANY new distance race.   Just focus on having fun!
For Marathon #2 (on October 30), I do have some time goals.  :)  But I think it's important to also create non-time goals as well.  Finishing time is a very tricky thing; there are many things that can impact your time:  weather, nutrition, the course. 
Therefore, one way to set race goals (and not drive yourself crazy) is to set time and non-time goals.  For time goals, make sure you set several different goal times.  For example:
Time Goals for Marathon #2:
Note:  Unless sh*t seriously goes down, I'm confident that I will beat my primary goal of setting a new PR.   Based on my training (I ran a 20 miler with an average pace of 10:17 and a 18 miler with an average pace of 10:10, I think 4:35 is a realistic goal.  A 4:25:00 marathon is definitely my "reach" goal, but I don't think it's impossible given my training runs.
Non-Time Goals for Marathon #2:
Primary goal:  Maintain a positive attitude throughout the race, and run a smart race.  Run the tangents as much as possible to minimize unnecessary mileage.  Fuel properly so I don't bonk.
Secondary goal:  Don't go out too fast!!!  Enough said.  This is a marathon, not a sprint.
Teritary goal:  If I hit the wall at Mile 18 – 23, as I did during Marathon #1, I will work harder to push through instead of giving up and spending most of the time walking.  I know I can do a regimented walk/run mile and go faster than 12:00 to 14:00/miles.  I just let my emotions get the best of me.
By setting a variety of time and non-time goals, I feel like I'll be able to walk waddle away satisfied.
How do you set race goals or other fitness goals?  Do you focus on quantifiable or non-quantifiable goals?
PS- The winner of Friday's @BeautifulNotes Follow Friday Twitter Contest is GorgeousNinja13, who tweeted: "Dear @BeautifulNotes my #mirrormantra is I'm beautiful, unique and special. The world needs me here."