Wooo to the hooo! 🙂 Today is a crazy day for me, but that's a GOOD thing.  I decided to detach myself from the computer and walk to a nearby deli for lunch.  The Husband and the pups tagged alone.  Which means I carried Maggie several blocks.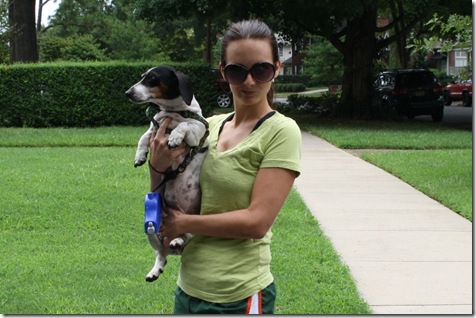 (Showering, like cooking my own lunch, is currently in the "unnecessary" category of my life.  Also – someone mysteriously left those sunglasses on my bathroom counter and I have not been able to locate the owner.  Finders, keepers?)
James trudged along like a rock star!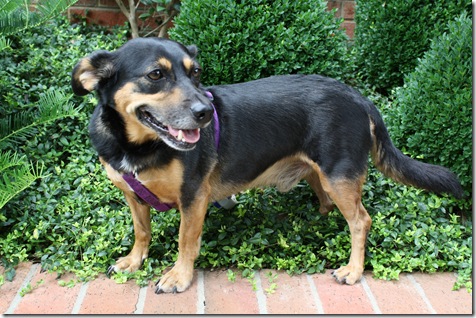 The goodies: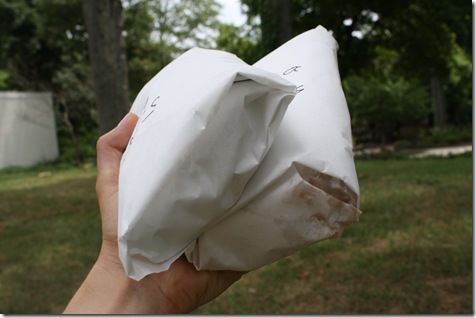 I got the Lulu for the tenth time – it's a hummus and tabbouleh wrap.   With some grapes on the side.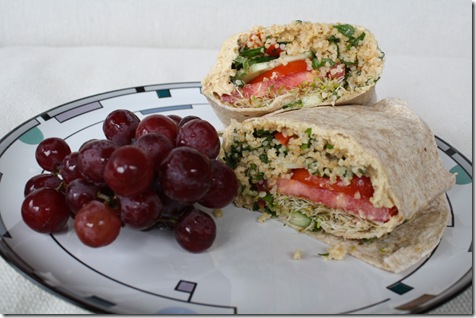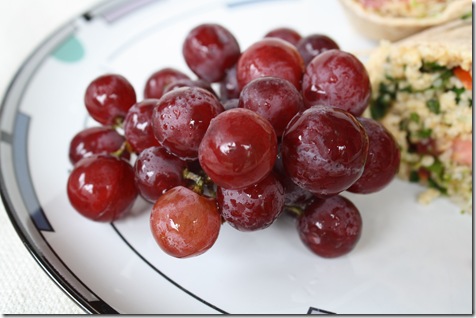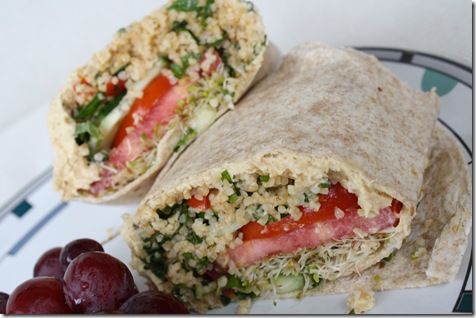 Change the Way You See, Not the Way You Look Guest Posts!
In honor of the OB Book Release, women (and men) all over America and the world are submitting guest posts describing their own experiences, struggles, and triumphs over body image issues.  To learn how to participate, check out this page. 
Here are today's featured posts:
Just to ensure you've got enough awesome, inspiring, and motivating stuff to read on this lovely Monday morning, here is the latest and greatest Healthy Tipping Point success story:
Kayla's Healthy Tipping Point:  Seeing is Believing!
Kayla said, "During the course of high school, I developed a food addiction, and tipped the scales at 200+ pounds.  Keep in mind I am a notch under 5′ 3.  "Portion control", "listening to your body", and "moderation" were terms entirely nonexistent in my vocab.  Graduation was approaching, and at 18 I was thoroughly fed up (no pun intended) with my obesity, lack of confidence, and overall unhappiness.  It was time for serious change.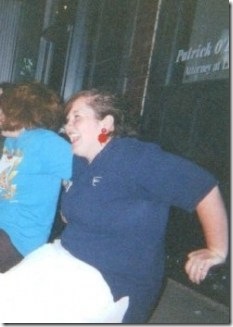 I'll never forget the life changing eye doc appointment I had 4 years ago. I went expecting nothing out of the ordinary.  She asked me the standard set of questions about vision, headaches, etc.  Next thing I know, my doc is telling me I need to immediately go from her office to the ER.  "Your optic nerves are incredibly swollen and you need to find the cause… right now."
I sat on the ER table having blood drawn, CT scans, and nurse after doctor after nurse asking me one thousand repetitive questions. "I thought I was just gonna get my eyes checked today…I just graduated high school last year.  I'm young.  What the hell is happening?!"  I was freaked out.  Then the ER doc sunk my heart: "It's one of 3 things.  A brain tumor, Multiple Sclerosis, or Pseudotumor Cerebri".  Uh, what??
The following weeks I visited multiple neurologists, had an MRI and spinal tap (horrible experiences), and started taking a pill several times a day (to reduce optic nerve swelling).  Finally, I was diagnosed with pseudotumor cerebri.  Basically, PTC is a condition where your body produces too much spinal fluid.  The result is increased pressure in the brain, which gives you headaches, blurs your vision, and causes your ears to ring all the freaking time.  Left untreated, you can go blind.  Serious stuff, folks. 
So I had 2 options.
#1)  Stay on pills my whole life, and hope PTC will go away (unlikely)
#2)  Lose weight.  (PTC has a direct correlation to obese women, and I definitely fit into this category at that time)
I chose to lose weight.  My journey of losing weight is discussed here.  Basically, I cleaned up my diet (quit fast food, ate less processed food, smaller portions) and started exercising.  The weight came off, but perhaps even more excitingly, I was able to quit taking meds.  I no longer had PTC. Obesity directly correlated with my condition, and by losing weight and getting healthy I was able to be free from pseudotumor cerebri.  For good.
Three and a half years later, and I've had zero signs of PTC returning.  If I gain the weight back, PTC will come with it.  If that's not motivation to stay healthy and take care of my body, I don't know what is!"
Question of the Day:  What long-term goals motivate you to stay healthy?  For me, it's living to be 100!  This has always been one of my fun goals.  Hope I make it – it's in my genetics!  🙂