Today kicks off THE biggest week of my life, without a doubt.  Why is this week so special?  Well, the Operation Beautiful book is being released Tuesday, I'm flying to New York City on Wednesday, and I'm going to be on The Today Show at 10 AM on Thursday.  Hold on – it's going to be a WILD RIDE.
Although the book doesn't officially drop until tomorrow, blends (blog friends) have been finding it in Barnes and Noble and Borders from California to Texas to New York!  It's super exciting to get pictures like this.  🙂
(Thanks to Tracy and Alyssa for the pictures!)
Today also kicks off the Operation Beautiful Virtual Book Tour!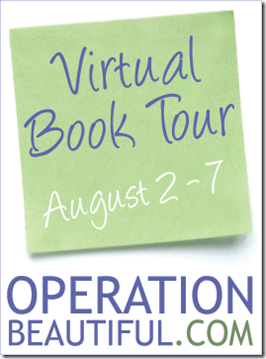 Today's Virtual Book Tour is at Mizfit's blog.  The world needs more mommies like Mizfit!  Stop by her blog to read her thoughts on body image and children, and enter her giveaway for a chance to win a copy of my book!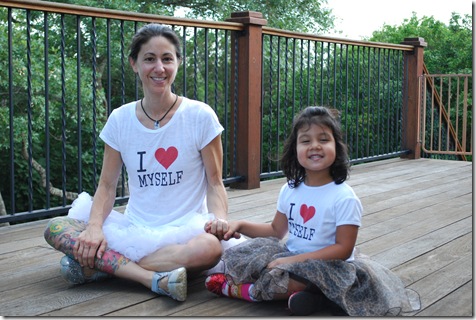 Whew! I feel like there is a LOT going on right now, but it's all exciting and amazing. 🙂
Plus – and you guys know this is a big deal for me – I slept really well last night! I initiated a "shutting down" pattern around 9 PM.  I turned off the computer and TV, went for a walk, took a hot shower, put on my comfiest pajamas, and took some Chinese herbs the Husband brewed up for me… which knocked me out immediately. 
Stabilizing breakfast:  Toasted Ptitim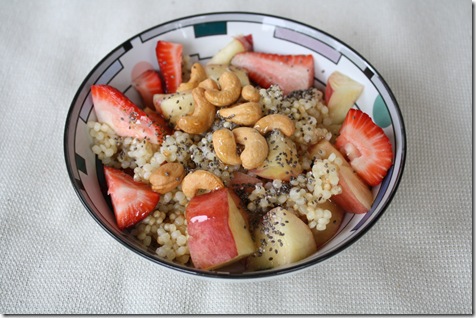 The recipe is here, but this time I mixed in strawberries, peaches, toasted cashews, and chia seeds.  And drizzled it all with honey.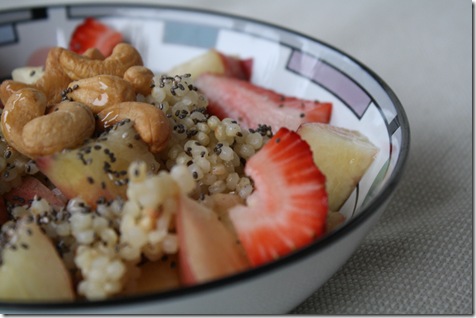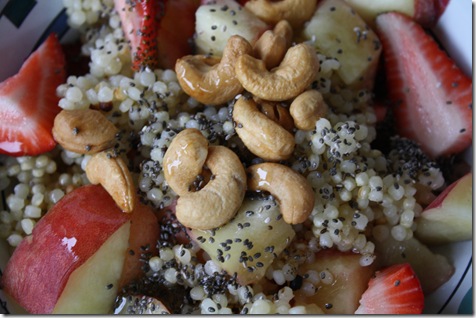 And… here I go!  No looking back now!
(PS – I found it highly amusing that last night, I dreamed it was the Apocalypse. With flesh-eating zombies and everything.  Dream analyze THAT.)