I got very lost on my run this morning!  Luckily, I used the navigation feature on my Garmin 305 to find my way back, but I still ended up running an extra mile.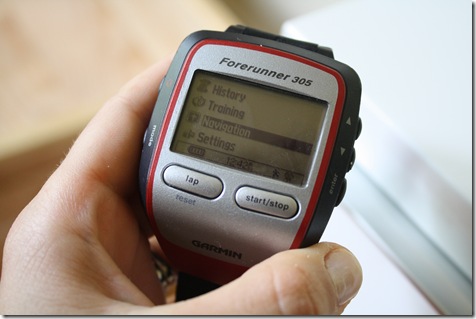 Normally, that wouldn't be that big of a deal (actually, it would be a pleasant bonus), but I had ran the first three miles at a pretty fast pace.  My goal was to run each mile under 9:00.  When I realized I had another mile (uphill) to go, I groaned.
Here's my statistics:
Distance: 4.0 miles
Duration: 36:58
Mile 1: 8:52
Mile 2: 8:58
Mile 3: 9:03
Mile 4: 10:06
Mile 3 was really rough.  I was struggling to keep up and my quads were burning.  I'm having trouble balancing my desires to get faster and regain some of my intense cardio endurance with my No More Trouble Zones goal.  My quads seem to be constantly sore, no matter how I modify my training schedule.
I reminded myself during Mile 3 that I've ran further – much further – before at a similar pace or faster.  During marathon training, I ran 17.0 miles with an average pace of 9:27, hitting 9:17 in the last mile.  Dude, how did I do that?!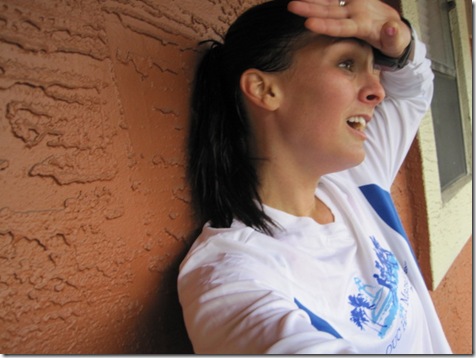 I think my physical fitness peaked in January for the marathon, stayed static during Olympic Triathlon training, and then began to dip during the 100-mile bike ride training.  Once I got busy with the move, it seems like I crashed and burned (relatively speaking, of course).  It's not that I think riding a 100 miles is easy (NOT AT ALL), it just didn't maintain my ability to do intense cardio.
I'm trying not to get discouraged about my dip in fitness and focus on doing the best I can right now.  It's natural, of course, for your fitness levels to change over time – you can't always be going up!  Life happens. 
BUT – I need to find a way to get over the hump – I feel a little stuck at my current level.  I know I have it in me to be faster and run longer without feeling as winded, but I'm struggling to find it.  No matter what I do each week; it just doesn't get "easier," and I've never encountered this problem.  Any tips?
Post-run Green Monster: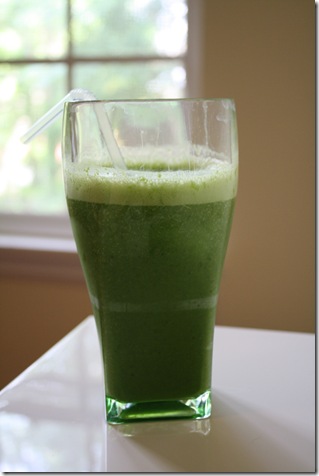 In my cup:  1 cup hemp milk, 1/2 a banana, 2 cups spinach.  Delicious.
Guess who came to see me this weekend? MY MOM!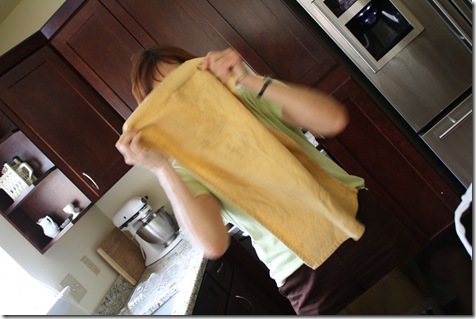 Haha – she was embarrassed because she was messy and sweaty.  🙂 The Husband is going out of town this weekend, so my mom drove the four hours to come keep me company.  I'm so excited to see her… even if she's hiding behind a towel!
We walked to lunch and grabbed sandwiches and a salad from the Laurel Market.  Although there's tons of fun things to try, I felt compelled to get the same wrap as last time:  the LULU, which is a hummus and tabbouleh sammie!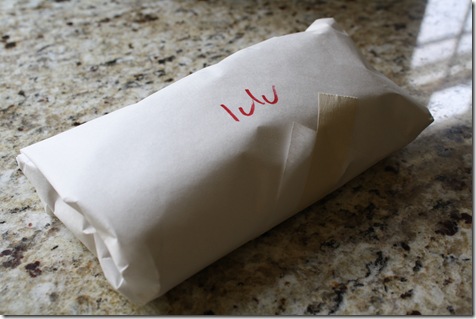 My plate: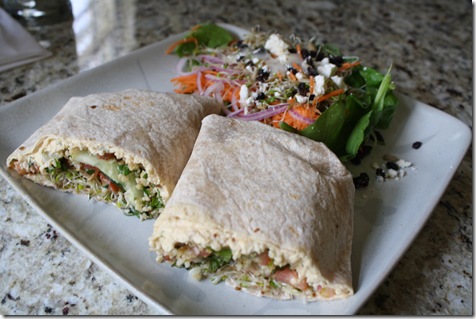 I also got a spinach salad, which I subbed in plain Athenos feta cheese.  This salad combo (raisins, sunflower seeds, feta, onions, and carrots with poppy seed dressing) was SO amazing.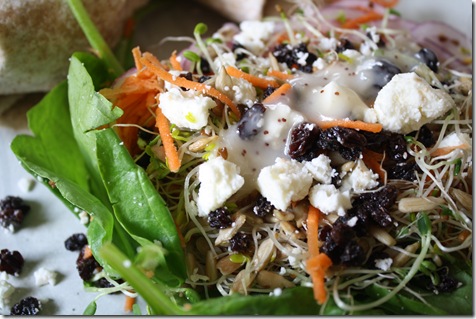 Coincidentally, I've got a fun Athenos giveaway for you!  One reader will win the following: ATHENOS Feta coupon; ATHENOS Feta "Shape Up Your Salad" recipe booklet; ATHENOS Feta water bottle; Life Time Fitness 1-month membership; Fit & Fresh salad container; and a Built NY lunch bag.  I'll pick a winner tomorrow morning.
To enter, simply answer ONE of the following questions in the comments section:
If you've encountered a fitness hump, how did you get over it?
On your journey to becoming a healthier and more balanced eater, did you ever hit a "turning point" where good habits became more natural?  What kind of healthy swaps did you begin to make?
Good luck!  🙂