Looks funny…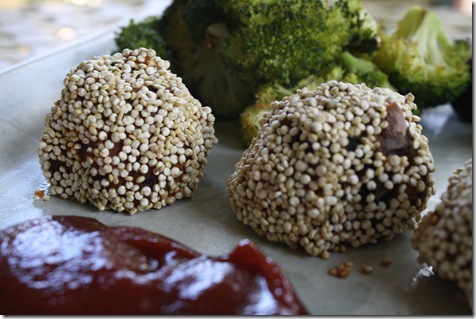 Tastes amazing!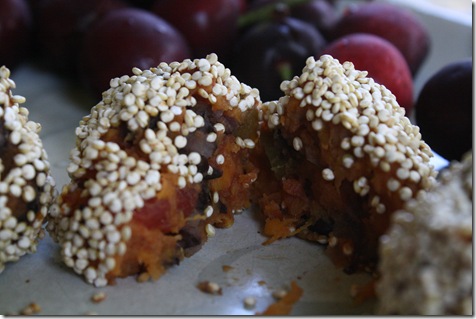 Have you tried my Flax Encrusted Sweet Potato Balls?  It's one of my favorite recipes!  The only change I made to the recipe today was using raw quinoa instead of ground flax.  The quinoa is still crunchy after baking, but not too hard – it softens a lot after being cooked next to the moist sweet potato.
Ingredients (serves 1):
1/4 cup black beans, drained, rinsed, and patted dry
1/2 large baked sweet potato, mashed
3 tablespoons salsa
1/4 cup of rinsed (raw) quinoa
Ketchup for garnish 
Directions:
Pre-heat oven to 350.
Mash together salsa, sweet potato, and black beans.
Form mix into five balls.
Spread out ground flax in a low bowl and roll each ball in the quinoa, coating completely.
Place balls on greased cookie sheet.
Bake for 30 minutes at 350 degrees, rotating once.
Garnish with ketchup and enjoy!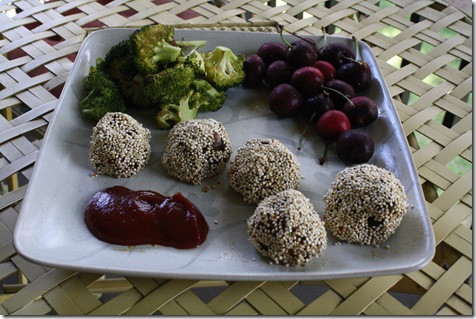 I had cherries and broccoli on the side.
Back to work I go!
PS – Only 50 days until the Operation Beautiful book comes out (but you can pre-order it now on Amazon, Barnes and Noble, Borders, and Indie Bound).   Thanks to everyone who ordered it already!
PPS – Mary is doing an awesome raffle for the cutest workout clothes!