Morning!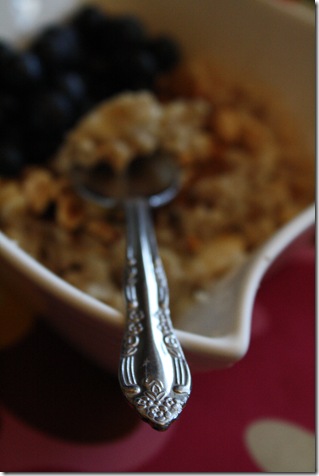 I made myself and Konner (our friend's 4 year-old, they are staying with us until Wednesday) oatmeal!  I think he liked it. 🙂
My bowl: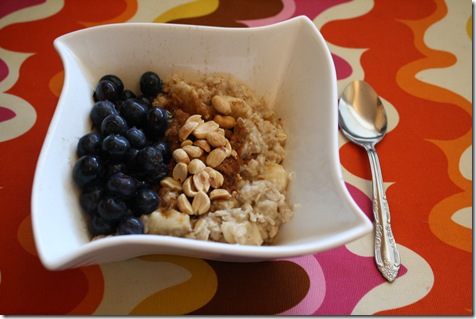 Which contained:
1/2 cup oatmeal
1/2 cup rice milk
1/2 cup water
1 sliced banana
Toppings:  blueberries, peanuts, and brown sugar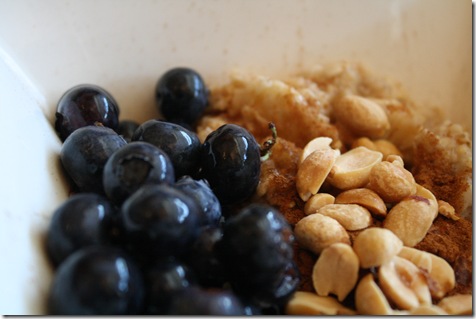 Help Me Pick a Fitness Goal!
Even though I love to do running races, cycling events, and even triathlons, I'm not currently training for anything.  This is pretty unusual for me!  But it's also necessary because my life is so hectic right now – I wouldn't want to commit to a BIG training schedule, like for a half marathon or more. 
But I'm getting so bored not having a GOAL to work towards!  I've been keeping up a nice exercise schedule, but I feel like I'm lacking direction.  Even if it's a small goal, I really want to be working towards something.
Thoughts:
It can't be a huge time commitment – a max of 1 hour a day, 4 times a week.
I need to be able to do it from the comforts of my home or while traveling.  I don't belong to a gym!
I'd like to make my running faster… my pace has dropped lately because I haven't been doing speedwork!
I actually like exercise videos – once I did a 30 Day Shred Challenge that I loved!
I'd like to tone up and get stronger.
I could sign up for a 5K without feeling too  much 'training pressure.'
What fitness challenges are you working towards? Do you have any ideas for me?