Can… not… believe we are moving to Charlotte in 10 days.  I actually stayed up until 2 AM last night packing, setting up utilities, and renting a U-Haul (and watching Snapped, but that's another story). 
I thought I'd show you two pictures of our future duplex (ignore the furniture, it's the current resident's stuff)! Here's our kitchen.  Check out all that NATURAL LIGHT near the pretty granite countertops.  Hello, food photography.  Please also note the drop sinks, which is probably my favorite feature in the entire house.
And here's the master bath, or part of it.  You can't see it in the pic but to the left of the sink is a floor to ceiling built-in with shelving.  We heart storage space.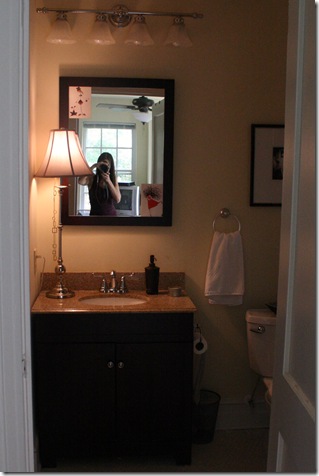 I wish I could teleport myself, the Husband, Maggie and James, and all of our stuff into the apartment without having to lift a finger! 🙂
One of my goals is to do minimal grocery shopping in the next 10 days.  Obviously we'll need fresh veg and fruit, but we also really need to eat up our pantry, or we'll just be moving or tossing food.
Gettin' saucy with it!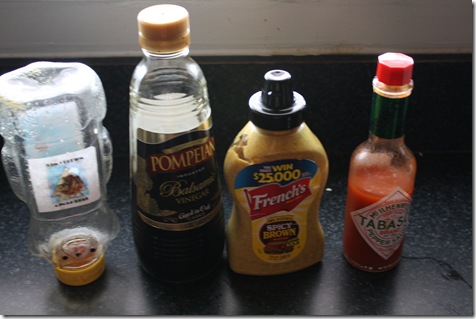 I stir-fried tofu, frozen green beans, and baby corn, and then I added a drizzle of honey, a tablespoon of balsamic, a big squirt of mustard, and a dash of hot sauce.
The result: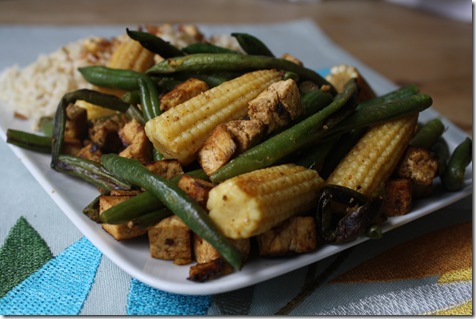 + Brown rice with peanuts on top: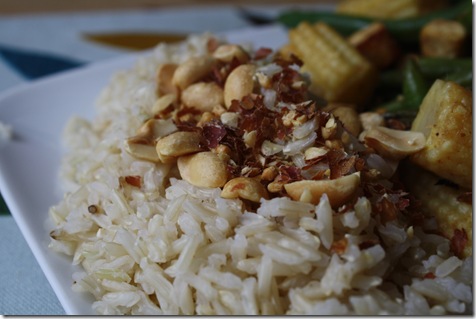 My mouth is singing!
What condiments do you combine to make an excellent sauce?