On Monday, I'll be starting (and posting) my official training plan for the Speedy 5K/No More Trouble Zones Challenge, but I received the workout DVD No More Trouble Zones by Jillian Michaels this afternoon and thought I'd test it out.
Oh… my… gosh.
First of all – LIGHT YEARS HARDER than the 30 Day Shred (I did a 30 Day Shred Challenge for the blog – here's my results).  The 40-minute strength training routine literally had me gasping out loud, screaming, and cursing – and I consider myself to be in pretty good shape.  It was insane.  I took multiple breaks to Twitter my anguish.  As I did for the 30 Day Shred, I used 3 pound handweights… which were definitely heavy enough!
SIDE NOTE:  I HATE PLANKS.  Especially planks in which you tap your right toe two-feet to your right and then bring it back in, then do your leg foot, and repeat.  MULTIPLE TIMES.
BUT, if I can stick to this DVD, it will completely transform my body.  I do zero strength training now (I seriously hate ST, but I know how good it is for me so I'm trying to find something that works), and I could feel every single muscle in my body working OVERTIME during NMTZ.  I liked how fast-paced it was, and I never got bored!  I did not like the constant talk about minimizing my "trouble zones," but unfortunately, that's the title of the stupid DVD and the way Jillian Michaels rolls.  However, there is an option to mute Jillian, which I will certainly be doing once I know the moves by heart.
After NMTZ, I walked James 1.25 miles in 20 minutes.   :)  Good times.
Pre-workout snack was Naturally Nutty Chocolate Toffee PB with toast.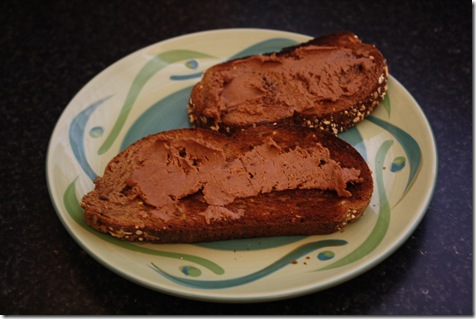 Preseeeeeeeeeenting… DINNER!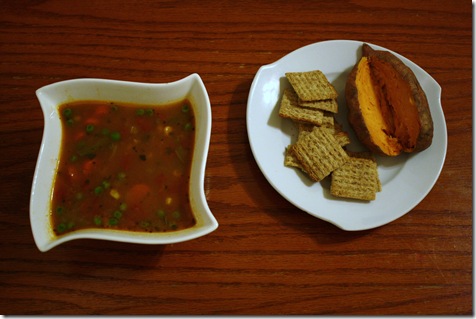 I bulked up a can of Wolfgang Puck Hearty Vegetable soup with 1/4 cup each of frozen corn and frozen peas.  Mmm.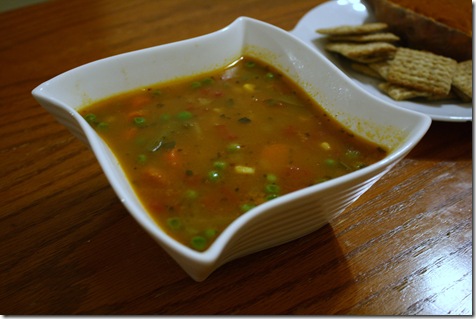 + Triscuits and a sweet potato.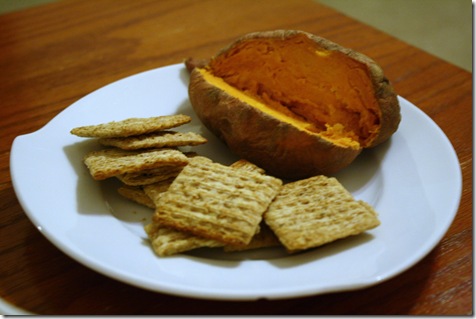 A little blah but you know… eat it, don't move it!
A special guest is coming tomorrow! 🙂