Please enter the MBT "anti-shoe" raffle and join the fight against cancer!  Tomorrow is the last day! 🙂
I haven't swam since Saturday because my right tricep has been unusually sore.  Since I'm the Queen of Injuries (I gave that title to myself), I knew that I should take some time off from swimming.   I thought I was better today… but not so much.
I did 750 slow meters before my tricep started to ache, and I called it quits.  Now I'm in the rough position of having to drastically reduce my time in the pool just 11 days before my Olympic Triathlon.  I know my tricep will be good enough to race on the 14th, but its a confidence bummer to not be swimming right now.  Especially if it means I cannot do an open water swim before the race.  🙁 We'll see!
Nothing Operation Beautiful can't help!  🙂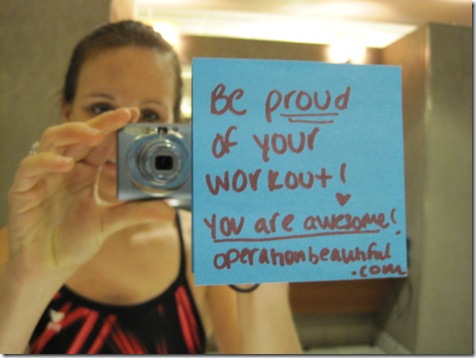 After my swim, I ran 3.0 miles on the treadmill in just under 30 minutes.
Post-workout dinner: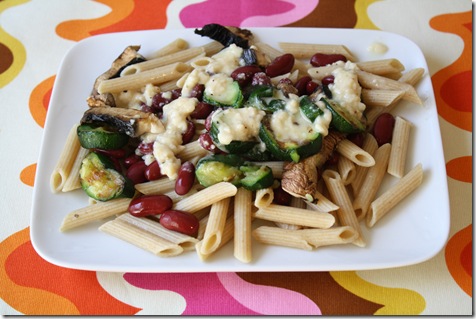 I made whole wheat pasta with kidney beans, grilled zucchini, and grilled mushrooms.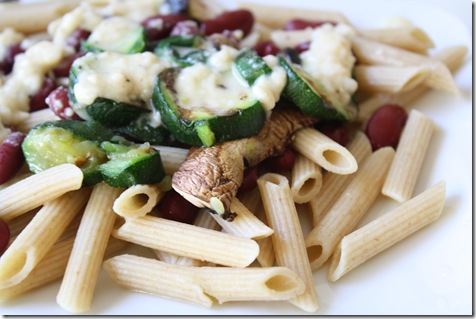 I tried to make some sort of cream sauce using milk and cheddar cheese, but it never really became saucey – just clumpy.  It was still good!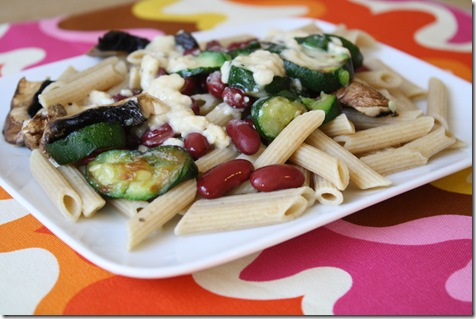 Does anyone know how to make your own cream sauce?
After dinner, I was really tempted to dig into a pint of ginger ice cream, but I thought about how the ice cream would make me feel emotionally (satisfied!) and physically (mildly ill, especially because I ate all those macaroons).  I decided instead to make a Green Monster: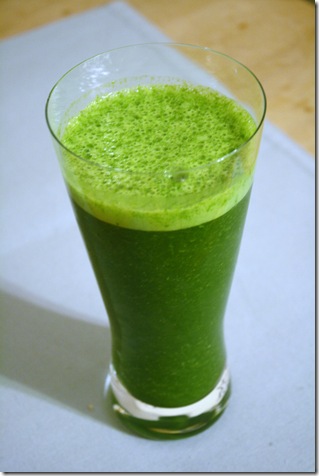 So glad I went the healthier route!  I know a lot of you must think Green Monsters 1) look disgusting and 2) are weird, but I promise they taste AMAZING (not like spinach!), and they make you feel SO good from the inside out!  Also, my skin is positively glowing lately.   I don't know why I ever stopped drinking them.
My GM had:
1 cup rice milk
2 raw spinach
1/2 a banana
And… I'm off!  Good night.  🙂
The winner of the Total Immersion giveaway is: Lauren!  She wrote,  "My sisters-in-law, a few friends and I are doing a sprint triathlon in June, so I want to accomplish that goal, and do it well (especially the swim, yikes!)."