All the talk about granola yesterday inspired me to bake my own!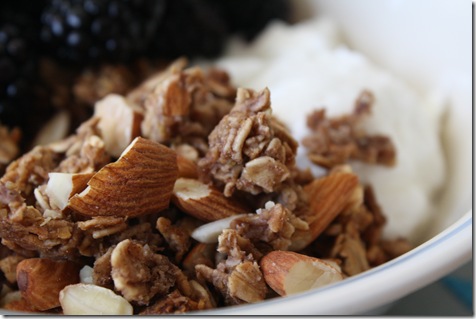 Most granola recipes include oil, but I replaced the oil with a secret ingredient:  Blueberry Pomegranate Juice from POM Wonderful.
Ingredients (for 2 breakfast-sized servings or 3 snack servings):
1 cup oatmeal
1/4 cup maple syrup
1/4 cup Blueberry Pomegranate juice
1.5 tablespoons ground flax
1/4 cup almonds, chopped
Cinnamon to taste
Directions:
Preheat oven to 300 degrees.
Mix all ingredients.
Grease cookie sheet.
Spread out granola on cookie sheet.
Bake for 40 minutes.
Remove and place on paper towels to cool.
Store in airtight container.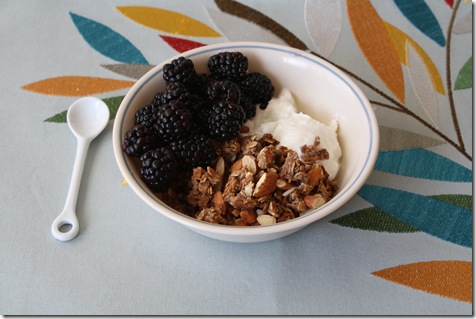 I served my Blueberry Pomegranate Granola with about 1/2 cup plain Greek Yogurt and a bunch of blackberries.  It was such a refreshing, summer-y breakfast.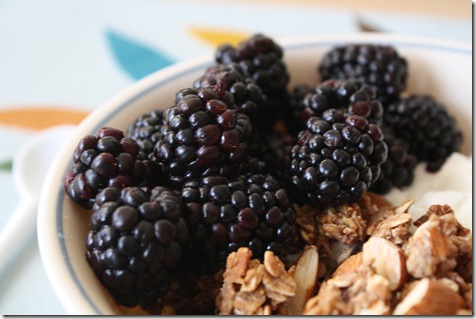 And although my homemade granola doesn't have any less sugar than the store-bought brand, it was cheaper to make than it was to buy!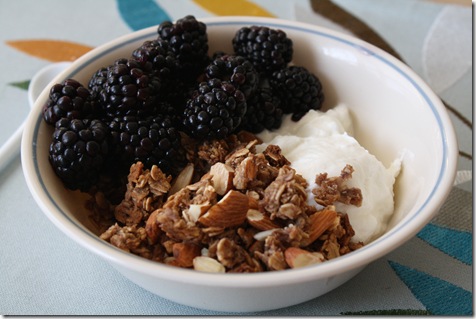 Eastern Treatments
The Husband ran the gamut on my sore tricep last night – actually, he decided what's really irritating is the attachment point for my deltoid. 
Husband is studying to be a Doctor of Oriental Medicine, in case you didn't know!  He's in his very last semester and might graduate as the salutatorian.  :)  He has great bedside manner and a thorough understanding of how Eastern and Western medicine complements each other.  He's been in school the ENTIRE time we've been together (in fact, he's had more than 9 years of post-high school education!).
We started off with cupping.  Cupping involves using small glass cups to create suction against your skin (like a hickey).  Most people have seen cupping on backs (it looks like an octopus gave you a hug!).
Husband used two cups on my arm.  Cupping works by pulling your skin up, breaking up capillaries, releasing stagnated blood at the injury site, and urging your body to send an immune response.  It doesn't hurt, but I do look like someone smacked me in the arm with a baseball bat!
After that, he did acupuncture in both of my arms, and then hooked me up to an electro-stimulus machine that made my arm jump around.  :)  It was kind of fun!
My arm feels a LOT better this morning!  Husband thinks I just strained my deltoid and says I should be OK for the tri.  And I would much rather try "alternative" treatments than pop a lot of ibuprofen and hope for the best.
Speaking of alternative treatments, our discussion about Birth Control motivated me to order "Taking Charge of Your Fertility," which so many of you recommended.
Not saying I'm definitely going off hormonal birth control!  But our discussion made me realize that other women do use natural birth control with success.  Truthfully, I always thought natural birth control was complete BS.  Now, I'm not so sure that the only effective form of birth control is hormonal pills.  I definitely want to learn more about the subject.
(Of course, although we don't want to get pregnant now, I have some room for error because I'm 25, married, and financially stable.  I'm not suggesting everyone go off birth control.  Birth control that is 99% effective definitely had a place in my life for a LONG time.)
To work I go!  I have a ton of writing to do.  And I'm recording a segment for American Voices today – I'm super pumped!